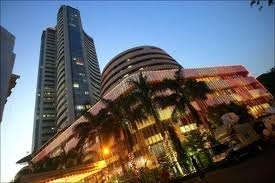 There is no doubt that India as a preferred investment destination is gaining more and more acceptance with each passing day. India is now seeing inflows from all corners of the globe, be it global macro funds, hedge funds or exchange-traded funds. India's rise has not made investors across the globe happy but has also been acknowledged by the 'Global Governance 2025' jointly issued by the National Intelligence Council (NIC) of the US and the European Union's Institute for Security Studies (EUISS) ranking India as the third most powerful country in the world after the US and China and the fourth most powerful bloc after the US, China and the European Union. 

Of course there are other important factors like climate change, ethnic and regional conflicts, new technology, and the managing of natural resources in order to rate a country's resurgence but none is as important as the economic might. And talking of economic might, Indian markets have been on a high for a long time although a little subdued in 2008 owing to the global economic crisis but have been picking up steam since then and now almost on cruise control as Indian shares gained today to close at their highest level in 32 months amid huge inflow of funds from foreign institutional investors (FIIs) pushing the benchmark Nifty above 6,000 level, for first time since January 17, 2008. Even the Sensex joined the party by hitting 20,000 levels. The manner in which the Sensex has gone from 8,000 to 20,000 must has taken even the most optimistic of the lot by surprise but even the country's the finance minister Mr Pranab Mukherjee expressed happiness over the Sensex crossing the 20,000 level.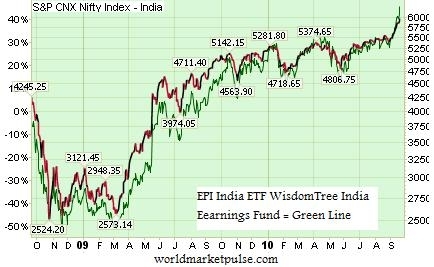 The BSE Sensex has risen close to six per cent over the last two weeks and reached a 34-month high of 19,600 during this time, and foreign institutional inflows too have been strong. FIIs have invested Rs 7,862 crore in the net in equities during the last week.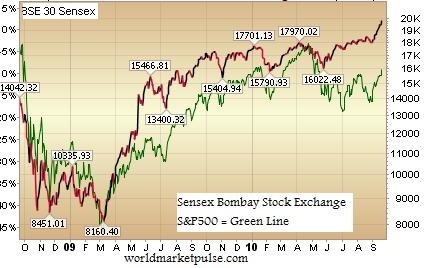 Phenomenal FII September Input: Experts say Indian markets are primarily driven by foreign institutional money.  Between January 8 of 2008 till date, FIIs have pumped in a whopping 1,06,265.20 crore. They have bought shares worth Rs 13,620 crore in September 2010 alone. 

The FIIs have turned particularly bullish in September, buying equities worth more than Rs15,400 crore in the 13 sessions so far. This huge inflow, which constitutes 20% of the overall year-till-date flows, has led Sensex to gain 2000 points this month.
 
Foreign Institutional Investors activity during September-2010


Date          Equity (Rs. Crore)                             Debt (Rs. Crore) 


             Gross              Gross         Net         Gross        Gross       Net
             Purchase         Sales                        Purchase    Sales       


17-Sep     5,386.90     3,671.10     1,715.80     807.70     383.40     424.30
16-Sep     3,506.60     2,363.00     1,143.60     1,679.30  945.20     734.10
15-Sep     4,959.00     2,598.90     2,360.10     387.80     278.30     109.50
14-Sep     4,098.00     2,374.70     1,723.30     604.50     304.60     299.90
13-Sep     4,592.20     1,955.80     2,636.40     466.70     363.40     103.30
09-Sep     2,626.00     1,449.50     1,176.50     375.60     20.60       355.00
08-Sep     2,424.90     1,962.30     462.60        798.70     519.30     279.40
07-Sep     2,650.10     2,448.80     201.30        593.90     198.80     395.10
06-Sep     2,758.90     1,719.40     1,039.50     223.00     594.80     -371.80
03-Sep     2,172.50     1,686.30     486.20     1,240.20     149.10    1,091.10
02-Sep     2,051.10     1,903.20     147.90        970.80     145.00      825.80
01-Sep     2,730.00     2,203.20     526.80     1,159.20     380.20      779.00

TOTAL 39,956.20     26,336.20    13,620.00 9,307.40  4,282.70    5,024.70
With the India growth story still in its nascent stage, it will not be surprising to see these indices touching new all time highs every few years from now as more and more Foreign Institutional investors continue to park their capital in the Indian markets because of country's solid economic core strength and a strong domestic market.
 

The Great Indian IPO Rush:

After the global meltdown in 2008, Indian markets were dried with hardly any new IPO's in view. After all the global meltdown was so strong that its inspired the veteran actor Michael Douglas to revive his role of Gordon Gekko, the ruthless Wall Street shark in soon to be released Wall Street: Money Never Sleeps. Just as cinema lovers across the world eagerly await the upcoming Hollywood flick, most investors in India are now spoilt for choices as the recent surge in the Indian markets as brought back an IPO Tsunami of sorts. Such is the Indian IPO rush that there are 11 companies offering their shares for sale to the public this week, making it the highest number of companies to hit the market in a week since 1995.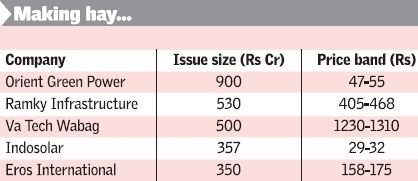 Corporate India had earlier raised over Rs 47,867 crore through 44 public offers during 2009-2010, a period when the stock market benchmark Sensex gave a handsome return of over 80 per cent.

The good run of the Indian stock markets has fuelled the interest of companies looking to tap the primary market. Recently, the public issues of a number of entities including SKS Microfinance, Prakash Steelage Ltd and Gujarat Pipavav Port Ltd got huge response from investors and were oversubscribed. The companies, which are hitting the primary market this week include, Orient Green Power (Rs 900 crore), VA Tech Wabag (Rs 500 crore), Electrosteel (Rs 285 crore), Tecpro Systems (Rs 268 crore), Ashoka Buildcon (Rs 225 crore) and Gallant Ispat (Rs 40.50 crore).


BSE Starts Mobile Trading

Trading through mobile phones has gained popularity the world over and after the Indian capital market watchdog, Securities Exchange Board of India (SEBI) gave the green signal for trading of shares via mobilephones on August 27, the Bombay Stock Exchange Ltd (NYSE:BSE), India's oldest stock exchange launched mobile-based trading today through its 33 leading brokers.

Leading BSE stock brokers namely, Angel Broking, Motilal Oswal Securities, Marwadi Shares & Finance, BCB Brokerage, Asika Stock Broking, Geojit BNP Paribas Financial Services, SMC Global Securities, ICICI Securities, India Infoline, Kotak Securities, Standard Chartered STCI Capital Markets are among those who started providing mobile based trading facility to its clients.

With mobile based trading, BSE plans to expand its reach to rural areas of the country. India has a lot more mobile phone subscribers with total connections estimated at 652.42 million as on Aug 1, than those using PCs and SEBI's decision to open up the trading platform for mobile users is likely to result in the rise of equity culture.


United Stock Exchange: Record Business On Debut

Yesterday the United Stock Exchange of India, a new exchange formed to focus on exchange-traded interest rate and currency derivatives, started trading in currency futures.

Active participation by jobbers and banks got currency futures trading off to a flying start as the USE clocked volumes of Rs 45,485 crore in four currency pairs, including rupee versus dollar, euro, yen and GBP, respectively in the first day, taking total volumes on the exchange-traded currency futures market to a record Rs 87,389 crore. Against this, the combined volume of stock and index futures was a little over Rs 46,000 crore. 

While some market observers feel that USE's volumes may dip after a while, what stunned them was the way the new bourse pipped established players in the segment like National Stock Exchange (NSE) and MCX Stock Exchange (MCX-SX) .

USE is a bourse on set up on public-private partnership with 21 public sector banks, five top private banks, the BSE, state-owned entity MMTC, Jaypee Capital etc having stake in it. Among the 21 public sector banks which have participated in the formation of USE with an equity participation include Allahabad Bank, Andhra Bank, Bank of Baroda, Bank of India, Canara Bank, IDBI Bank, State Bank of India among others.


Although Indian markets have been a success story in the past few years not getting bogged down to extreme quarters even in the 2008 global recession but as part of the natural cycle, what goes up eventually comes down. Although its very natural for people to be optimistic when the market is rising but the key to invest in Indian markets just as any other world market is to follow the fundamentals closely and walking a middle path. If invested in moderate levels, the Indian success growth story does indeed have a level playing field and immense wealth creating opportunities for the domestic as well as the international investors.
Disclosure:
No Positions