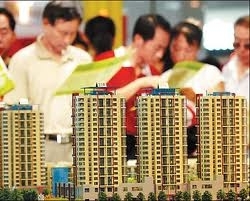 As the world fights deep recession, which is getting murkier by the day, much of the world's global capital has been flocking to China in recent years in anticipation that China's growth can act as a protective shield. Although this investment route has worked well in the past year but now it seems like a perfect case of putting the cart before the horse as China's inflated equity and real estate growth built largely on government-led economic stimulus measures and soaring asset prices, which lead to low interest rates and massive fiscal deficits, have run out of steam and its quite evident that the Chinese bubble is already on its way to bust bringing an abrupt end to the boom.
According to
Andy Xie
, an independent economist based in Shanghai, China's property bubble was about to burst in April this year and the markets have now peaked. It will trend down gradually for the rest of the year. When expectations of a yuan revaluation reverse and capital outflows ensue, probably in 2012, the market will deflate faster.
China has entered a property bear market that will last for five years. The average prices in larger cities are likely to decline by half or more. Land values will fall by much more. In the biggest and craziest bubble in
Zhejiang Province
, they may drop 80 percent or more.
A growing number of economists and market analysis have expressed deep concern that the busting of the Chinese Realty bubble has the potential to rattle the world economy that is still struggling to recover from the global meltdown.
Chinese economic crisis, which could have been shrugged off a few years ago, is now a considerably more serious event in a world in which Beijing runs the second-largest economy.
Soaring real estate prices in China's coastal cities, with prices rising as much as 50% a year, have lifted some rents to unprecedented levels. The biggest risk to China's economy is the desire of the Chinese government to maintain past economic growth rates by maximizing investments in property.
According to a recent Bloomberg report  China's home prices will start declining from this month as the government maintains its lending curbs and increases the supply of public housing, forcing property developers to cut prices to boost sales.
Statistics from Goldman Sachs showed that over the past six years, housing price hikes have outpaced income rises by 30 percentage points in Shanghai and 80 percentage points in Beijing. In Beijing, the housing price of per square meter is as much as a resident's seven months' salary on average.
The average price-to-income ratio in Beijing has reached 27:1, five times the world average, according to data from the Bureau of Statistics of the Beijing Municipality.
Economists have expressed concern that when the China Real estate bubble pops, countries with economies heavily dependent on exporting commodities to China, like Australia and Brazil are likely to go down with the China ship.
Official government statistics, which are considered to be unreliable, show house prices in Shanghai are rising at 11% a year but agents and local people say the reality is more like 50%. According to the investment bank Goldman Sachs, in recent years housing prices in Beijing have risen 80 percent faster than wages.
Imminent Realty Price Correction: A recent Bloomberg report has quoted Beijing-based analysts at BNP Paribas as saying that China's home prices will start declining from this month as the government maintains its lending curbs and increases the supply of public housing, forcing property developers to cut prices to boost sales. China's property developers, the worst-performing group on the benchmark Shanghai Composite Index this year, will "continue to be affected" as the government maintains its curbs on the industry, the BNP analysts said. With the correction of the Chinese Real estate prices as projected by BNP Paribas, there are bound to be deep economic repercussions in China. Private housing investment accounted for around 15% of total investment volume in urban areas in 2008 and about 13% in 2009 while output in the home construction industry constitutes around 6% of China's GDP, employs around 14% of all workers in urban areas, and consumes around 40% of all steel and lumber produced in China. Hence the slowdown in China's housing production or a significant house price decline on the household sector is going to have a very direct impact on the China's economic growth.


The Chinese Infrastructure segment was helped by the easy money policy by the People's Bank of China, the Chinese central bank. New bank lending in 2009 went up by 10 trillion renminbi or around 29% of GDP. This was the biggest stimulus provided anywhere in the world and estimates suggest this government-directed investment was responsible for nearly 70% of China's growth in 2008 and almost 90% growth in the first half of 2009.Since the beginning of this year, the Chinese government has directed banks to go slow on lending, on the concerns of there being a huge property bubble. But the price rise has continued unabated. In the month of April, property prices in China shot up by around 12.8% on an average. The Shanghai Composite Index of stocks jumped 80 percent last year and property prices rose at the fastest pace in almost two years in February, helped by a record 9.59 trillion yuan ($1.4 trillion) of new loans in 2009. China's 2009 boom, in which automakers sold nearly 14 million cars and trucks, and housing prices doubled, is now being traced as a definite sign of an overheated economy which now stands at a risk of serious recession in the coming months.
 
Rising Price-Rent Ratio:
As shown below, housing prices-to-rents have increased by at least 30% in each market over the past three years. The increase in price-to-rents has been particularly large in Beijing, where it has risen from 26 times in 2007 to 46 times in the first quarter of 2010.
Given the extremely high price-to-rents ratios in China's cities, and that high rates of capital appreciation are required to maintain these levels, China's home prices are likely to continue correcting in coming months, placing China's banks and households under pressure.
China Real Estate Related ADRs include:
Xinyuan Real Estate Company Ltd. (NYSE:XIN): Xinyuan Real Estate Co., Ltd. (Xinyuan) is principally engaged in residential real estate development and the provision of property management services. It focuses on Tier II cities in China.

Starwood Asia Pacific Hotels and Resorts (HOT): Starwood Hotels & Resorts Worldwide, Inc. is a hotel and leisure company. The Company conducts its hotel and leisure business both directly and through its subsidiaries.

Aluminum Corp. of China (NYSE: ACH): Aluminum Corporation of China Limited (Chalco) is an aluminum producer with operations in bauxite mining, alumina refining, primary aluminum smelting and aluminum fabrication.

China Precision Steel (Nasdaq: CPSL): China Precision Steel, Inc. is a steel processing company principally engaged in the manufacture and sale of high precision cold-rolled steel products and in the provision of heat treatment and cutting of medium and high carbon hot-rolled steel strips.

China Real Estate Investment Trusts (REIT): In January 2008, most Chinese REIT's were at a peak or going super hot but with the fall in the global stocks in the end of 2008, Chinese REIT fell owing to global trends but picked up like most other stocks and ETFs in march 2009. However since AUG 2009 to August 2010, most REIT's are floating in the same narrow range.

The GZI REIT (OTC:GZIRF) operating from Hong Kong was the first successful mutual fund to gain a foothold in the property management industry in Mainland China.

Although, REITs can be an excellent way to diversify your portfolio, garnering income and capital appreciation possibilities, Mainland China's issues of transparency and changing rule of law pose greater risks for the investor.

 

Popular China ETFs


Claymore/AlphaShares China Real Estate (NYSEARCA:TAO): The index is designed to measure and monitor the performance of the investable universe of publicly traded companies and REITs deriving a majority of their revenues from real estate development, management and/or ownership of property in China or the Special Administrative Regions of China, such as Hong Kong and Macau.

TAO Top Ten Holdings

   1. Link Real Estate Investment Trust (823): 6.35%
   2. Hang Lung Properties Ltd. (00101): 6.14%
   3. Hongkong Land Holdings Ltd (H78): 5.78%
   4. Wharf (Holdings) Ltd. (00004): 5.41%
   5. Swire Pacific Ltd. (00019): 5.25%
   6. China Overseas Land & Investment Ltd. (00688): 5.07%
   7. Cheung Kong Holdings, Ltd. (00001): 5.05%
   8. Hang Lung Group Ltd. (00010): 5.02%
   9. Sun Hung Kai Properties, Ltd. (00016): 4.73%
  10. Henderson Land Development Co. Ltd. (00012): 4.27%

Expense Ratio:  0.65%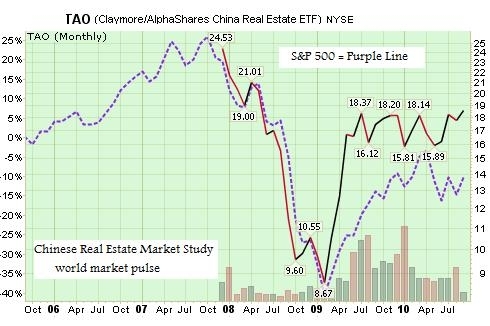 Other China ETFs Include:

FTSE/Xinhua China 25 Index Fund (NYSEARCA:FXI): The index measures the performance of the largest companies in the China equity market.
Expense Ratio:  0.74%

SPDR S&P China ETF (NYSEARCA:GXC): The S&P China BMI Index is a market capitalization weighted index that defines and measures the investable universe of publicly traded companies domiciled in China, but legally available to foreign investors.

PowerShares Golden Dragon Halter USX China Portfolio (NASDAQ:PGJ): The Index is comprised of the U.S.-listed securities of companies that derive a majority of their revenue from the People's Republic of China.
Expense Ratio:  0.60%

Morgan Stanley's China A-Share Fund (NYSE:CAF)
China Fund Inc. (NYSE:CHN)
JF China Region Fund Inc. (NYSE:JFC)
The Greater China Fund Inc. (NYSE:GCH)
 
China Cement And Steel:
China currently produces 500 Million MT of steel which is more than EU, Japan, US and Russia combined and at 1.35 billion MT, China consumes more cement than the rest of the world combined. What' more, China's estimated spare capacity is more than the consumption in India, USA and Japan combined. This capacity has been built up to fuel the infrastructure boom in China, which in turn has been helped by the easy money policy by the People's Bank of China. But since the beginning of this year, the Chinese government has directed banks to go slow on lending, on the concerns of there being a huge property bubble.
Drying Chinese Imports: The Baltic Dry Index (BDI), which measures the demand to ship raw materials and is a leading indicator of commodities demand and raw materials production, recently experienced its longest fall in 15 years. This fall in the BDI reflects in part a strong reduction of Chinese steel demand and production and a corresponding slowdown in orders of iron ore.

Worried Market: Amid concern the nation's property market is overheating, most investors are now demanding greater yields to lend to China property firms, which is a clear indication that they expect borrowers to have a harder time meeting debt payments amid a government clampdown down on lending. Chinese property bubble cannot go on for long. And as when it pops, Chinese manufacturers will start dumping all the steel and the cement that they produce, on other parts of the world. As and when then happens, steel and cement prices will crash.
RE Bubble Could affect the following Chinese companies:

Aluminum Corp. of China (NYSE: ACH), China Petroleum & Chemical (NYSE: SNP), China Precision Steel (Nasdaq: CPSL), and ShengdaTech (Nasdaq: SDTH). Meanwhile, Bombardier and Siemens (NYSE: SI) have contracts to help build the high-speed rail.
 
Global Impact Of China Bubble

Emerging Market Funds and ETFs: These are the most obvious losers if China falters. It's not just that China represents 17 % of the MSCI Emerging Market Index, the single largest country weight, but that so many of the other emerging markets, especially those rich in resources such as Brazil and Russia are likely to suffer strong jolts of the Chinese recession.

Australia: China's prosperity has had huge future impacts for Australia's economy in the past, but there are now fears the economic giant has developed a bubble economy. As the clouds surrounding China's bubble economy theory are moving away, making the reality of the huge bubble stark naked, economists have expressed concern that countries like Brazil and Australia which have so far benefited from Chinese markets, are also very likely to left stranded with a heavy dent with the blowing up of the over hot Chinese economy.
 
China's Human Resource Abuse
Another very important element of the Chinese growth story is the government-sponsored abuse of the country's human resource, the largest in the world. China is the manufacturing base of the world with cost effective products but not many people seem to understand that China has cheap labor mainly because the government literally robs most of their hard earned money by printing trillions and trillions of Yuan that were used to finance infrastructure project and to maintain cheap labor through a cheap currency. Not only are the Chinese workforces fighting with their lives, majority of Chinese peasants are hand to mouth farm labor who have no other alternative but to work at any cost to survive or to sustain their families in rural areas. What's more shocking is that the migrant workers are forced to commit suicides in order to get a raise, but with the growing high misallocation of wealth, a petty wage increase is unlikely to solve the problem.
Ghost Towns Of China


Ordos: Meant as home for one million people, the Kangbashi district remains nearly empty five years after construction began. Ordos is a hyper modern city, full of brand new glass walled residential and commercial buildings, but the only problem is that its devoid of any inhabitants. Though many of the properties in Kangbashi have been sold and a million people were projected to be living in Kangbashi by 2010, the city is still empty.

Bloomberg reports that Designed for 300,000 people, Kangbashi, the new urban center of Ordos prefecture west of Beijing, may have only 28,000 residents, Bank of America-Merrill Lynch said in a May 10 note. In fact work has already stopped in this Ghost town , as local leaders who planned the town ran out of money long before it was finished.

China's 13.6 trillion yuan ($2 trillion) of new loans in the past 17 months, bigger than the economies of South Korea, Taiwan and Hong Kong combined, is "unprecedented in 400 years of economic history.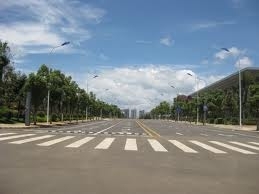 Chenggong: Construction of this city in Yunnan province started in 2003. Seven years later, there are more than a hundred-thousand new apartments with no occupants, lush tree-lined streets with no cars, enormous office buildings with no workers, and billboards advertising cold medicine and real estate services – with no one to see them. Basically the city has got everything except for the one major ingredient a thriving city needs: people!


Thames Town: Shanghai's satellite settlement of Thames Town opened in 2006 as part of Shanghai's One City, Nine Towns program, with low-rise apartments and gated complexes designed to house 10,000 residents. Despite an intensive marketing effort (including a beauty pageant), the community failed to take off, and what has left is a ghost town that is nothing more than an ideal place for a quiet afternoon stroll.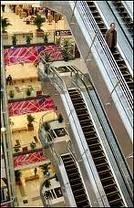 New South China Mall: Imagine going shopping in the most populated country on earth and not see a single soul, leave alone any shops. That's exactly what one witnesses in the New South China Mall, which opened in 2005, stands empty with 99 per cent of its shops having remained unleased and attractions including a 553-metre indoor and outdoor roller coaster standing idle. The mall designed to attract an average of more than 70,000 visitors a day has less than a dozen shops in its 9.6million sq ft of floor space.
Future Outlook:
According to the McKinsey Global Institute , Chinese cities are expected to add more than 350 million people by 2030, which will bring their urban-dwelling population to more than a billion. In the next 20 years, McKinsey estimates that China will have to build around 50,000 skyscrapers and literally millions of apartment buildings, as well as thousands of hospitals and universities, 170 new mass-transit systems, and hundreds of thousands of parks, schools, fire stations, and community centers. These cities must be built with levels of efficiency and sustainability that has never before been achieved. There simply is no other option. China needs to innovate or, essentially die.
Worldmarketpulse analysts believe that China is the perfect example of attaining too much too soon and the problem of such high huge growth is that the country never had the time to pause or time to rethink and reflect causing enormous inequalities
, a vast distance between people so much so that now a new super rich elite class has emerged clearly showing that first Maoism failed, second Chinese elite went many steps ahead of what
Ten Xiao Ping
professed two decades ago that primary goal of any business should be to bring prosperity to the common people. Its time that China takes a time out from all the maddening hoopla surrounding its economy to digest all this extreme exponential growth to consolidate and settle down with economic disparities that have suddenly caused fissures and conflicts. 
Disclosure:
No Positions