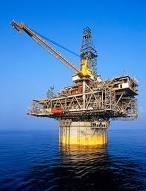 Shares of Noble Corp fell 3 percent yesterday after the offshore drilling contractor announced that it faced more rig downtime this year with expected downtime projections increasing to 36% compared to its last fleet status report in July this year.
Industry experts have meanwhile attributed the increased rig downtime to the U.S. deepwater moratorium and shallow-water rigs coming off contracts in Mexico.
Noble Corporation has been in a well-diversified position from a geographic standpoint and has delivered solid financial results in the past with minimal leverage but rig downtime and rising costs the company has more reasons to worry. Rig downtime is not the only worry for the offshore drilling company but a higher merger costs and higher taxes in the third quarter have also taken its toll on the financial health of the company. Noble is meanwhile all set to book $14 million to $17 million in costs related to a $2.16 billion takeover of Frontier Drilling this quarter. What's more Noble is likely to pay a tax rate of about 25 percent this quarter, compared with 15 percent expected this year, since its tax bill rises when it books less revenue in certain parts of the world.
Noble's second-quarter net profit fell to $218 million, or 85 cents per share, from $392 million, or $1.49 per share, a year before while analysts were expecting a profit of $1.03 per share
International Issues
:  Noble Corporation had been reserving the revenue from its Homer Ferrington rig in Libya, on standby since April 24 because of a contract dispute with Exxon Mobil (NYSE:
XOM
) and BP Plc (NYSE:
BP
). The deepwater rig was earning $536,000 to $538,000 per day, on a contract running to April 2012, and the dispute is now in arbitration.
Noble's Historical Performance and Valuation
The following exhibit shows selected metrics for Noble Corporation for the past decade as provided by Value Line Investment Survey

Meanwhile on a positive note, new rules for offshore drilling under consideration in Congress could create major competitive advantages for offshore contract drillers that have heavily invested in modern drilling fleets in recent years. Noble Corporation's (NYSE:
NE
) CEO had earlier made a positive statement regarding the proposed changes and indicated confidence in his rig fleet to adapt to the new rules as smoothly as possible.
Disclosure:
No Positions