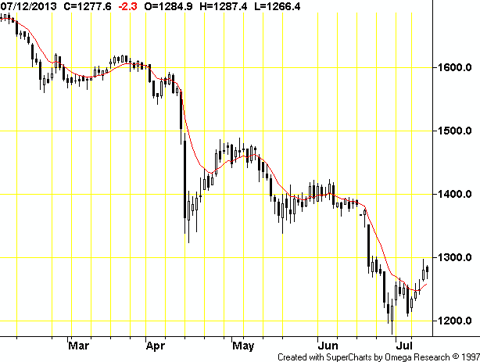 If you have been following my gold instablogs recently, then you know how I perfectly called the last two bottoms in gold. First, during the evening of 6/27/13, when August gold futures made a low of 1180 and then moved back above 1200, I stated the bottom was in and beginning 6/28/13 it was time to go long gold: see article here. After gold rallied $82 out of the bottom and rolled over, I made a comment to that article to let readers know I got out and took profits near the highs and was now awaiting a retest of 1200. We got that retest on Friday, 7/05/13 when August gold futures (GCQ3) made a low of 1207.40 and closed 1212.70. Over the weekend just 7 days ago, I put out an article you can find here, calling for another bottom, that materialized in a $90 rally this past week to 1297, and final close on Friday, 7/05/13 of 1277.60.
Now Looking To Get Short Against 1300 Resistance!
The first retest of the 1180 low in August gold futures (GCQ3) stopped at 1200 as expected and has rallied towards 1300. Just like in April when the low of 1321 was struck in February gold futures (GCG3), the first retest held. But the later retest did not hold and we ended up making new lows down to the current 1180 area. I am expected this week's high of 1297.20 to be taken out by a marginal amount and for us to top out at 1305 to 1325, and then to take out the low and approach 1155, or possibly 1100. If we hit 1320, then my recent assertion we will see 1320 before we see 1220, will still be correct.
This Rally Is An Elliott Wave 4, With a Down Move To Follow To Complete Wave 5.
Gregor Horvat just posted here, a gold chart and comments that explain how this current bearish move will not be completed until we take out support at 1180. Thus he is looking for a high this coming week against 1300, and then a break to new lows. I couldn't agree more. Gregor Horvat correctly points out that gold should not move above 1336, for his current wave count to remain correct. The 1336 area he points to corresponds to about 1333 in August gold futures. Keep checking back to this article early in the week as I will be posting comments that will update my trading progress and let you know my latest thoughts. Instead of using futures to go short, one could short GLD or buy the gold miner triple leveraged inverse ETF called DUST.