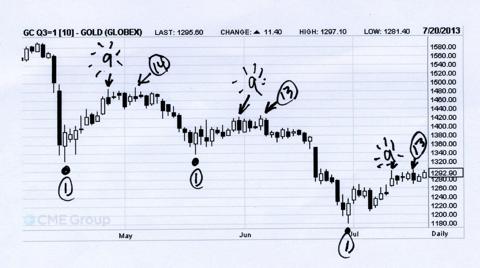 On Monday, July 15, 2013, I wrote an instrablog on Seeking Alpha that you can find here, that predicted a Bernanke top in gold either Wednesday or Thursday of this week. It turned out to be Wednesday, July 17, 2013, when August gold futures hit a high of $1,299.70. Wednesday and Thursday were the 13th and 14th trading days of the correction off the last major low.
The daily August gold futures chart shown above, illustrates a pattern that I identified on Monday, July 15th that allowed me to predict a top in gold this week. What I noticed was that in April there was a big $200 selloff in 2 days and they comprise the two long black candlesticks above. Then we bottomed on the day marked as Day 1 above, with the white candlestick reversal day. Then counting each trading day forward, on exactly Trading Day 9, of the correction following the selloff to new lows, we hit a high of $1,485.40. Then on Trading Day 12, we had a hard down day, and two days later on Day 14, we made a marginal new high of $1,488.50 and that was a major top.
Then in May we bottomed again and this time we got a big reversal white candle on Day 1, and again we made a significant high on Trading Day 9 of the correction phase, at $1,421.60. On Day 11 we had a hard selloff and two days later on Trading Day 13 we made a marginal new high at $1,423.30. That was a major top.
Recently when we closed in late June at nearly $1,200, we got a reversal white candle when we hit a low of just under $1,180 and then reversed up. That day was Day 1 and then if you count out to Trading Day 9, again you get a significant high of $1,297.20. To complete the pattern again, we would need to see a marginal new high on Wednesday July 17th or Thursday July 18th as the 13th or 14th trading days off the low, to make a marginal new high and then reverse down. Since Monday, July 15th was a down day and that was Trading Day 11, then one would expect that two days later the final top would occur two days later on Wednesday, July 17th. That is exactly what did occur when on Wednesday we made a marginal new high of $1,299.70 and then quickly fell down $30. In the last couple days we have rallied to challenge the $1,300 level again but have stayed below the marginal new high price hit on Wednesday.
If the pattern plays out to form, we will not go above $1,300 and will go sideways to lower and eventually make a new low below $1,180 and down to $1155 and maybe $1100 where another major bottom will form. We don't have to roll over here and go lower, but it is the most likely scenario based on probabilities. I have read many articles at kitco.com and one suggestion is that maybe miners had to hedge at $1,300 to remain viable companies and they are keeping gold from rallying above that benchmark price. In any case, during this entire selloff in the last three months, we have never been able to get back to the previous support levels on rallies. Using the continuous charts, the June gold contract hit a bottom of $1,321 so that should become formidable resistance for August gold futures if we do take out $1,300 resistance.
After correctly calling for a bottom in gold in real time, during the evening Globex session of June 27, 2013, when gold bottomed at 1179.40 and then quickly moved back above $1,200 (see article here), and also calling for a bottom a week later on the $1,200 retest (see article here), and also correctly calling for a top this week, first in an article over the weekend found here, and then the Monday article where I identified Wednesday or Thursday being the top, article found here, I will tell you that my heart wants to be bullish on gold, but my head tells me it is still too soon. If the $1299.70 high is not taken out, we should roll over and take out the low of $1,180. From $1,155 and lower, I am extremely bullish the gold market. But if we should trade and close above $1,300 (two closes would be even better), maybe the bottom is indeed in, and we don't need to make another major low. Then a retest of $1265 down to $1235 should hold, and we can begin buying gold with impunity.
Disclosure: I have no positions in any stocks mentioned, but may initiate a long position in DUST over the next 72 hours.