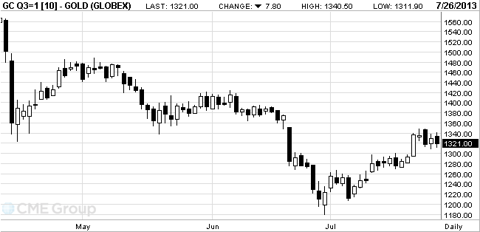 I See Gold In A Range Of $1100 To $1400 For Now
I recently wrote an article asking if $1300 resistance would hold or not that you can find here. We all know that $1300 resistance was overcome and in fact August Gold futures (see chart above), has rallied to a high of just over $1348 this week. That is $169 off the low of just under $1180 we hit at the end of June. This exceeds by three dollars the $166 correction we managed in April when we rallied from $1321 to $1487 in the June gold contract. Based on the size of the current correction, it is apparent that all price targets have been met for anyone going long during the current correction phase. Even if by chance we take out resistance at $1350 and extend the current rally, $1400 would be formidable resistance. Once the correction is complete to the upside, we should retest the $1200 level, and if broken, trade down to $1155 and $1100. Thus, I see the range in gold for the foreseeable future as trading between $1100 and $1400. We are presently in the upper third of that range, so I prefer being a seller more than a buyer.
I Have Started Buying Triple Inverse Gold Miner ETF DUST On Dips Below $75
Rather than short gold, I prefer buying the triple inverse gold miner ETF called DUST. The gold miners have been performing worse than the gold metal and it appears that trend will continue for a bit longer, based on what Goldcorp (NYSE:GG) and Newmont Mining (NYSE:NEM) said after their recent earnings reports. The ongoing challenges of gold miners should continue to drag on the performance of the gold miner ETF GDX and it should therefore allow for higher prices in the leveraged ETF DUST. Just look at the chart below: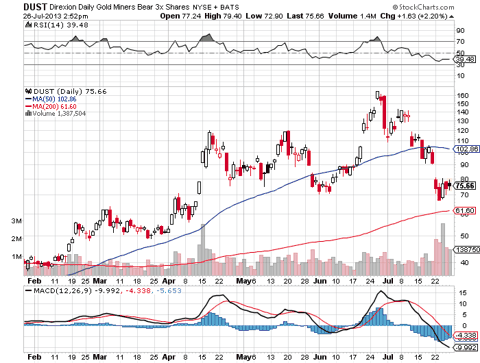 You can see that the high of $166.50 was reached in DUST on June 26, 2013, and we have just hit a low of $67.19 on July 23, 2013. I was able to buy even lower in the pre-market the following morning at $65.50. We sustained a severe 4 week correction in DUST and should now stabilize between 50 and 70 in the near term, based on the resistance levels of GDX. Usually DUST turns up after 3 to 3 1/2 weeks of selling off so DUST is overdue for a rally. With GDX at 27, DUST currently trades around 75. If GDX rallies 11% to strong resistance at 30, then DUST could fall triple that much, or 33% and trade down to 50. One must play small enough that a move down to 50 in Dust can be tolerated. With daily ranges of 3 to 4% or more in GDX, one should see 9 to 12% or higher ranges in DUST, allowing for lots of intraday movement. If one is careful and buys dips in DUST, especially under 75, there should be plenty of sell offs in GDX that cause DUST to pop and allow for intraday profit taking. The key is for the gold market to turn down and the miners will sell off hard. If we drop back $60 to $100 in gold, expect the GDX to fall at a higher percentage drop than the metal. Triple that and you can imagine how DUST could easily rally back to 90 or 100.
Disclosure: I am long DUST.