Last Friday, July 26, 2013, I went home short the September Aussie Dollar from 9235 and then wrote an article (check it out here) about why there was an 85% chance the trade would be profitable. The low on Wednesday, July 31, 2013 was 8901, so the trade has made over 300 ticks and counting. Well, I have taken profits on my shorts and I am now going long from 8919 and will buy more down to 8800 where I feel we should bottom for a countertrend rally back. Just look at the current chart.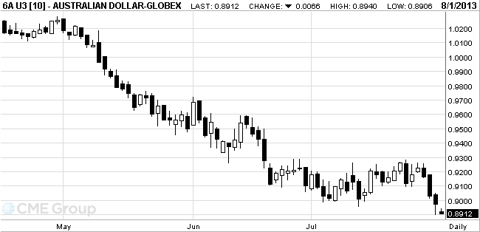 The last very small bar at the right is the current Wednesday night Globex session price action, that is the beginning of Thursday's price action.
Since 9600 and lower, whenever the currency made a new low, I kept buying every 50 cent dip, and successfully made money. At these lower prices it should be even easier to buy the dips. Looking at the above chart, the first time we approached 9500 on 5/23/13, we reversed back to 9700 that very day. Three days later we bottomed 9457, and rallied back just above 9700 on 6/03/13, the first candle in June. The first time we hit 9400 we fell to 9370, but reversed back to 9600 that very day on 6/06/13. When we hit bottom at 9262 on 6/11/13, we hit 9593 over the next couple days. The next big low was 9105 on 6/20/13 that was low enough it was not violated significantly for nine days. We kept bouncing back towards 9300 several days and I was playing from the long side during those rally days. After the 9100 broke, 9000 was significant support, with the 8987 low holding for 5 days, and the 8957 low for 13 days. Today we fell to 8901 and either 8880 to 8901 should hold as support, or 8800 should hold significant support for several trading days. I will be buying into those support zones and continuing to scalp from the long side on all new lows.
Conclusion
I don't know if we stop going down around 8900 or 8800, 8700 or even 8500, but what I do know is that by buying into all new lows, eventually I will set up for a major rally when it occurs. As we drop lower and lower without a significant correction of more than 200 to 300 ticks, we are coiling a spring tighter and tighter as the market gets more and more oversold. At some point the spring will trigger and a big move up of 700 or more ticks should occur. I am setting myself up for that big move up. Even if we continue falling, I feel much safer playing from the long side than the short side, as the down move is very, very long in the tooth and a nasty short covering rally could be just around the corner. I don't want to get caught short when the big rally begins. We are surely closer to a bottom than a top, and buying into weakness is getting easier and it is taking longer and longer for the market to make new lows. At some point, there will be no more lows. That day is much closer than most traders think.