If you have been reading my articles recently, you will see that I have been on a roll correctly timing the market, picking changes in market direction on stocks and commodities with an uncanny accuracy. Can I meet the challenge to correctly call the next turn in gold and gold mining stocks? Well, I will give it a try.
The Recent Rally In Gold, Miners & Materials Is Corrective
Every dog has its day. The beaten down mining and material stocks did have a nice rally the last couple days, and that rally could continue for a bit longer. But do not lose track of the fact that this is only a minor correction in an overall well ingrained down trend. We could bottom soon, but to do so, further retests of the lows will likely be required. What we've enjoyed this past week was a long overdue oversold bounce. The news out of China on Thursday and Friday was very constructive, and it forced a lot of shorts to cover. But realize that inventory restocking could just be a temporary fleeting positive blip. Also, a weaker dollar was helpful this week, as it made materials cheaper for foreigners to buy, spurring a little demand. Unfortunately, if one studies currency charts, one will see that the dollar is approaching some significant long term support levels and it may soon spring back up a bit, depressing gold and other commodities. When one factors in the recent weakness of the dollar, the action in gold has been quite anemic and unimpressive.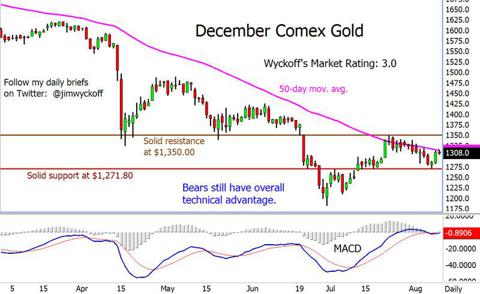 This chart of December Gold shown above, was posted by Jim Wyckoff at kitco.com. You can click here to get directly to the posting. What I see with the action in gold the last couple days, is similar to what occurred just prior to the big downward plunge in April of this year. Back then, there were 3 green candles (up days) just prior to the big plunge. I believe Thursday is equivalent to the first of the three April green candles. If correct, then Monday should be a strong up day in gold that brings us a top, making a 2nd green candle. Then Tuesday, August 13, 2013, should be a hard down day. Wednesday could be a minor up day, making the final green candle, and Thursday we could drop $75 and Friday another $50, as we retest $1,200.
History does not have to repeat itself, but in any case, after three up days in gold, if Monday we rally for a 4th straight up day, I will be getting short gold and long DUST. I will then look for a hard drop in gold on Tuesday, August 13, 2013, and a sell off in the gold mining stocks (NYSEARCA:GDX). I will then watch to see if Wednesday consolidates and then we plunge lower on Thursday and Friday.
Dust Is Near Support At $70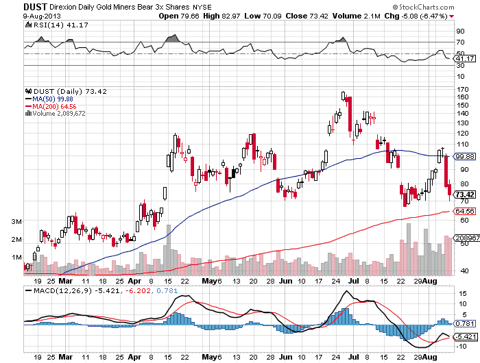 Looking at the DUST chart, you will see that the low on Friday was 70.09 which is major support. Three weeks ago we had one close under $70 and then began a nice rally to $108. I am hopeful that gold will pull the GDX higher on Monday, August 12, 2013, and cause DUST to dip back to $70 or a bit lower, to allow me to position myself long DUST, the triple inverse ETF that goes up when GDX falls. For the time being, all dips in DUST should be buys, especially if one is buying in the $70 to $72 area and lower. Remember that one must always anticipate the potential for great volatility in this leveraged triple ETF and keep the position small. Then if we overshoot to the downside and trade down to $60 or at major long-term support at $50, instead of getting stopped out, one will be prepared to buy aggressively on the weakness, averaging down and getting positioned for a move back above $120, and possibly as high as $200 if gold should take out support at $1200.
The long-term trend in gold and the gold miners remains down. I do anticipate a significant bottom in the 3rd or 4th quarter of 2013, but we still have unfinished business to the downside left to do, if one follows Elliott Wave Theory, and other technical charting patterns. Even if gold has already hit bottom and the miners have likewise seen their lows and DUST has seen its high, one should be able to successfully buy dips in DUST and sell out on rallies, if one plays small enough that one has remaining cash to average down on all dips to new lows. DUST is definitely the ETF that I will prefer trading over NUGT, as we are near the $70 support level, and we are near support in the dollar. I anticipate a higher move in the dollar next week, which should accelerate by the end of the week. That should correspond to a lower move in gold and GDX, and a higher move in DUST.
Disclosure: I have no positions in any stocks mentioned, but may initiate a long position in DUST over the next 72 hours.