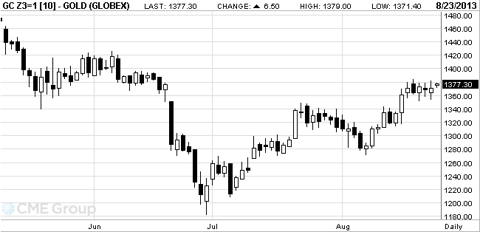 I previously wrote an instablog on July 21, 2013, that you can find here. In that article I explained how gold likes to top on the 9th trading day out of a low, then go sideways and then top on the 13th or 14th trading day.
Looking at the above chart of December Gold Futures, you will see that we bottomed on the 5th trading day of August. Counting that as day "1" you will find that on the 9th trading day we topped out and have now traded sideways. Since Friday, August 23, 2013, is the 13th trading day since the recent bottom, and (if you read my previous article) you will know that we usually have a final top and roll over on the 13th or 14th day. I am writing late Thursday night and the small candle on the end is the Globex night session showing we are up slightly this evening. This bar will continue filling in as we trade on Friday and I am looking for a marginal new high top on Friday, and we should then turn down.
What are the implications for DUST?
If you have been following my DUST articles you would know that I am presently long the triple leveraged inverse ETF for gold miners called DUST, and feel that gold is on borrowed time on the current rally. If gold rolls over, GDX should follow and DUST should then boom. If gold breaks through to the upside instead, by Monday, then I would have to say I was wrong and give up on DUST. It will be fun to see what happens in the next couple days. The DUST chart follows and one can see how DUST is trying to bottom like it did the week of July 22, 2013.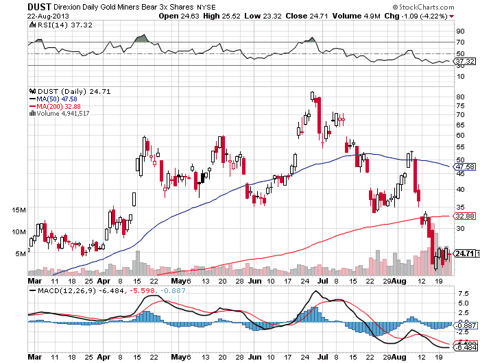 Disclosure: I am long DUST.