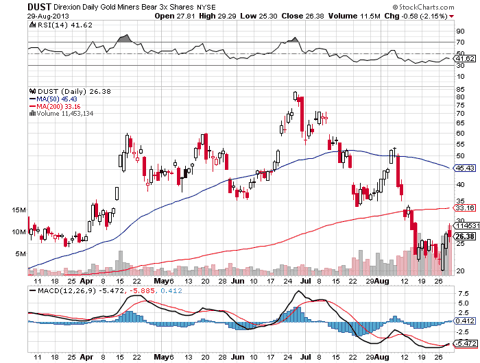 A week ago I wrote an article calling for a bottom in DUST on Friday, August 23, 2013, or Monday, August 26, 2013. You can read the article here. Well, the lowest close did occur on Monday, August 26, 2013, but the actual low occurred at 20.10 and I was lucky enough to buy some shares at 20.11. Since that low, we rallied as high as 29.29 on Thursday, August 29, 2013. I recently wrote an article where I was hypothetically long 600 shares at a post split price of $30 in DUST. I was going to see how long it took to get my money back. It only took until yesterday.
How I Got My Money Back Buying Too Soon In DUST
Here is a review. I had already day traded to get my money back on half of the shares so I came into the week long 300 shares and bought on the dip to the low to get back to the full 600 share core position. Thus when we rallied back to 25, I sold 300 shares that reduced my core position down to only 300 shares. This made a win/win situation where if DUST fell, I had funds freed up to buy the dip at 20 again without having to risk additional capital, but if DUST rallied, I could just ride the remaining 300 shares back towards 30. When we moved above 25 on Wednesday, and all the way to a high of 27.50, I knew that DUST had indeed turned the corner and we would have to likely trade to at least 28 or 29 before we turned down. So in the aftermarket on Wednesday night I bought 200 shares of DUST at 26.62. Figuring the 300 share core position at 30, the average for the total 500 share position was 28.65. So when we rallied quickly to 29.29, my sell order at 28.70 could easily be hit and I was out of all shares. I posted significant comments in the StockTalk section to show how one can work a strategy that allows one to recoup losses even if the stock never rallies back to the original purchase price.
What Is Next?
Now that I am free to trade unencumbered by a loss, I will be making small long trades of 100 to 200 shares in DUST until gold falls back to the $1355 or lower. If I get caught long and "hang" a few shares, by not getting out quickly enough before DUST moves lower, I will continue buying other shares until I reach my 600 share core position limit. My average price will be significantly lower than the $30 price that I have already shown that I can successfully trade out of.
Even though GDX topped out after making a minor new high above $31, gold remained much stronger and stubbornly held above $1400 until this morning. A good article written by Matthew Bradbard calling for a short term top in gold, can be found here.
GDX Remains In A Significant Down Trend
Despite the recent strength in GDX that caused the highly leveraged triple inverse gold miner ETF of DUST to fall post split from 83.29 to 20.10, I knew it was just a matter of time before GDX would fail and turn lower. Even with gold holding solidly above $1400 on the Syria news, GDX could not keep from topping and selling off. This is a testament to how really weak GDX remains. The fundamentals of the gold mining sector were and still are extremely poor. It will be quite challenging for gold miners to earn any real money for the next several years unless gold turns significantly higher. It was just a month or two ago that nearly all the miners disappointed on earnings and had to shut down and write off large mining projects. In a severe bear market, short covering rallies can be quite impressive in their speed and strength, but when it evaporates, you don't want to be caught long as there is a good possibility GDX will test if not exceed its recent low. DUST was the place to be in 2012, and after the recent correction, it will rise again to become of the best places to be in 2013 and 2014 as well, in my opinion. Instead of fearing the sell offs in DUST, one should celebrate the fact that cheap prices are available and snap up a few shares on every dip. Remember, one should never go all in. If one buys 100 shares of DUST, one is actually short 300 shares of GDX. I have advised that if one has $100,000 in an IRA to devote to speculative stocks, one should not trade larger than $20,000 initially in DUST and keep another $20,000 handy to add should the correction become so severe that the original investment is lost. At no time should more than $40,000 of the $100,000 or 40% of the funds be risked on such a highly speculative instrument. I consider myself a professional trader and you can see how small I play DUST. Remember just play DUST small, and you can have a real ball!
Disclosure: I am long DUST.
Additional disclosure: I am buying DUST lightly on dips.