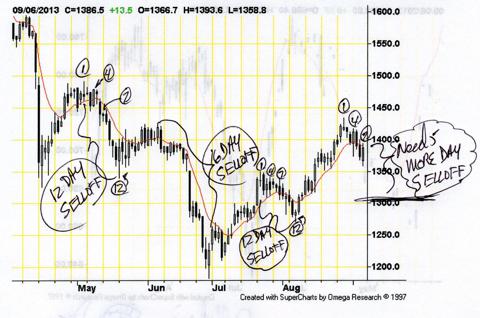 I just wrote an article indicating DUST could be about to explode higher, that you can read here. Well, it did not occur on Friday but I did go home long 400 DUST shares due to the fact gold could fall for another week.
Gold Should Fall For Another Week And Not Bottom Until Sept. 13th
If you look at the above chart of December gold futures, you will notice how in early May, gold started a down move that lasted 12 trading days. After a consolidation, in June 2013, we topped and then started a down move that lasted 16 trading days. After moving out of the bottom, in the middle of July we started a down move that lasted exactly 12 trading days again. Well, we recently topped in gold and Friday was the 7th trading day of the down move. Based on past down cycles, I am now predicting that the move should last another 5 trading days so Friday, September 13th, should be the earliest that we bottom in gold. If we continue falling in gold next week, it will coincide with the pop that I already predicted in DUST. History does not have to repeat itself of course, but these cycles usually last more than just 7 trading days. At Kitco.com, the weekly survey of dealers advisors and trading managers is predicting an up move next week in gold, but I am going the other way. I feel my bearish argument is made stronger because the 4th and 7th day of the current down move were countertrend rallies corresponds to the same 4th and 7th day countertrend rallies that we saw in early May. In the July down move that lasted 12 days, the 4th and 7th days were down days but both times we rallied strongly in the morning and made highs prior to selling off. The rhythm of the current market move is falling in sync with the previous 12 duration day down moves and I feel that odds favor at least 12 days to complete the current down cycle. I will be looking for gold to bottom in another week and will in fact probably go long gold next Friday, Sept. 13, 2013, if the down move does occur as planned.
Disclosure: I am long DUST.