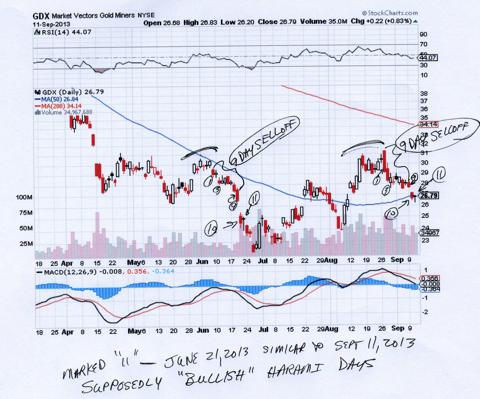 The above chart is a current chart of GDX (excuse the crookedness). You will find I am comparing the current selloff to what occurred beginning on June 7, 2013. At that time there was a nine day selloff and then a big gap down on day 10. On Day 11 (June 21, 2013) we did what is called a Japanese Candlestick Harami pattern. This is supposed to be a bullish pattern, but you will notice we fell hard for the next three days. For an explanation of the Harami pattern you can click here.
Today GDX on Day 11 Of The Current Sell off, Did Another Harami Pattern
What is amazing is that in the current selloff in GDX that started on August 27, 2013, we had exactly nine down days and then a big gap down on day 10, just like in June. Then on the 11th day (today) just following the long red candlestick of day 10, we got a small white body that was completely inside the body of day 10. Harami means pregnant and the long red candlestick of day 10 was followed by the "baby" of day 11. It is a warning sign that the bearishness is waning and we should turn up shortly. Well, in June it did not work out so well for the bulls and I don't think it will now, at least for the rest of this week. Thanks to the large gap formed yesterday, there is now major resistance in GDX on any rallies. Because we did not challenge the gap today, we now have two down days following a gap that makes the gap even more powerful resistance. We should therefore go lower before we go up. If by a miracle we should rally some tomorrow, Thursday, Sept. 12, 2013, I can't see GDX getting much traction and it should roll over again on Friday. I will therefore keep buying all dips in DUST through the remainder of this week, just as planned and as described in my previous instablogs you can read here and here. Now lets look at the current chart on DUST.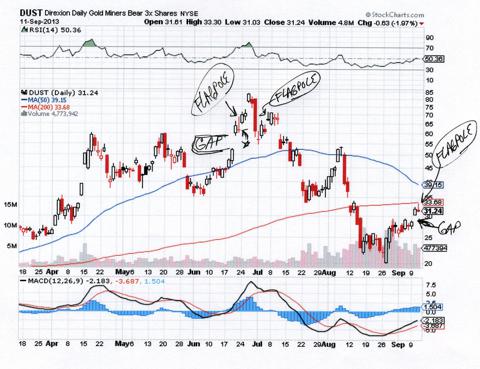 DUST Made A Bullish Flagpole Pattern Today
You will notice that in June we did a gap up on the 10th day of the up move (that corresponds to the gap down in GDX). Then on day 11 of the up move we rallied but sold off late in the day and closed near the low. This pattern does not officially have a name but I call it a flagpole (a pattern I invented myself). When it occurs in an uptrend it usually portends an up day the following day. In fact, I have studied many charts and when in an uptrend, the following day is up over 85% of the time. For another quick example, look at the pattern formed on July 5th (another flagpole) and we did get an up day and top the following day. Still, the next day was positive. Again looking at the far right side of the chart, one sees a similar gap up on day 10 of the current up move in DUST, the triple inverse GDX gold mining ETF. Then we see another flagpole that was formed today. I feel the current up move should last through Friday or at least for tomorrow, Thursday, Sept. 12th.
Market Sentiment Is Worsening For Gold Bulls
I keep saying forever that the key is gold. If December gold futures breaks support under $1350, it could really fall and drag GDX down with it, and cause DUST to explode higher. If and when that occurs, DUST should hit $50 or maybe much higher. It surely won't occur by Friday of this week, but the long-term outlook for DUST could be up for a long time. I keep getting asked when I will be recommending going long NUGT, the triple bullish GDX gold mining ETF. It could be awhile. Tonight I read commodity news at Bloomberg.com how Goldman and several other banks came out in the last 24 hours with bearish predictions for gold. Several sources are looking for tapering to begin next week and that could continue the gold slide for next week as well as this week. I will not be buying gold or going long NUGT until after we find out next week if tapering is indeed starting now.
Disclosure: I am long DUST.