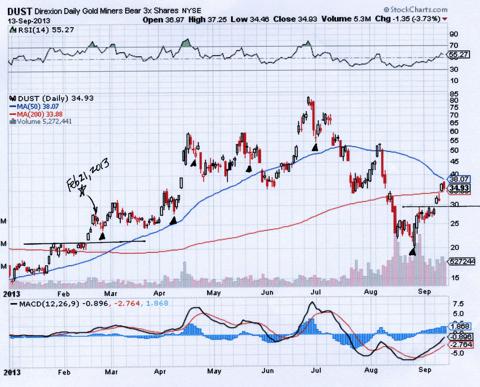 What a great week last week! Before we talk about this week, anyone who has not looked at my article about the hazards of triple leveraged ETFs should click here.
Friday's Action Is Most Similar To The Action Of 2/21/13
If you look at the above DUST chart going back to the beginning of this year, I have identified February 21, 2013 as the day most reflective of the action we had on Friday, Sept. 13, 2013. If you notice that a few days prior to Feb. 21st, we broke out above resistance at 22. The first day was a gap day up, a cautious pause day, a third day with a booming gap and high, and then a 4th day correcting down, the February 21st day I just mentioned. Now look all the way to the right of the chart and you see where we had resistance just below $30 marked as a line. Then we had a gap up day solidly above $30, followed by a pause day consisting of a flagpole. Then on the third day we had another booming gap and then Friday was a red bar, again the 4th day of the breakout move, similar to what occurred in February. If we follow exactly what occurred back in February, Monday, Sept. 16, 2013 should be a sideways day again with a minor up close. Then on Tuesday and Wednesday we should fall a bit in DUST.
Thus it looks very unlikely that Monday will be a final gap up day in DUST. If we go sideways but manage to close higher I would use that opportunity to get out of all longs in DUST if you are still in. With Friday being the first red candle, we should get two more red candles to make a low. If Monday is up then Tuesday and Wednesday will complete the 3 red candles if we go down the last two days. If Monday and Tuesday are down days then we will have our three red candles, and I would say that Wednesday is likely an up day in DUST.
Blue Triangles On Chart Mark 3-4 Day Corrections
The most likely correction I foresee in DUST next week is down 3 days through Tuesday, or down 3 of 4 days through Wednesday, counting Friday as the first down day. This is a common correction pattern for DUST, as seen by the many blue triangles that I placed on the above chart. I am looking for a similar 3-4 day correction here where DUST goes no lower than $29, followed by another possible rally to $42 to $45 possibly. I plan to play NUGT on the long side early next week.
The Fed Decision On Tapering Is Wednesday, 9/18/13
This puts a monkey wrench into trading next week. My feelings now are that a small Fed taper is priced into the market and the reaction is likely going to be muted. I am leaning 60/40 on a bullish reaction in gold on no taper occurring, or dovish comments. I prefer buying NUGT on dips prior to the Fed decision, especially if DUST rallies some on Monday and allows me to buy NUGT at a small discount from Friday. I will decide later if I stay in through the announcement. If NUGT rallies Wednesday following the fed decision, I doubt the rally will be sustained and expect to probably switch back to going long DUST Thursday and Friday. These are my plans right now and are completely subject to change.
Disclosure: I am long NUGT.