3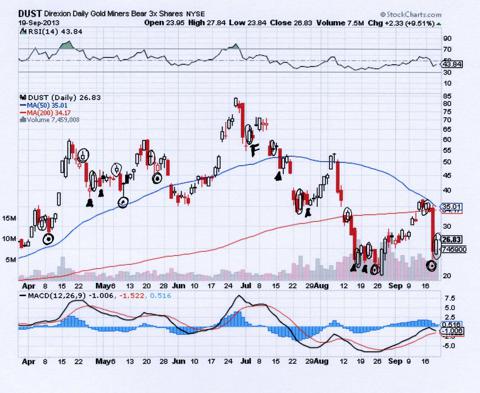 Here is the latest chart of DUST that I was looking at trying to predict the next move for DUST & NUGT. I was getting very conflicting signals and was thinking about making a joke about my crystal ball being in the shop for repair and saying I was going to take a pass. Then I decided to circle the white bars where we reversed up after a short term down (red bars). Then I counted two days out and noticed that there tended to be a low, 2 days following an upward reversal out of a low. Since today, Thursday, Sept. 19, 2013 we reversed out of a low, I would expect a low in DUST to occur 2 trading days later, which would be Monday, Sept. 23, 2013.
If I am correct, NUGT is a buy on dips for Friday Sept. 20th and Monday, Sept. 23rd. However, by the close of Monday, we should top out in NUGT and switch back to DUST and Monday should signify a major low in DUST. It only makes sense that the hard down of yesterday that took out 15 trading days of upward movement, would take a few days to bottom, but by the third day of consolidation, the bottom would be in.
Looking at the above chart, I circled every time there was a white candle that marked a move off a low. Then I counted two days later looking for a low. If I found it, I made a triangle if it occurred after a 3-4 day correction down, like occurred this week. I made a dot with a circle around it, if the white bar followed just a one or two day drop. What I found was only one failure out of a dozen times I located the pattern. That makes for some good odds. The failure occurred on July 3rd and I marked an "F" on the chart.
This is really kinda hokey pokey and sounds really like a bunch of nonsense, but I stand by my call. DUST should bottom next Monday, Sept. 23, 2013, and NUGT should top out that day.
One Word Of Caution!
DUST is expected to show some strength on Friday, Sept. 20th, and could close higher, so one should be cautious about buying NUGT and buying on dips is preferred.
Conclusion
If I am correct, I can buy dips in NUGT on Friday and early Monday as we should hit a high later in the day on Monday in NUGT. Then I need to leave NUGT and buy DUST trying to catch the low that DUST makes on Monday. DUST could rally the rest of next week and could trade $30 or higher by next Friday. If my prediction for a low in DUST does occur on Monday, Sept. 23rd, that might be a time I might want to be long DUST with a few extra shares going into Tuesday's opening, with the intention of dumping those shares on a higher opening in the premarket.
By the way, I will close with a chart of NUGT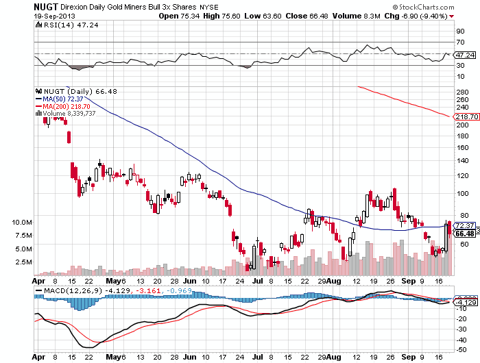 Disclosure: I have no positions in any stocks mentioned, but may initiate a long position in NUGT over the next 72 hours.