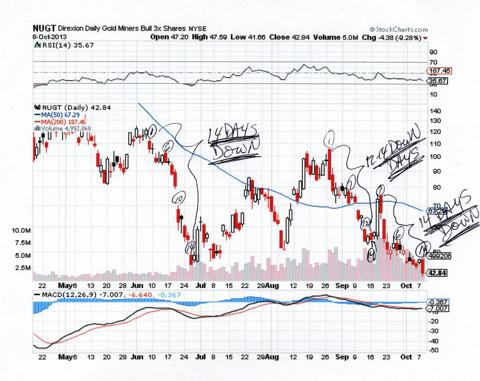 Looking at the daily chart of the triple leveraged gold mining ETF (NYSEARCA:NUGT), one should notice that we went down in just 14 trading days from early June to late June 2013, falling from 124 to 45.50. But in July we hit a high of 85.70 and August we hit a high of 106. Then another 12 to 14 down days occurred before we got the two up days around the non-taper Fed decision, jumping from 52.50 to 76 in a few days. With today's smackdown we have dropped another 14 down days exactly! Does this have to be the bottom? No. But it shows that the down move is very extended and is doubly overdue for a rally. If there is any justice in the world, then today was the bottom!
Today could be the bottom!
When President Obama gave his speech today, gold got clobbered. Apparently traders are focusing on the deflationary aspects of the current crisis. But when the Dow Jones stocks did their final late date swoon to new lows, I am happy to say that GDX and NUGT came off their lows as aggressive buying came in on the close. This may not mean anything but it could be a sign that short covering is about to begin in earnest. If we are indeed in a crisis, the safest place to be should be the washed out miners rather than the high flying momentum stocks like LinkedIn. The miners fell early this year and they should bottom first and move back up first, when the high flyers are starting their dive down.
Tell Me Where The Bottom Is, & I Will Tell You The Next High Target
If you have been following my blog, you know that I have been buying NUGT from 61, down to the current low 40s. By aggressively scalping and repositioning, my trading account made a new equity high yesterday, while NUGT continues to flounder and not rally. Not everyone can trade as often as I do, neither should they be required to. An "overnighter" swing trader should be able to buy into this dip and make a profit on the next rally.
Where should it rally? Well, just look where we have been. In early June 2013, we topped in NUGT at 124, only to fall to 45.40 by late June. Then in July we hit a high of 85.70, fell back to 50.30, then popped in August to 106. When we were at the bottom in late June, who would believe that 85 would be hit so soon, to be followed by higher high of 106. Last Friday we hit a low of 44.25, but it did not look like a bottom candlestick. Today's long red candlestick with a low of 41.66, does look like a major low bottoming candlestick. If today is not the low, surely Wednesday or Thursday will be "the low" for this move. When it comes, a snap back rally towards 55 in NUGT should come immediately, a small consolidation, and then a move to 60 or higher.
If today was the low at 41.66, the next high target in NUGT should be 81 initially and 95 to 100 later. If we must drop lower to 40 in NUGT, then maybe we stop at 78 and later 90 on the rally that follows. If we drop as low as 35 in NUGT, the next high should be 75. Stopping at 30, gives us a NUGT target on the upside at 60 to 65. To drop to 30, NUGT would have to fall 30% from today's close. GDX would fall 10% to 21.50, which would be a new 52 week low. Even then, within a month or so, we should be allowed to get out at a profit of 60.
Conclusion
Anyone who is long from 61 or lower, should be able to recoup their losses as long as NUGT stops at 30 (30% lower) and GDX bottoms at 21.50 (10% lower than today). Averaging down would of course allow for even lower prices in NUGT & GDX to get to breakeven.
Some have voiced concern that a settlement might kill gold and the miners but I don't see that as a risk. Since the miners are getting killed during the fiasco, they should recover on a settlement, and not keep falling. This is not Heads I Win, Tales You Lose.
A golden rule of investing is "Buy The Rumor, But sell the Fact! If a stock rallies on a rumor that they are coming out with earnings or are going to be bought out, etc., the stock rallies on the rumor. Then when the news is announced, profits are taken and it falls back (selling on the fact). In the case of miners, they have dropped precipitously during the current political crisis and that can only be justified on the deflationary aspects of a recession caused by the current crisis. If things are settled, the recession and deflationary cycle is averted and we should rally on the news. Deflation is being priced in now. The inflationary impact of a settlement and recovery should rally gold when Washington gets through the current impasse.
I have often voiced my distaste for GDX and NUGT, as DUST has performed so well. However, once in awhile GDX and NUGT are so cheap and so oversold, they just scream to be bought. This is one of those times, IMHO. I heard the call a bit early, but I will not abandon my position now. The lower we go, the more I will make when we recover. Gold futures have held up admirably while GDX has underperformed. When gold retests $1425 and $1500, GDX and NUGT will be forced to rally forcefully. At some point, the miners should outperform, instead of underperform gold and I hope to hold NUGT and GDX long enough to witness that. In any case, I am committed to holding for a rally back to 61.
Disclosure: I am long NUGT.
Additional disclosure: Also long GDX and buying December Gold futures