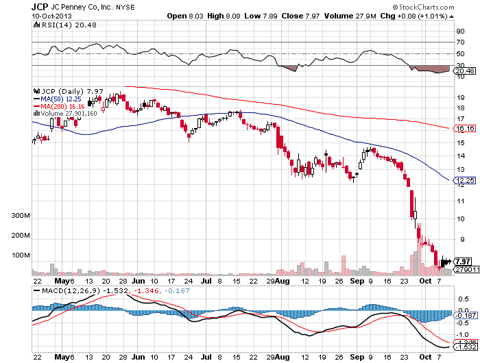 I recently wrote an instablog article you can find here, where I suggested that the temporary bottom in J.C. Penney, should be around $7.00 to $7.50. So far, the low in JCP is $7.59. But rather than own the stock, a better approach may be to earn weekly income by selling out-of-the-money weekly options in JCP. The premiums are extremely high and the risk relatively low. The stock has fallen so far, so fast, the premium levels have been inflated to extremely high levels. Right now a put seller is well compensated for the risk they are taking.
How To Do The Trade
On Thursday, October 10, 2013, when JCP was trading about $7.93, I looked at the options that expired on Saturday, October 12, 2013 (last trading day on Friday, October 11, 2013). With just over one day left to trade, the $8.00 puts were 7 cents in the money, but trading at 20 cents. If on Friday we close at $8 or higher, I could keep these 20 cents as profit. If we closed below $8, I would have an effective buy price of $7.80 and liquidating anything above that price on the following Monday would be a profit. The bid on the puts was 17 cents, and the ask was 20 cents. I ended up placing an order to sell 10 of the puts for 19 cents.
But then I looked at the options that expired on Saturday, October 19, 2013 (stopped trading the following Friday). With JCP trading at $7.93 on Thursday afternoon, October 10, 2013, the 7.50 puts expiring just over 6 trading days later were trading at 20 cents. That is a very large premium. The options are 43 cents out of the money and you are rewarded an additional 20 cents. If we close below $7.50 next Friday (next week) I will be exercised and effectively long from $7.30. Not bad to either keep 20 cents premium in just over a week, if we stay at $7.50 or higher, but get long at $7.30 if we drop hard. When I saw these, I decided to sell several. Instead of buying the stock at $7.93, it is much more prudent to earn the option decay premium with the possibility of getting long the stock at a very attractive price.
Conclusion
For a very small margin premium in a margin account, one can earn 20 cents premium each week, while selling over 40 cents out of the money, in a stock trading under $8. If you have ever sold weekly put premiums before, you would know that the premiums one is being offered are very attractive when compared to the risk. It will be very difficult to get the stock to fall hard from here, and should have many bounces to help in liquidating out of the stock if exercised. The average daily range is still over 50 cents, offering lots of opportunities to take profits early or sell out of the stock if exercised. The trade can also be done in an IRA. One just has to put up the full funds that would be required to purchase the stock if exercised. Selling put options in JCP could be quite lucrative and is much less risky that buying the actual shares at the market price. With this strategy, one is always going to own the shares at a discount, if at all.
Disclosure: I have no positions in any stocks mentioned, and no plans to initiate any positions within the next 72 hours. I wrote this article myself, and it expresses my own opinions. I am not receiving compensation for it. I have no business relationship with any company whose stock is mentioned in this article.
Additional disclosure: I am short JCP puts