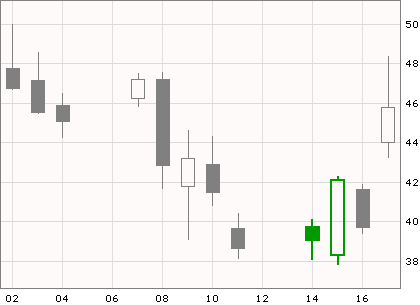 The above daily chart of NUGT shows the engulfing pattern buy signal that was formed on Tuesday, and finally confirmed today, Thursday, October 17, 2013, when we moved up strongly out of the hole. The chart comes from americanbulls.com website (click here), where anyone can punch in a symbol to see if they should be long, short, or flat a security or ETF. Following their signals, $100 would be turned into $4,987 in the last 24 months, trading NUGT. Pretty impressive! Today americanbulls.com switched from being short NUGT to going long, at $44.05. Of the last 13 times they switched from short NUGT to long NUGT, they made money 10 times and lost 3 times. That is a winning percentage of 77%.
Is Today's Pop A One Day Wonder, Or The Beginning Of A Bull Trend?
Trent Wagner of The FOX Group (click here), thinks that today's $40 pop in gold, moving solidly back above $1300, is a one day wonder, similar to when the Fed surprised the market by not tapering, back on Sept. 18, 2013. I totally disagree. I believe today's move has some staying power, and both GDX and NUGT should work towards a high that will not be reached for 8 to 10 trading days. Thus, we should have just started an up move in both gold and the gold mining stocks, that should work higher for possibly the next 2 weeks. To see what I am talking about, just look at the following daily chart of GDX: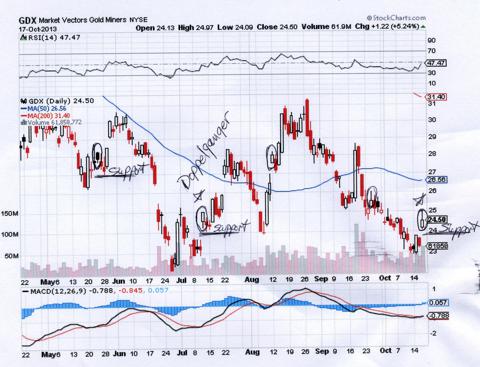 The above daily candlestick chart of GDX, shows today's gap up bullish white candlestick. I compared this pattern to what came before, and noticed that July 11, 2013, there is a similar day. I have marked the above chart by circling the July 11, 2013 candle and calling it the double, or doppelganger, of today's candlestick. In July we consolidated for a couple days after gapping up, but maintained the gap by not trading into it. If we repeat the same pattern now, we could go sideways one to two days, but basically stay above 24, leaving the gap. Then Monday or Tuesday we should have another long white candlestick moving higher, and eventually topping out 8 to 10 trading days from now.
In addition to the July pattern, I also circled a candlestick in late May 2013, on the above chart, showing where we gapped up and then held the gap support for a similar rally move that lasted 9 additional trading days. Also on the chart I circled a gap up move in mid August that caused 10 days of rallying before topping out.
If however, I am wrong, and today's pop is a one day wonder, it could be similar to September 25, 2013. Even then we went sideways and had a couple days to get out at a profit, if a person was long on the gap up day close. At the very worst, a person should be able to buy all dips in GDX for the next two days, and get out at a profit, even if we are going to head back down. If we test support at 24 in the next two days, that should be a fantastic buy zone for anyone who is not already long, or if one wants to add shares.
Conclusion
Those longs in GDX & NUGT, who stuck it out with me through the bottom, were rewarded today with a nice rally. Congratulations! If I am correct, that we should continue in an uptrend for the next 8 to 10 trading days, we should work our way up to 27 or 28 in GDX in the next couple weeks, and NUGT could easily reach 60 to 65. If I am wrong about the change in trend from bearish to bullish, then GDX and NUGT should still be a buy on dips for the next couple days. As trading unfolds on Friday and Monday, I will comment on what I see and let everyone know which pattern I see confirming; the 2 week uptrend, or the 2 day consolidation that then turns lower. Happy trading all!
Disclosure: I am long GDX.
Additional disclosure: I am also long NUGT