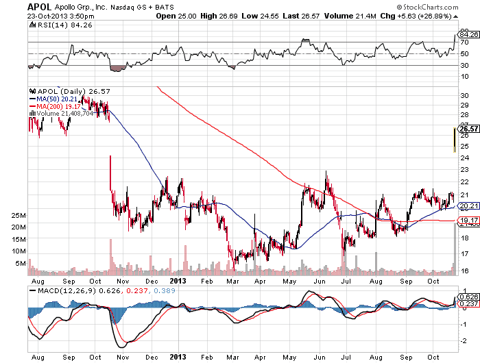 Just look at the above chart. One year ago on October 16, 2012, education-for-profit Apollo Group, Inc. (NASDAQ:APOL), got slammed hard after earnings. From a $27.49 close before earnings, the stock opened at $24.20 the next day, October 17, 2012, and kept falling from there. Well, a whole year has passed and yesterday, October 22, 2013, earnings were announced that caused APOL to gap up rather than down this morning. Today we opened at $25 and fell to $24.55, before rallying hard. The above chart shows a $26.61 current price. It would eventually close $26.80, up $5.86 (28% one day gain).
An Amazing One Year Island Reversal
This is probably one of the most bullish technical charts you will ever see. Take another look at the above daily chart of APOL. An entire year's worth of trading occurred at $24.20 and lower, with bears selling into every rally. Then today we gap above $24.20 and leave 100% of all shorts (and this stock was heavily shorted) at a loss. Amazing feat indeed!
My son was heavily invested in this stock, but I did not want to get involved until after earnings came out, since we had already recovered towards the $21 to $21.50 resistance area, prior to earnings. You can bet that after earnings came out, I was not a bit afraid to buy. I continued to buy today and am staying long the stock through the close. On this immediate move, we are surely going to try and fill the gap up at $27.49. We might trade a little above or below the $27.50 area. That is a good place to take some profits in my opinion. However, any correction back to $25.50 should be a great buy, for another run to $28.50, and beyond. Sometime next year the company should trade in the mid 30s based on a low 10 PE ratio. Recently APOL was so much out of favor, it was trading at a 7 PE. The bearishness in this stock was not justified. Jon Najarian on CNBC recently recommended buying January 2014 calls in APOL, based on options action he noted. Big money was positioning for a massively large up move. We got that move. For the future, all dips should continue to be buys. Over the next 2-3 weeks, I hope to swing trade this stock for several thousands of dollars of profit. It should be fun!
Disclosure: I am long APOL.