Short selling firm Muddy Waters on Thursday, October 24, 2013. published a scathing 80 page report, accusing Chinese firm NQ Mobile of being a fraud, lying about their customer base and cash levels, and placing a price target on the stock of under $1. The stock dove from $23 to less than $9 in a single day. Whether or not the story has any truth in it, the damage has been done. Muddy Waters had accomplished their goal and getting the stock price to fall. The panic that ensued piqued my interest. Being the "catching falling knife stock trader extraordinaire" that I am, I began trading this stock beginning the week of October 28, 2013. I have been handsomely rewarded. Take a look at the daily chart of NQ here: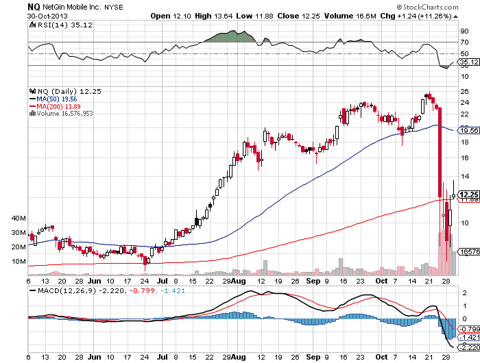 Americanbulls.com confirmed this stock is a buy, having just completed and confirmed a bullish harami pattern, click here. For a look at their recent recommended picks, click here. This stock is not without risk. If more news should come out, this stock could trade as low as $4 before finding a bottom. Also, the SEC could come out at any time and indefinitely halt trading in the stock, and the funds you have tied up in the stock are frozen. This stock is still a great day trading stock if one wants to scalp. Also, bulls outnumber the bears in the thinly traded aftermarket and premarket, so I love to buy shares just before the close, to sell to the bulls at higher prices in the aftermarket and next morning premarket sessions. Don't stay in to the opening because it is usually very weak, as bears return to feast on what they consider a dead carcass of a stock. I am currently flat as I am not nearly as bullish the stock above $12 as I am below $12. It has been a great winner and very fun ride for these past few days. Thanks NQ!
Disclosure: I have no positions in any stocks mentioned, but may initiate a long position in NQ over the next 72 hours.