At the close of trading on Oct 31, 2013, I wrote an instrablog indicating that I thought GDX, having reached the 50% Fibonacci retracement level, should go sideways for 3-4 days before heading lower, click here. Well, sideways action is now off the table. We are heading straight down to a sharp "V" bottom low. In a perfect world, we probably would have, and should have stabilized a bit before heading lower, but the Barrick Gold Corp (NYSE:ABX) announcement that they were doing a dilutive stock offering to retire debt, was a game changer. Now traders are assuming that other, less leveraged gold miners, will come out with similar dilutive stock offerings. Selling was being done indiscriminately across the board in the mining sector on Friday. It could continue for another day or two before sanity prevails. Lets take a look at the daily gold miner ETF (NYSEARCA:GDX) chart to access the damage and figure out where we are: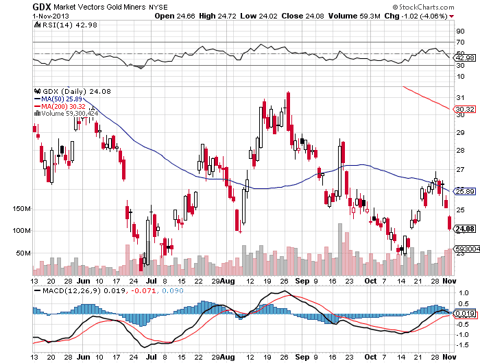 After bottoming in mid October just below $23 at $22.88, GDX is now back to the $24 support that it held the first week of August. Back in late July, early August, we were in an 11 trading day down move when we stopped at $24. But now we have fallen for only 4 trading days. It is doubtful we will stop falling after only 4 days, and more likely work our way lower for several more days. The June 26, 2013 low of $22.21 is an inviting target if and when $23 support gives out. On a short-term basis we are quite oversold and should find some support at $23, followed by a test of $22 or even $21, over the next week to 10 days. Like what occurred in August, when we do bottom, I am looking for a very sharp turn higher. You don't want to miss this turn! I would not be surprised to see GDX get back to $27 in a matter of 3 or 4 days of trading, and should continue straight to $30 without taking a breather. In August we rallied from $24 to $31 in 7 trading days. Now, I would suspect we rally from $22 to $23 low in 7 trading days to $30 to $31, once we bottom.
I Am Quite Bullish GDX $23 to $22 And Lower
When ABX announced the share offering after the close on Thursday, Oct 31st, I took profits in DUST at $31.38 in the aftermarket. I should have been buying DUST and not selling at that point. I looked at the ABX news as specific news just to that company, the highly leveraged and debt ridden Barrick Gold. Friday's slam down shows that I was wrong. Now we are spiraling lower in gold, GDX & the triple leveraged gold miner ETF (NYSEARCA:NUGT). For those who were long NUGT till the top last Monday just under $60, it has been a terrifying four day drop to Friday's $42 low. After riding through the $37.83 bottom recently in NUGT, I am quite thankful that this time I correctly discerned the weakness that would come following the Wednesday Fed decision, and warned traders if they had not already done so, to liquidate NUGT prior to and again on Wednesday October 31st (NUGT closed Wednesday $55.16).
After bottoming at $37.83, NUGT was supposed to hit our $60 target but missed by 13 cents, stopping at $59.87 last Monday. Now in just four trading days, NUGT is back to close Friday at $42.41. At $38 to $40 and lower in NUGT, I am quite bullish. However, I have to be patient to buy NUGT in size, when the current selloff has run its course. If we should test $23 early next week in GDX, that 4% drop translates into a 12% drop for NUGT, down from Friday's $42.41, to about $37.30. If we fall another 4% in GDX to $22, then NUGT could hit a low of $33. If we make a new low down towards $21 in GDX, NUGT might bottom at $28.50.
When we recently bottomed in NUGT at $37.83, I was looking for an initial target of $60, but based on past action, felt eventually NUGT should work to a double of that low, to $75. I still see a move in NUGT to $75, with a most likely timeframe of January 2014. If I am right, then we are presently trading in the low $42s. That means we have either $5, $9, or $14 to drop from here in NUGT. The upside from $42 is upwards of $33. I call that a very good risk/reward ratio and I am much more interested in buying the lows rather than maximizing profits buying DUST or shorting GDX on the way down.
These projections in GDX and NUGT are based on where I see gold trading in the next few months. December gold closed $1313 on Friday. I see gold bottoming in the $1288 to $1300 area, or slipping on down to $1265 to $1270. I do not see gold revisiting the recent low of $1251 and definitely not a retest of the May 2013 low of $1183. Once we bottom in the next week to 10 days, I see gold starting a rally that carries it past the recent high of $1425, on towards $1475 to $1500. Thus I see gold falling $25 to $50 from current prices, but rallying $160 to $185 from where we sit now.
How I Will Be Playing The Current Selloff
Friday, I successfully bought NUGT the first time it hit $43.50, caught 80 cents on a scalp, and again at $42.50 for over $1 when it rallied nearly $2. Each new low in NUGT should continue to be a buy for an 80 cent to $1.50 scalp or more. As we drop to lower and lower prices, one can be more aggressive on the buys. If we rally at all on Monday in GDX or we don't totally fall out of bed, I hope to get up to 300 shares of DUST. I will then buy 100 to 200 shares of NUGT on dips, taking profits on all NUGT rallies and trying to hold onto the DUST shares till we bottom. If we fall hard on Monday, I will probably just buy 200 NUGT on weakness and then wait for a NUGT rally to lock in the profit with DUST shares. In any case, one should be able to work into a profitable DUST position that will make money on the drop, while scalping from the long side using NUGT. When we hit support at $23 or $22 in GDX, one can take profits on the DUST shares at some point and just concentrate on getting into the NUGT position for the large rally that should be coming just around the corner. I am very excited about the current weakness that we are having in gold, GDX & NUGT as it is allowing me to buy at very low prices!
The Fundamental Picture
I am a technician first and foremost, but it never hurts to have a fundamental argument that goes along with your technical argument. Right now gold is falling on recent US dollar strength. However, the government shutdown weakened our economy and that should soon bring weakness to the dollar. There is presently very bearish sentiment on bonds but the weakness from the shutdown should lend support to bonds. Rising bond prices means lower interest rates and that is very supportive of gold. The upcoming rally I see in gold should come based on strong Asian physical demand, rising bond prices (dropping interest rates) and US dollar weakness. Being oversold and the heavy bearish sentiment for gold and the miners, should help fuel a very significant short-covering rally that is way overdue.
One Final Thought
As an avid day trader, I am still playing both NUGT & DUST. However, for those who cannot day trade, I feel that since we are catching a falling knife when we position long the miners in the next several days, it is more prudent to play GDX rather than NUGT, especially until NUGT bottoms and moves back above $40. And if you have not read my article that explains the risks of trading leveraged ETFs like DUST & NUGT, click here.
Disclosure: I have no positions in any stocks mentioned, but may initiate a long position in DUST over the next 72 hours.
Additional disclosure: I may also go long NUGT and/or GDX, as well as sell puts in NUGT and/or GDX.