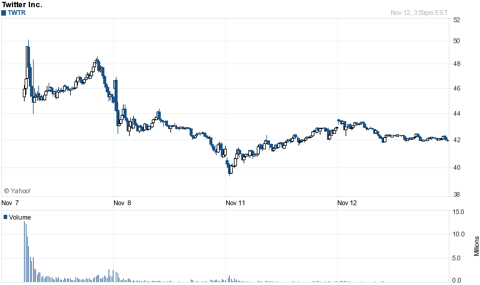 The above chart shows the first four days of trading for Twitter (NYSE:TWTR). The first day there was about a $6 trading range, high to low. The next day it was $5, then $4 and finally $2. I suspect in the immediate future, one could expect to see a $2 to $4 trading range as being typical, which at $40 constitutes a 5% to 10% trading range. Also, TWTR is in the limelight and trading heavy volumes. It should make for an interesting trading vehicle for both long and short trades, based on its novelty and the fact that it is a social media stock like Facebook. Before the stock came to the market, I read somewhere that at $20 it was a buy, but at $30 it was a sell. Well, trading above $40, can one dare buy the stock at these lofty levels?
Twitter Is A Buy At Trading Lows And When New Lows Are Made
To help understand the value of Twitter, a good comparison continues to be Facebook (NASDAQ:FB). Twitter is not as profitable as Facebook was when it came public, it is not as mature of a company, and appears on the surface to be grossly overpriced compared to Facebook and LinkedIn (LNKD). Yet, twitter has had a very successful launch, while Facebook miserably failed. And for this technical trader, that is all that matters.
Looking at the above chart, one can see that the stock surged on the opening to $50.09, but then dipped to $44 before rebounding. if one bought on the first dip, there was a rally that allowed the opportunity to get out. When that low was retested late in the first day, the bottom held and we opened up higher on the second day, again letting the dip buyers out. On the second day, we dipped first to $43.50 followed by a $3 rally, then to $42.50, followed by a $2 rally. Again dip buying was quite profitable. The second day low was $40.69, so if one bought again at $42.50 and got caught, one could average down by adding on the further dip. However, averaging down was not necessary since the high of the 3rd day of trading was $43, and a bit higher in the aftermarket. The 3rd day, Monday, 11/11/13, also scored the first test of $40. Although the stock broke $40 support and traded as low as $39.40, it quickly rebounded to trade to the highs of the day towards $43. Then on the 4th trading day we quickly rallied to $43.81, so that even rescued dip buyers from as high as $43.50. The rest of the 4th day of trading was uneventful with a low of $41.50 scored.
I have left Twitter alone to this point to allow for some data to be scored so that an appraisal could be made regarding the viability of trading the stock. I have to say that at this point, I am quite impressed. This stock appears to be a dip buyer's dream. Beginning today, Wednesday, 11/13/13, I plan to buy the stock around $41 and will add on any further weakness. Whatever today's low turns out to be, I would expect to see $2 to $3 rallies off the lows either today or tomorrow. I will lightly scale down and buy in 25 to 50 cent increments.
Facebook Eventually Made A New High, So Twitter Will Surely Too
Facebook had to have its valuation cut in half before it could find its footing. However, it eventually retraced all of the losses and made new highs. If utter trading failure Facebook can master such a feat, surely the successfully launched Twitter will as well. I would venture to say that we have not seen the 2013 high in Twitter. Within the next two to four weeks, we would expect that TWTR finds support (probably in the low to mid $30s) and then begins a sustained rally to new highs. Gains of 50 to 65% appear quite doable under the scenario I envision. I will provide more commentary as we progress.
Disclosure: I have no positions in any stocks mentioned, but may initiate a long position in TWTR over the next 72 hours.