On Wednesday, November 13th, I wrote my first instablog article on Twitter (NYSE:TWTR) (click here) and recommended buying the stock beginning that day at $41. That turned out to be very prescient advice as Wednesday's low was $40.76, and TWTR rallied to as high as $45.67 the following day. On Friday we closed $43.98. A chart showing the intraday trading of TWTR this week, follows: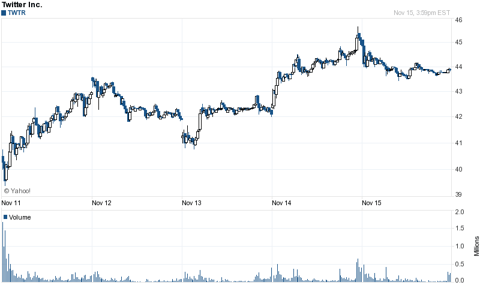 The first two days of trading of TWTR are not shown on the above chart. What you missed is the opening day at $45, popping to $50 and then closing back around $45. The second day we dropped to $41 and closed just under $42. As I mentioned in another instablog I wrote a couple hours ago (click here), I see TWTR trading in a large trading range in the near-term. I see buying come in $38 to $40, preventing further declines, but also see selling in the $46 to $48 range, limiting the upside. But within that range there should be some nice day trading opportunities if one buys low, picking up shares on dips, and selling out on strength.
Dan's Twitter Covered Call Overwrite Strategy
Dan Nathan on CNBC's Options Action, is looking to go long Twitter and selling calls in a covered call strategy. He explains that if you went long at $44, near Friday's close, one could sell a December TWTR monthly 49 call option for $1.00. The option expires in 4 weeks. If one did this during the last 4 weeks the monthly options trade, one could earn an extra $12 of premium which greatly protects the downside. Check out Dan's strategy here. If the stock traded sideways over the next year, one could earn over 25% return just on the options premium. Of course one would expect some rallies that caused the stock to be called away, however then the returns are potentially higher as it means the stock has rallied $5 during the 4 week period, which is a great bonus. If one is intelligent day trading the stock against the calls, I can see returns of over 50% as quite doable, or about 1% per week. If one earned 1% returns compounded weekly, one would turn a $25,000 trading account into $1 million dollars in 8 years and 8 weeks.
My Short Straddle Strategy, Selling Both Puts And Calls While Day trading The Stock
If one is bullish enough to be long the stock, why not sell an out of the money put along with the call, and make twice the premium. If the $49 call that is $5 out of the money when the stock trades at $44, has $1 premium with a month to expiration, then the $39 put with the same expiration should also have about $1 premium as well (subject to any skew in premium based on bullish or bearish trading bias). I favor selling both the call and the put to double the premium collected from $1 to $2 per month, for $24 per year on a $44 stock. That is better than a 50% yearly return. Now, one might get exercised on the put if there is a selloff but one should not mind adding another 100 shares of stock $5 lower, just to average down. Then on a small rally those lower priced shares can be sold at a profit. By selling both a call and put, $5 out of the money with a month to expiration on the options, one should be able to earn a potential 4-5% monthly return just on the option premiums alone, not counting any day trading profits. If TWTR is the stock that I think it is, there will be exercising of the calls occasionally but rare any exercising of the puts. I might start selling weekly puts for income in addition to the above strategy as well.
I will be implementing the described short straddle strategy combined with an overwrite strategy of owning the shares, beginning Monday, November 18, 2013, and updating my progress in real time on SAs Stocktalk under the TWTR symbol. See you there.
Disclosure: I have no positions in any stocks mentioned, but may initiate a long position in TWTR over the next 72 hours.
Additional disclosure: I also plan to sell both an out of the money TWTR call and put as well.