When Apollo Group (NASDAQ:APOL) posted great earnings in October, Apollo Group gapped up big, creating a one-year island reversal. I pointed it out in my October 23rd instablog, you can find here. In that article I mentioned that we should buy at $25.50, but we did slip to as low as $24.66 on Nov. 7th. Check out the daily APOL chart: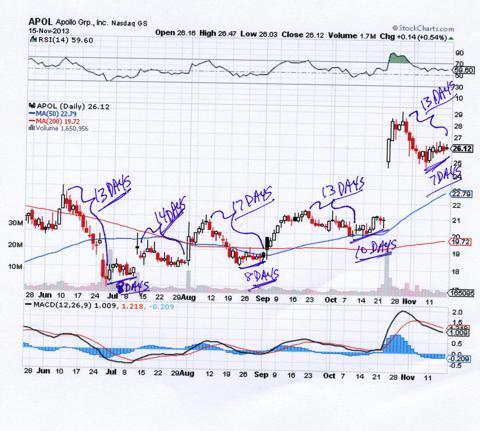 I have marked on the chart how APOL likes to rally to a sharp peak in price, then correct for 13 to 17 days, before wedging higher for 8 to 10 days and then exploding higher again. Sometimes the rising wedge of 8-10 days follows the downturn, while other times the rising wedge is included in the downturn count, like it appears to be now. In late July there was a 14 day downturn and no rising wedge at all. The current downturn in 13 days long and the included rising wedge is 7 days long so we are due to end the downturn any day on both accounts. I plan to buy into any weakness under $26 this coming week as we have solidly based in the $25 area and are due for a turn higher.
Education Management Corp. (NASDAQ:EDMC) Could Be A Major Speculative Buy
I don't normally trade stocks with daily volumes less than 1 million shares, however, the price action of Education Management Corp. (EDMC) appears to be so compelling, I plan to make an exception and buy EDMC this coming week. Just take a look at the daily chart: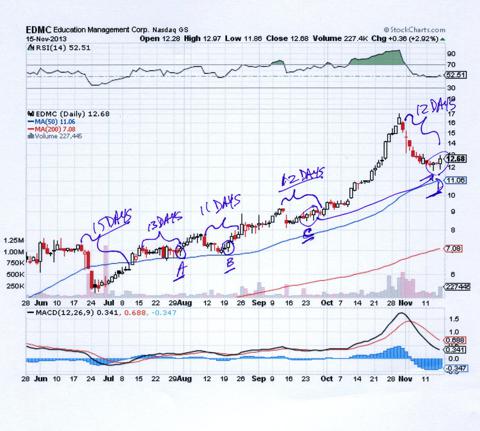 EDMC went on an amazing run from $5.30 on June 25, 2013, to a high of $16.94 on October 30, 2013 with no more than a $1 correction at any time. That is a triple in 4 months! Now that we have corrected down as low as $11.74 a couple days ago, I am anxious to get on board as the stock should soon retest the recent highs. Friday marks the 12th day of the correction off the extreme high just below $17. I decided to compare what happens in a similar timeframe when we hit peaks and then consolidated for about 12 days. The chart shows that 12 days following a correction is a good time to get long as a strong rally day followed soon thereafter in the past.
Hammer Pattern Is Telling Me To Get Long EDMC Now!
Wednesday and Friday of this past week, Nov. 13th & 15th, we did a double hammer pattern with the bullish hammers coming 2 days apart. The Doppelganger (duplicate copy) of this double hammer pattern occurred in late September, marked as "C" on the above chart. That also marked a time that the stock should be purchased but it first consolidated for a couple days before moving strongly higher. We should likewise consolidate a day or two this week before moving strongly higher, or we could just pop up immediately. I marked two previous hammers of July 31st marked as "A" on the chart, and August 20th, marked as "C". Both hammers marked a low that should have been purchased, confirming again that buying on bullish hammer patterns works quite well when trading EDMC. I will update progress on this stock simultaneously at the Stock Talk of EDMC & APOL this coming week. Hope to see you there.
Disclosure: I have no positions in any stocks mentioned, but may initiate a long position in EDMC over the next 72 hours.
Additional disclosure: I also plan to buy APOL.