If you have not read my other article I published this evening, please read it first here, as it tells what I see for gold, Newmont Mining, and the unleveraged gold mining ETF (NYSEARCA:GDX). In this article I am going to consider if buyers of the triple leveraged gold miner ETF (NYSEARCA:NUGT) have anything to worry about, since a new all-time low was scored today. To help answer that question, please take a look at the following NUGT chart: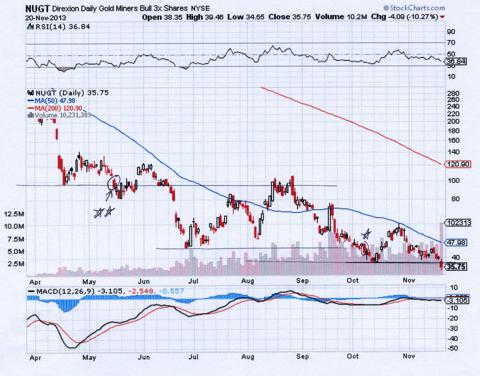 If you look at the right of the chart, today, 11/20/13, we broke the support of $37.83 that was made on 10/15/13. To figure out what will happen next in NUGT, we can look to see what happened the last time an all-time low was broken in NUGT. Look at the red candle of 11/08/13 (I circled and put a star above it). On that day the low of $45.50 of 6/26/13 was violated. Looking at the chart you will see that when we broke the $45.50 all-time low in NUGT, we fell another $7.50 and bottomed 5 trading days. Then less than 2 weeks after that, we were trading over $15 or 33% above the old low that was just broken. If a similar thing should occur now that occurred in October, we should bottom in NUGT with a low no worse than $30, and the bottom should be found within 5 trading days. Then within two weeks we could rally as high as 33% above the $38 recent low that was broken, which brings us to $50. Since today's low was $34.55, and we closed $35.75, we are probably within a stone's throw or $4-$5 from the bottom. Once we do bottom and rebound, expect a move up of about $20 quite quickly.
How about the previous major bottom of NUGT, what happened when that low was violated? Prior to the $45.50 major bottom in NUGT, we had a major bottom of just under $100 at $96.10 on April 17th. Looking at the chart you will find that the $96.10 all-time low in NUGT was violated when a red candle was struck on May 15th (circled on the chart with two stars). This time we bottomed on the third day at $81.10, a drop of 15.6%, but rallied to $115 (19.8% above old low) in less than two weeks. If a similar thing occurred now, we would fall from $37.83 to $31.92 within 3 days, but then rally to $45.44 within the following two weeks.
Following the line under $96 across the page, one can see that if one had stayed in until late August, 3 1/2 months after the low was violated, one could have eventually gotten out. No one would want to stay in that long and suffer through all that pain, but it would have worked none the less.
Now lets look at the $81.30 low of May 20th. That low was taken out on June 19th, with a horrible gap down the following day. We fell to $45.50 in a week and then took a month to recover back to $85.70 about 6 weeks later to $115. If a similar thing happened now, NUGT could drop 44% lower than $37.83, or to fall to $21.20, and then rally back a month later to above $40, and 6 weeks after that to $54. Not a trip one would want to make, but quite doable.
Likewise, if one bought at the late June low of $45.50 in NUGT, one could still get out at a profit 4 months later in late October when we rallied just under $60. And if someone bought NUGT in the middle of October around $38 and did not get out on the recent rally, going out 3 1/2 to 4 months, one would expect to be able to get out far higher than $38 at that time, like it happened in the past. Although these triple leveraged ETFs decay about 10% per month, there has been enough volatility in the underlying gold miner ETF (GDX) to allow for rallies that can bail a trader out even 3 to 4 months later. Now that we again made a new low in NUGT today, breaking below the $37.83 recent all-time NUGT low, it should be easier than ever to get bounces to bail out of NUGT. The $96 low in NUGT became $81.30, then $45.50 and finally $37.83. There is definitely trouble for someone staying long-term, but it does not appear to be the end of the world if one takes advantage of future rallies to reposition. Look at the chart of NEM: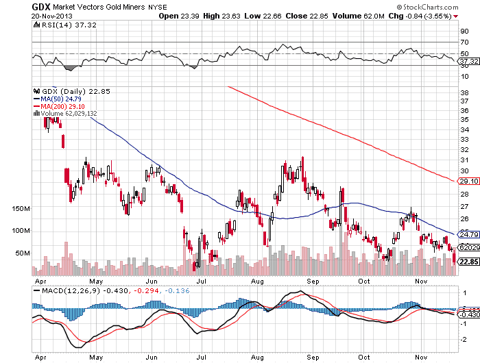 In the low $20, GDX should finally be approaching book value on many if not most of the stocks that make up the index. There will reach a point where GDX can no longer fall and that will help NUGT traders significantly. You might hear calls for lows in GDX of $18, $15 or lower but the low prices should not occur in a straight line down. We are already extremely oversold on the current downdraft. Prices under $22, $21 or $20 are just wishful thinking. The worst case scenario that I can currently imagine would be a fall straight down to $21 in GDX, followed by a quick 2 week rally of $4 to $5 off the low. If you disagree you are welcome to get short in the hole while I am buying.
Disclosure: I am long NUGT.