On this, the 50th anniversary of the assassination of President John F. Kennedy, I want to first send my condolences to the family of our slain President. I was nearly 8 years old when it occurred and still remember being huddled around a small black and white TV set at school, watching the events unfold. So surreal. We can pause now for a moment of silence in JFK's memory. (Pause). Those 50 years flew by so fast.
If you read my articles, you know that I search for patterns in the past that sometimes repeat themselves in the future. Sometimes it is a count (a certain number of days or weeks that something goes up or down), and sometimes it is a particular pattern that occurs on a single day or over a string of a few days. In this instablog I am going to show you how the current downturn in the gold mining ETF (NYSEARCA:GDX) matches the previous downturn that culminated in a major 4 1/2 year bottom at $22.21 on 6/26/13. If my calculations are correct, today, 11/22/13, should correspond to an equally important major bottom in the gold mining ETF (GDX). Lets begin by looking at the GDX chart: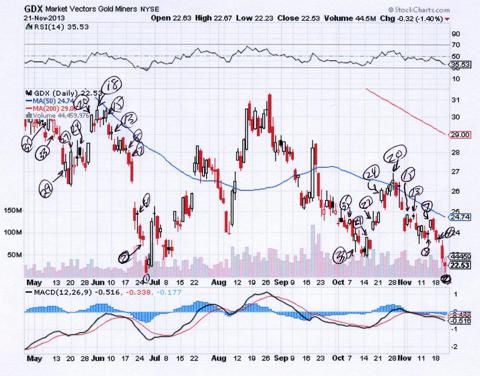 On 6/26/13, we hit the major low of $22.21 in GDX and I have marked that as day "1". I then numbered the days going backwards, and went back seven weeks, to trading day "35". To the right of the chart, you will see that in the current downturn, yesterday, was marked as day "2" because today, 11/22/13, should be the bottom and it will become day "1". What is remarkable is that the days match up so well in both the summer downturn and the current downturn we are experiencing. To continue to match the current action to the past action, today would have to be a major bottom. I apologize to any discouraged bulls for writing another article calling for a bottom, but the symmetry that I have uncovered between the two downturns is so compelling, I had to reveal it to the world in real time.
Again, today, 11/22/13 should be the bottom, so the last candle on the chart all the way to the right, is marked day "2". The current day "2" looks kinda like a hammer, similar to day "2" back in June. Day "4" is a doji (small real body with an upper & lower tail) now, just like in June. The November days "5" and "6" are down days just like in June. Day "7" was last Thursdays up day, my one day of glory where I called for a Wednesday bottom and we turned up on Thursday right on schedule. Unfortunately, GDX failed to get the memo and we turned right back down. In June, day "7" was a down day. I would have been better off if the current day "7" was also a down day, as I would not have become so prematurely bullish.
Continuing on, day "8" is a doji both in June and November, as is day "13". Days "8 thru 12" were consolidation days in both instances. Days "15", "18", "20", "24", "27", "29", "33" & "35" were all up days in both instances, and the days in between were virtually all down days with red candles, matching in both timeframes. It is amazing that 7 weeks of trading in two different time frames could match up this well. And if the pattern has matched up for the past 34 days, I would expect that today, 11/22/13, the 35th day, should mark a major bottom in GDX, just like it did back on 6/26/13.
Disclosure: I am long NUGT.
Additional disclosure: I am short GDX puts that will exercise today, making me long the shares. I am also long NEM.