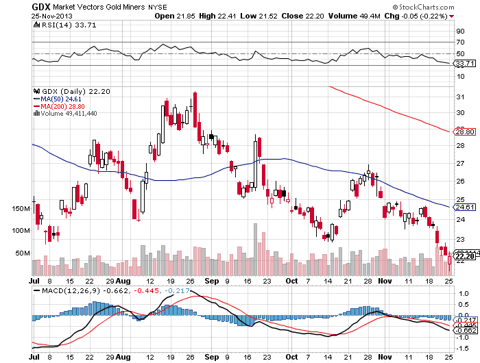 Take a look at today's candle. On 6/26/13 GDX hit the lowest price it had hit since 2008 at $22.21. Last Thursday and Friday we traded within a couple ticks of that low. With February 2014 gold futures on the COMEX making a new low of $1226.40 overnight, thanks to another super large sell order being placed at 1:00 a.m. EST, when liquidity was at its lowest, the miners were lower in the premarket, and today, Monday, 11/25/13, stops sitting under the GDX yearly low were filled on the opening at $21.85. I happened to see the gold fiasco trade as it occurred. I did not check the December gold contract, but the less liquid February 2014 gold futures contract traded over 500 contracts almost instantly, dropping the market over $10 and causing a 10 second stoppage. It is quite interesting that after the break, gold reopened $7 higher and although the low was tested a couple times, it was never violated. The market manipulation dreadfully failed this time, unlike what occurred last Wednesday, 11/20/13, twice in the premarket and once after the Fed minutes were released, when massive sell orders overwhelmed the markets and moved the markets decisively lower.
Anyway, back to GDX, after a brief rally to $22.11 was turned back, GDX bottomed at $21.52, making a new low by 69 cents. When gold worked back to unchanged the miners remained stubbornly weak, but eventually rallied to the positive, filling the gap, but closing down 5 cents. Closing down it is a red candle but we closed off the lows as predicted. The only recent candle that looks similar to this, occurred on 9/24/13, and the following day GDX rallied up 92 cents to $26.00 and closed up just 44 cents. That candle only helped GDX rally just one day before the downtrend resumed.
I was going to post a chart showing GDX in the second half of 2012. On three occasions we had a similar pattern as today and each time a low was scored. In July 2012, GDX rallied just one day before rolling over for 7 days but the original day's low was never violated and then a major rally occurred. The other two times we rallied 2 days and 4 days before retesting the low which held for several days again. What this makes me conclude is that today's action in GDX marks a low that may be retested in 1-3 days possibly but ultimately should provide support for an eventual rally to higher prices. Please take a look at the Newmont (NYSE:NEM) mining chart: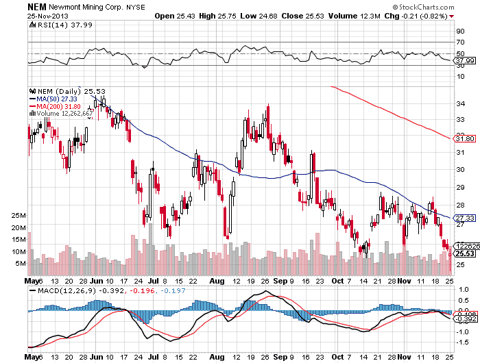 If you look along the bottom of the chart, back in early July Newmont Mining hit a low of $26.26 and rallied to $31, then in August hit a low of $26.22 and rallied back higher to $34. On October 9th the low was taken out when NEM hit a low of $25.81 and closed up. NEM would fall right back down and make a new low but finally bottomed at $25.33 four days later on October 15th, and rallied back towards $29. That low held until today when a new low of $24.68 was hit and we again rallied back to form a hammer, closing at $25.53. Today could be the low, or we could be 1-4 days from the ultimate marginal new low on this move, but it would appear today's bullish hammer candlestick pattern is pointing us to a major turn and higher prices for NEM. Once we turn, I would expect a quick rally of $3 to $5 off the low. Now lets take a look at the triple leveraged bullish gold mining ETF (NYSEARCA:NUGT) daily chart: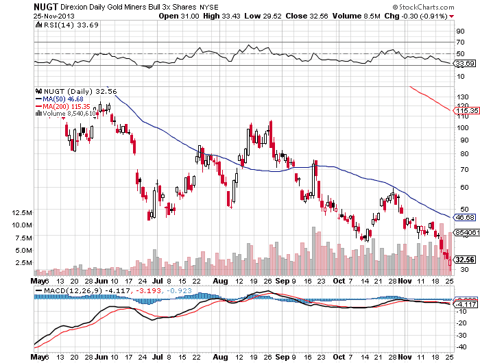 How high could we pop in the next day or two in NUGT? Well, when GDX bottoms it tends to rally $2 off the lows before hitting resistance. Today's low in GDX was about $21.52 and closed $22.20. It should work for a $2 rally off the lows to $23.50. That was the area GDX tried to hold following the Fed minutes announcement last Wednesday. A rally of $1.30 in GDX would be 5.8% which works out to 17.5% in NUGT. Since NUGT closed at $32.56 today, NUGT could rally quickly towards $38.28. Another target would be if GDX only rallied $1 tomorrow morning, or about 4.5%. In NUGT that would be 13.5% higher, or a price target of $36.95. It would appear that if someone was so inclined to dump some of their NUGT shares on some short term strength, one should be able to sell between about $37 and $38.25 if GDX can rally back just $1 to $1.30 tomorrow on the high. Depending on how gold performs (currently trading above the old $1251 support as I type now) and how well the miners can rally over the next day or two, I plan to dump up to 1/2 of my NUGT shares, especially if I can get $38 or more. I will then have money freed up to buy the shares back should we trade back under $30 again. Today's action in the miners and gold's rejection of lower prices should provide at least one to two days of strength to help one reposition out of shares. In addition to dumping some NUGT, I will sell out of some GDX shares that I was exercised on. I have a good number of $23.50 GDX puts that have an effective price of just under $23.20 after accounting for the 30+ cents premium received. I want to dump some of these shares to free up cash to buy back on any weakness.
Disclosure: I am long GDX.
Additional disclosure: Also long NUGT & NEM