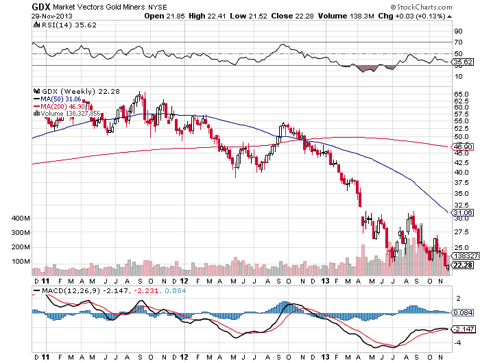 Looking at the above weekly candlestick chart of the gold miner ETF (NYSEARCA:GDX), one can see that we turned up last week with a white candlestick, closing up just 3 cents, and slightly above the old 52 week low of $22.21 made in late June. Having made a new 4 year low last week of $21.52, GDX made a valiant effort to reject the lows and to bounce. On Friday, americanbulls.com went from short to long in GLD, NUGT & GDX, check out the link here. After a very weak November (fall of 5.5% in gold, worst since 1978), we can only hope we can at least stabilize here now, and begin moving higher.
Elliot Wave Analysis Portends Bottoming Action
Check out the video dated 11/28/13 by Lara at elliottwavegold.com that you can find here. Based on the different alternative counts, one can expect that we have more likely bottomed and hopefully we don't have to work our way lower, as low as $1206 in February gold futures. To confirm the bottom, we need to move above $1255 and then $1261.52 in gold futures, which should confirm that we have completed the bottoming action.
Early Week Price Action & Tapering Worries
Looking at the price action of gold as we begin December, we are moving the wrong direction in early Monday price action, but that could change as the week progresses. There are a lot of reports out this week, culminating in Friday's employment report, which could help determine if we have truly bottomed in gold and in the miners. The media is attributing the early week weakness to taper worries, wondering if positive news on the economy could bring an earlier taper. However, I totally reject that argument. Lets take a closer look at the history of quantitative easing, and consider the affect it has had on gold. At Wikipedia, click here, one finds Quantitative Easing (QE1), went from December 2008 to March 2010, following by QE2 from November 2010 to June 2011. These first two stimulus programs appeared to help gold futures rally from under $800 to $1500. The momentum appeared to carry gold to the all-time high above $1900 in September 2011, the same month Operation Twist was announced. Then a year later on 9/13/12, quantitative easing was again implemented (QE3) which was increased in December, and continues to this date. However, the later programs have been a total failure when it comes to helping gold rally. Now, quantitative easing (QE) appears to be helping the stock market and not gold. The month QE3 began, gold hit $1800 but has since proceeded to fall to $1183 in June 2013 but after a bounce to $1428, is now in the low $1200s. Quantitative easing has pulled money out of the gold bullion ETF (NYSEARCA:GLD) and the gold miner ETF (GDX) in favor of stocks and bonds. I keep thinking that the selling and liquidation of investments in GLD and GDX will exhaust itself, but so far the liquidation continues, but at a much slower pace. It may take another 6 months before the real bottom in gold and the miners is accomplished due to these money flows that take a long time to turn around. The talk of tapering of QE3 during 2013, has devastated gold. Tapering appear to be more than factored in, so much so, that when tapering actually begins in March or more likely June 2014 (IMHO), we should begin rallying in gold rather than selling off any further. You "Buy the rumor and sell the fact" but in this case, the market sold off on the tapering rumor, so it should rally once the fact of tapering is realized.
If the market was really worried about tapering, the stock market would be selling off, pushing money out of the market and into alternative investments like gold. But instead the stock market continues to rally day in and day out, making new highs. The stock market is convinced we are in QE forever, which we are. Tapering is not ending of stimulus, just a slight reduction or slowing down. It will still be stimulus and free money for a long, long time into the future. Tightening (removal of the punch bowl) cannot be considered until 2015 or later. Why should stock market traders worry about a bit of tapering since it means free Fed money is still flowing. I believe it is the lack of tapering that keeps the stock market going up and gold going down. So despite what the media tries to tell you, they are most assuredly wrong. When the stock market starts falling due to tapering, that is when gold should begin rallying in earnest. Gold traders should embrace tapering rather than fear it. As I write, gold has fallen further down, to support in the $1237 area. It is falling because powerful manipulators want the price to fall and are very worried about gold gaining upward momentum if gold rallies above $1255 and $1261.50. Tapering fears has nothing to do with it. So we begin another trying week in the gold pit.
Disclosure: I am long GDX.
Additional disclosure: Also long NUGT