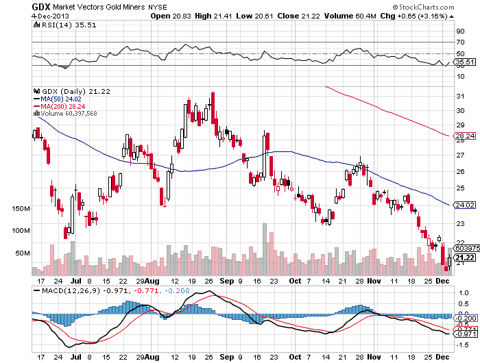 If you look at the above daily Japanese Candlestick bar chart of the gold miner ETF (NYSEARCA:GDX), one can see how we finally got a white candlestick on Wednesday's short-covering rally. This bar looks quite similar to the one that was formed on October 15th. You will notice that the following day, on October 16th we still had a down day (see red candlestick on the chart), but gapped up big on October 17th to establish the bottom that allowed GDX to rally from just under $23 to nearly $27. Gold weakened overnight and it appears we will likely have a down Thursday in GDX, similar to what occurred on October 16th.
The big question will be Friday, December 6th, when the November jobs number is announced. Will we get the strong move up in GDX like we did on October 17th, that will confirm the bottom is in for now? I read an excellent article on Yahoo, click here, that explains how the market is heavily positioned short, so a strong jobs number may have a mildly bearish reaction and get us back to $1220 in gold. A weak jobs number however, is supposed to get a strong bullish reaction in gold since a lot of bears would have to cover their position. What this article says appears quite logical. There is more risk of a further short-covering rally than continued downward fall, regardless of the news. Also, with Thursday weakness, and the weakness we have seen in gold for the past couple months, the market has already most likely factored in a strong employment number, if we get one. We might therefore do just a quick drop and then spend the rest of the day rallying, even with a strong number. "Buy the rumor and sell the fact". But in this case, they have sold gold off on bullish data that might speed up a taper move, so they will likely buy gold even on the announced news of strong data, because it will already be factored in, based on the drop gold has had these last several weeks.
Americanbulls.com is caught short GDX & NUGT
Americanbulls.com got long on the Friday, November 29th rally. But when the miners immediately reversed lower on Monday of this week, instead of just selling out at a loss, the system now goes short, so they are now short GDX from 20.74, click here. But with Wednesday's bullish kicking pattern, they could be stopped out and have to go long again, if we continue higher from the $21.22 close. As we are weaker in gold overnight, it appears they will not likely reverse to the long side based on today's action, but the pattern will still hold for Friday, December 6th. If we start moving above $21.22 on a bullish reaction to the jobs number, their system will reverse and go long at the $21.22 price, if I correctly interpreted their system.
Like a majority of traders, americanbulls.com is positioned short, hoping for a break of $1200 support and possibly $1180 in gold. When a majority of traders lean heavily to one side (either long or short), the market usually moves the other way. And when it does reverse, the move is often quite violent. Any bullish reaction in here will have buying from new bulls, along with buying from all the traders caught short who have to cover their short positions to prevent losses. Thus, regardless of the actual number we get from Friday's job number, odds favor having a bullish gold and miner bias, over a bearish one.
Also, regardless of Friday's reaction, the Fed open market committee meeting of December 17th & 18th, will occur in two weeks, where the decision to taper or not taper, will occur. Again, if the market is still positioned short going into that meeting, odds will again favor a bullish stance prior to the December 18th decision announcement. A bearish reaction should be small, and quickly reversed back to neutral. A bullish reaction could be violently bullish, as one would expect if "no taper" is the decision.
Disclaimer:
The thoughts and opinions in this article, along with all stock talk posts made by Robert Edwards, are my own. I am merely giving my interpretation of market moves as I see them. I am sharing what I am doing in my own trading. Sometimes I am correct, while other times I am wrong. They are not trading recommendations, but just another opinion that one may consider as one does their own due diligence. Never blindly follow the advice of others, including me. By sharing my information, others provide me information and feedback, which I find helpful. Anyone who does not find my articles helpful just needs to stop reading them and find information elsewhere that they do find helpful. I am quite open to opposing opinions and anxious to read articles by anyone with opposing views.
Disclosure: I am long NUGT.
Additional disclosure: Also long NEM & GDX