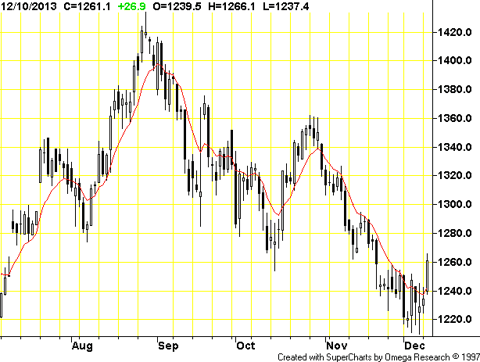 Just when they were about to administer the last rites to the gold metal and mining bull, a miracle happened. First, the gold metal and mining bull did not croak after swallowing the strong employment number medicine last Friday and yesterday was able to tolerate solid food in good Chinese data. But today, when gold closed back above $1260, the gold bull was able to leap over the powerful fence of resistance that had kept it confined for the past 3 weeks. It can now run freely up the hill to $1300, and hopefully far beyond. It is too early to issue a totally clean bill of health to the gold bull, but the latest trauma has passed, and he is back on the road to recovery.
Take a look at the above daily futures chart of February gold. The 20 day moving average came in today at $1250.7 and we closed strongly above that today. As long as $1234 holds, one should remain constructive on gold.
When gold makes a bottom, especially after a protracted 6 week selloff like we just completed (falling $150 from $1360 to $1210), it normally rallies $100, similar to what occurred in October, when February gold rallied $108 from a low of $1254 to high of $1362. We now have some minor resistance at $1270 and $1275, but gold should work higher now to above $1300. This should occur over the next couple weeks.
To see the implications for the miners, take a look at the daily gold miner ETF (NYSEARCA:GDX) chart: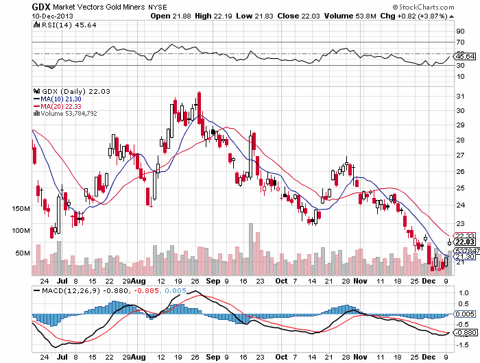 Today GDX gapped strongly up on the opening, leaving a nice gap area to provide support over the next few days, similar to what occurred on July 11th and more recently, October 17th. The gap area should provide support as it will be hard to completely fill the entire gap of today, without first going higher. If I am correct, the next couple days all dips should be a buy into the gap area, and we should move higher shortly. If we rally similar to how we did after the October 17th gap up day, we should rally another $2.50 towards $24.50 in GDX. That would be a rally of about 11% in GDX, or about 33% higher in NUGT that closed today at $30.59. Adding 33% to NUGT, one can project a short-term target of $40.
Americanbulls.com Switched From Short To Long Today
Americanbulls.com came into today short both GDX & NUGT, but took their loss and reversed to long on today 's opening, based on the confirmed bullish one white soldier pattern, click here. You will also notice that they have now been wrong on their last two trades and missed 3 out of their last 4. Studying their past record, one can see that after missing 3 out of 4 calls, Americanbulls.com usually gets hot and gets the next 3 or 4 calls right. Thus, anyone buying on today's buy signal, should make money right along with Americanbulls.com.
QE To Infinity Out. Gold Demand To Infinity In
That title is the title of an article you can read by Stewart Thomson for Kitco.com, click here. In the article, Mr. Thomson starts out by mentioning outflows in exchange traded products (think GDX & GLD) has dampened gold prices. He believes the QE buyers have already gotten out. He later explains how QE taper to zero will raise interest rates, which will help cause inflation as businesses raise prices, and it is in fact bullish for gold. Quantitative easing is in fact deflationary and needs to be removed to get gold to have a meaningful rally. He also explains how the demand for gold by young Indians and Chinese that he calls Chindian demand, will soon be gold demand to infinity which is so much better than QE to infinity. He is looking for a short-term move to $1305 in gold, and eventual target of $1680. He is also looking for a nice big pop in the miners as tax loss selling is ending.
This Could Be The Buy Of A Lifetime
Toby Connor with GoldScents, wrote a fabulous article here, that you don't want to miss. The article explains why smart money buys at the bottom (catching falling knives) and sells at tops after long bull runs (like we now have with the overall stock market). He also gives a great explanation of inflation as an increase in the money supply, so with QE running rampant in the world, we presently have massive inflation which will eventually be reflected in higher prices of gold than anyone can now imagine.
Disclaimer:
The thoughts and opinions in this article, along with all stock talk posts made by Robert Edwards, are my own. I am merely giving my interpretation of market moves as I see them. I am sharing what I am doing in my own trading. Sometimes I am correct, while other times I am wrong. They are not trading recommendations, but just another opinion that one may consider as one does their own due diligence.
Disclosure: I am long NUGT.
Additional disclosure: Also long NEM, GDX & gold futures.