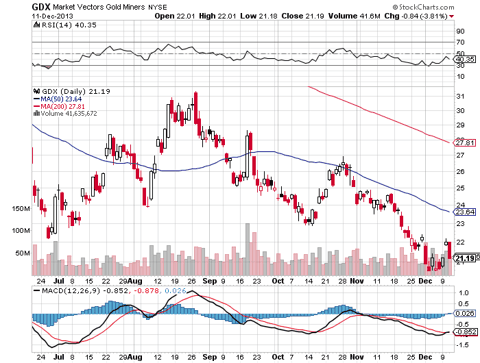 Still woozy from its recent near death experience, the gold miner GDX/NUGT bull stumbled and fell hard yesterday, completely filling the gap left from the previous day (see the above chart). The support that such a gap normally provides and has provided in the past, was no match for the relentless selling that occurred in the miners on Wednesday, December 11, 2013. While gold was down less than 1/2% by the 1:30 p.m. EST close, and less than 1% by the end of the day, the gold mining ETF (NYSEARCA:GDX) fell nearly 4%. Early in today's premarket, a large sell order came in and knocked gold below the critical $1250 support, down over $15 to the low $1240s, so GDX will surely open very weak today and may make a new 5 year low.
There is no real news to justify the weakness we are seeing in gold miners right now, IMHO. A possible budget deal was announced by congress, which may or may not actually find the votes to get passed, and the deal is pretty pathetic actually, as it reduces the cuts from the sequester and does little in tackling any real budget problems like entitlements and tax reform. Apparently the bears have concluded this helps increase the chances of a taper to be announced at next week's Fed Open Market Committee Meeting. They have played their taper aces cards so many times already but they have gotten a free pass to play them once again apparently. Its like we are playing poker with the bears who get to search through the deck before every hand is dealt, and stack the deck so that they keep getting the taper aces to play on virtually every hand. Hard to play against a stacked deck but that is the way things are right now.
If you have read my recent articles you know my feelings that actual tapering is bullish and not bearish for gold. When we (most likely) don't get a tapering announcement next week, we should get a decent rally in gold. If by a miracle a small taper was announced, I see an even larger rally. Once the December 18th announcement comes out, I am convinced the bears will be out of ammunition and the bulls can rise up and trample them to death. Till then, it could get a little bloody. A defensive posture is advised for now. Instead of adding on weakness, I will be selling where I can to buy back further on weakness and averaging down.
Wish I had better news but it is what it is. We are at historically low valuations and I will be holding through it all. I am prepared to face the adversity and did make a few adjustments in my account during the brief rally to help me weather the storm. I feel the targets of $40 and even $50 are still valid in the triple leveraged gold mining ETF (NYSEARCA:NUGT), but we may have a rough patch to get through first. Chin up, the situation is far from hopeless. I do not see the rough patch lasting over a week, and in fact, we could bottom as early as today.
Disclaimer:
The thoughts and opinions in this article, along with all stock talk posts made by Robert Edwards, are my own. I am merely giving my interpretation of market moves as I see them. I am sharing what I am doing in my own trading. Sometimes I am correct, while other times I am wrong. They are not trading recommendations, but just another opinion that one may consider as one does their own due diligence.
Disclosure: I am long NUGT.
Additional disclosure: Also long GDX & NEM