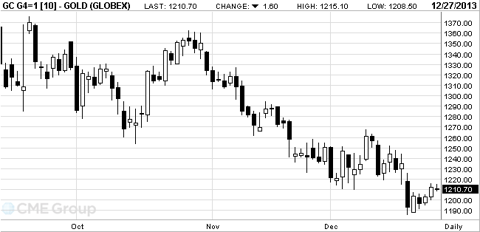 Above is a daily candlestick chart of February 2014 gold futures. The last candle is not complete as it only includes the overnight session trading so far. If we stay above $1200.50 on Friday, we will have five consecutive higher lows. It would be a very bullish development if it does occur as it would signal a possible bottom from which gold could challenge $1225 and if overcome, could quickly rally to $1250 resistance. If you look back on the daily chart of gold, you may find 4 consecutive higher lows but almost never five. To achieve five would be quite bullish.
I am looking for the formation of a large white candle any day, similar to what occurred on October 17, 2013. On that day gold traded from a low of $1275 to a high of just under $1324 and signaled a trading bottom. Now I am looking for a similar large white candle day where gold rallies over $40 and forces the shorts to aggressively cover.
Americanbulls.com Is Slowly Turning Bullish On Gold Mining Stocks
Although Americanbulls.com is still short the gold mining ETF (NYSEARCA:GDX) they went long the triple leveraged mining ETF (NYSEARCA:NUGT) on December 24th, at $25.03: check it out here. That same day they went long Barrick Gold (NYSE:ABX) and Goldcorp (NYSE:GG) as well. If Newmont Mining (NYSE:NEM) makes a white candle on Friday, they should be buying Newmont. They are about to be forced out of their triple leveraged short gold mining ETF (NYSEARCA:DUST) long position at a loss. They were making a nice profit on their GDX short when we scored the recent new 5 year low at $20.24, but their system did not take profits and is about to begin losing on the trade with any further strength in GDX.
There are other bullish developments. On Thursday, December 26, 2013, silver moved above its 10 and 20 day moving average with a very strong close and is outperforming gold. Silver often tops out and bottoms out before gold, and right now is signaling it wants to lead gold higher.
I recently did an article, click here, where I projected higher prices in the miners based on a bullish weekly harami pattern. Although we failed to rally last week and instead closed down slightly, it appears we are now on the path to rally and move higher this week as was previously projected and should continue going up for another couple weeks minimum. Things are slowly turning more bullish for gold and the miners.
Disclaimer:
The thoughts and opinions in this article, along with all stock talk posts made by Robert Edwards, are my own. I am merely giving my interpretation of market moves as I see them. I am sharing what I am doing in my own trading. Sometimes I am correct, while other times I am wrong. They are not trading recommendations, but just another opinion that one may consider as one does their own due diligence.
Disclosure: I am long NUGT.
Additional disclosure: Also long GDX & NEM