Positive Fundamentals To Start 2014
As a technician who relies on technical signals, I don't normally talk about fundamentals much. However there is a rebalancing of Commodity Indexes that goes on for five days in two different indexes. One starts buying gold contracts on Wednesday, 1/08/14, and the other starts the five days of buying on Thursday, 1/09/14. You can read about it here. It appears that part of the buying of gold in the last two days can be attributed to traders wanting to buy ahead of these purchases. Since they are buying the rumor now, they may sell the actual fact, meaning that the positive influence may not last much past next Thursday or Friday. Still, it should provide a solid bid under the gold futures market as we begin the week of 01/06/14.
Also the Chinese New Year usually provides support to gold later in the month of January, and that too might be helpful to the bulls. Another factor, to avoid wash sales, many investors will be buying back gold mining stocks beginning 31 days after they were sold in December for a loss. This is supposed to help the miners beginning the middle of January and continue until the end of the month.
Stewart Thomson of Graceland Updates gives a convincing argument why long-term fundamentals should improve for gold in 2014, click here. Corporations hoarding cash should start spending that cash now, increasing money supply velocity, that should bring inflation. Also, the Chinese market could rise and encourage higher copper prices. Not mentioned in the article, but Platinum and Palladium are already outperforming gold based on brisk auto sales. All these factors should help gold rally strongly, especially in the second half of the year.
Gold Defied The Odds To Rally Strongly The Last Two Days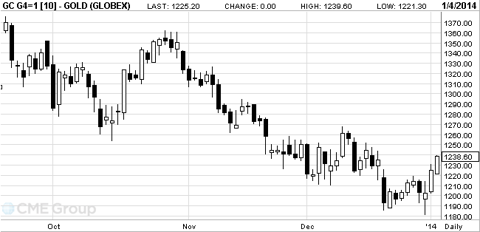 If you look at the above daily February 2014 Gold futures chart, you will notice that we rallied the last three days, just like we did December 6th, 9th & 10th, as I predicted in my New Years Day article, click here. Although I was hoping for a quick rally to $1260 by Friday, we did make it to $1240, and closed at the highs on Friday. In December we got about a $60 gold rally off the bottom, and we did the same now. But unlike December, I am looking for gold to keep working sideways to higher over the next week or more. On Friday, gold closed a gap left from the hard selloff on December 19th, that broke the important $1200 support level. By filling and closing above that gap, there is no real resistance until we reach $1260. I anticipate Monday will hold the gold $1225 support now, and should trade in the $1240s, but may close down slightly. On Friday we convincingly broke the downward trend line that has been in place since the $1360 high in late October.
Also, my previously cited New Years Day article mentioned how an expectation of a $100 to $160 rally should result from the bullish chart pattern that occurred on December 31, 2013. So far we have only seen $60 of that rally and have $40 to $100 more to go.
What is remarkable about the rally the last couple days in gold, is the fact that it occurred while the US Dollar surged higher. The March Euro fell from $138 to $136 the past two days on the Dollar strength. The commodity currency did rally with gold, that being the Australian Dollar. It had fallen to the strong support area of .8800 and now appears to want to overtake the .9000 level again. Take a look now at the daily February Crude oil chart: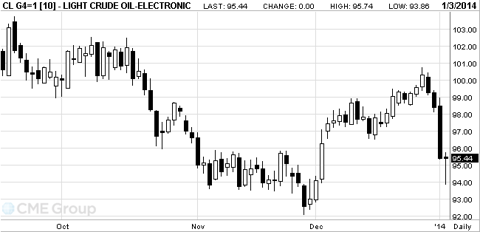 As energy being a key element of inflation, crude oil often trades in tandem with gold. However the last couple days crude was quite weak with gold strong. Weaker crude oil does support the gold mining stocks however, as gold mining requires lots of energy and lower energy prices reduces mining costs. Lower crude oil probably helped the miners rally late week. The fact that crude oil came back strongly on the close to end about unchanged (forming a bullish hammer) may partially explain the late selloff we saw in the miners on Friday. Just a guess.
The Rally In GDX Should Just Be Beginning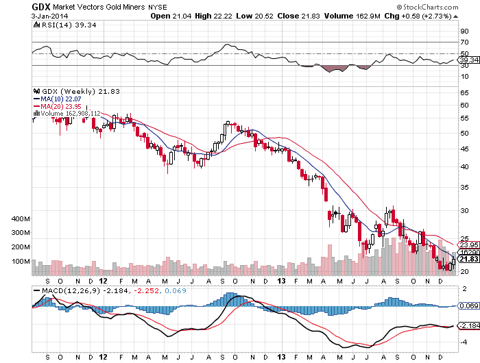 Looking at the weekly GDX chart shown above, one will notice that in May 2013, from slightly new lows we scored a 2 week rally, only to then close lower for five weeks. That was followed by a strong 7 week rally that brought GDX from a five year low of $22.21 to above $30. After continuing lower for 7 weeks, we again got a 2 week rally in GDX in October 2013. We then fell for 8 weeks and now have scored a two week rally out of a new 5-year low. Just like the rally in late June to late August, from $22.21 to $30, we are now due to continue going up in GDX for another month hopefully, towards at least $28 if not $30, since the low in GDX is now $20.18. The solid base formed over the past 5 weeks with numerous retests of the $20 support area in GDX, portends a much bigger rally than what we have seen so far. Lets review. We have had a 2 week rally, followed by a 7 week rally, another 2 week rally and should now do a 7 week rally that is only 2 weeks complete so far. Strength in the miners for the next 5 weeks would correspond perfectly with the bullish January 2014 fundamentals I already mentioned earlier.
Despite Down Close In Miners On Friday, A Bullish Bias Remains For Next Week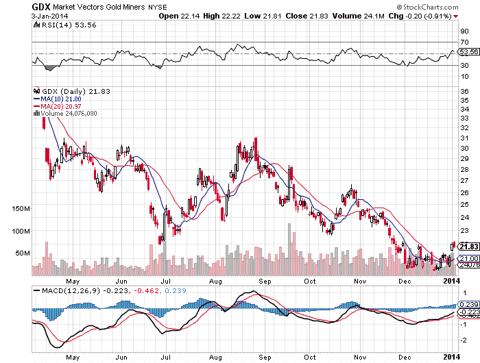 When the miners closed weakly on Friday, many were discouraged by the action. However, the gap left from Thursday's strong opening up, still remains on the chart and should provide support. Not only was the gap not tested, but the red candle of Friday only goes down about halfway on the white candle of Thursday. This is similar to what occurred on October 18th & 23rd, as well as earlier on July 12th & 17th. Those times GDX moved on higher for at least another week. GDX strongly outperformed gold futures on Thursday so it gave back a bit on Friday. To get a better picture of what to expect in the near future, lets look at the chart of the Bearish 3X gold miner ETF (NYSEARCA:DUST):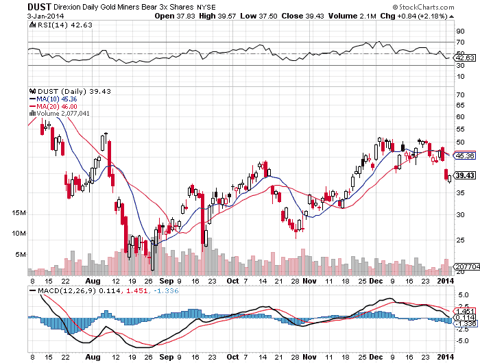 You can see how DUST rallied to above $50 in early December. We broke down on December 10th to $40, but quickly recovered and retook the $50 area, only to finally break down below $40 the last couple days. Even with the small rally of Friday, DUST remains under $40 and I do not look for Thursday's gap to be filled in the near future. Wednesday's DUST close was $44.05, so I do not expect for that price to be approached for now. We will now look at the weekly DUST chart: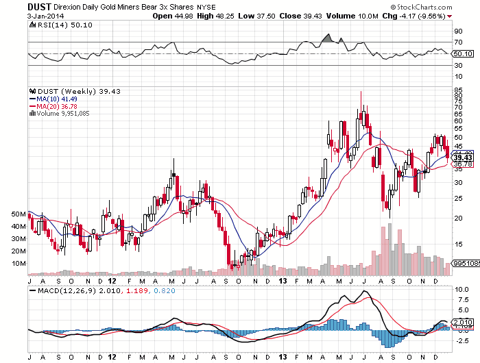 Let us consider what occurred in DUST in the past when it fell for 2 weeks in a row, just like what happened now. In August of 2011, down 2 weeks in DUST meant another 3 weeks lower. In October of 2011, 2 down weeks was followed by one up week, filling a gap, and then falling for 3 more weeks. In January 2012 we started the year with 2 down weeks in DUST, got a 1 week rally and then worked lower again. In May 2012, DUST topped out and after falling hard for 2 weeks, bottomed on the 3rd week and went sideways to slightly higher for the next 7-8 weeks before falling hard for 9 weeks. The next area to focus in on is May 2013. DUST had double topped at $60, similar to the double top we now have in DUST just above $50. After falling for two weeks, on the 3rd week DUST bottomed just above $35 and made an all-time high 3 weeks later at $83.25. This was followed by a major move down to $20.
What I conclude from this exercise, is that getting DUST to drop for 2 weeks is bearish for at least a month, even if DUST manages to rally on the 3rd week (which would be next week). The fact that DUST double topped at $50, it is likely we will continue much lower to retest the $20 area, but there is a chance we might first have to suffer through a 3 week rally in DUST back above $50 first. Why a new high above $50 is less likely occurring now, than in late June 2013, at that time DUST was on a long-term uptrend from September 2012 that had gone on for 8 months. A final blow-off top was not out of the question after all that. However, now we have had the $83.25 top, a drop to $20, and a secondary high of $43.54 and double top at $50. We are now failing and dropping back towards support in DUST in the $20 to $25 area. Although not impossible, I believe the chances for DUST to exceed $50 in the near future are remote. Take a look at the daily chart now of the 3X bullish gold mining ETF (NYSEARCA:NUGT):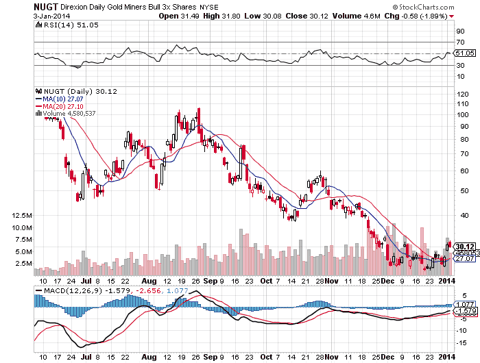 When NUGT gapped up big on Thursday, it left a monster gap from Wednesday's $27.41 close, to Thursday's low of $29.21. If the current rally is continuing, one does not expect to see this gap filled. A move down to the $27 area, which would fill a gap, would be the signal that there is one more dip in gold and the miners to endure, before the ultimate multi-year low in the miners is in. Trading at the $27 area should probably trigger the purchase of a Put option for protection, as described by Growfast in his article found here. Falling below $27 would project a drop to a final NUGT bottom of $18 to $20. If NUGT makes that final dip down, it could be the last major selloff in NUGT for a very long time.
Disclaimer:
The thoughts and opinions in this article, along with all stock talk posts made by Robert Edwards, are my own. I am merely giving my interpretation of market moves as I see them. I am sharing what I am doing in my own trading. Sometimes I am correct, while other times I am wrong. They are not trading recommendations, but just another opinion that one may consider as one does their own due diligence.
Disclosure: I am long NUGT.
Additional disclosure: Also long NEM and GDX