Why Was GDXJ So Much Stronger Than GDX Today, 1/13/14?
Please Note: Blog posts are not selected, edited or screened by Seeking Alpha editors.
Seeking Alpha Analyst Since 2012
Contrarian daytrading technician who specializes in locating high probability short term trades while predicting price movement directions with over 85% accuracy. Most of my trading involves either extremely short term micro scalping of stocks or commodities (using 1 minute bar charts), or swing trading of stocks overnight. I also specialize in weekly stock option premium selling, along with pre-market and post-market psuedo market maker and stealth trading activity, and selling commodity option strangles (selling delta neutral pairs of far out-ot-the-money puts and calls), with the intent to achieve a steady 1% weekly return. After 32 years, well battle tested, very opportunitistic while putting capital preservation as tantamount. Rehabilitation Counselor over 20 years, M.S., M.B.A., now an around-the-clock speculator. Incorporate seasonals, time of day, and other patterns and methods where high probability price movement patterns can be statistically forecast. Know how to safely go long high beta, heavily shorted stocks; know how and when to use extremes in sentiment to take the other side. I like to fade extreme moves as my proprietary methods are based on reversion to the mean theory. Developed my own scale trading and money management techniques. Will change and adapt my trading style based on current market conditions. I hope to start a chatroom devoted to teaching speculators how to see and capture daytrading opportunities. They say that those who can...do, while those who can't....teach. I want to provide teaching from someone who really can do, someone who knows how to make steady returns while experiencing minimal drawdowns. As a mentor, I would love to share my knowledge and support to help small traders. I came from humble beginnings and have never forgotten it. I want to accelerate the learning curve of my chatroom students so they won't have to make all the mistakes that I have over the years. I am excellent at devising and implementing strategies that can quickly turn a losing trade into a net winner.
With gold marginally up today, 1/13/14, the gold mining ETF (GDX) was quite strong. Barrons attributed the strength in miners Monday, to merger and acquisition prospects (M&A) after Goldcorp (GG) snapped up Osisko Mining Corp. For the Barrons article, click here. At noontime the large mining GDX was up 1.2% when the Junior Mining ETF (GDXJ) was up 4.8%. With 90 minutes left of trading today, the three largest mining stocks that make up the GDX, were all down: ABX, NEM & GG.
I was watching these three big players today, and remained cautious as a result. What I was missing was the fact that the Goldcorp acquisition was sparking hope that other Junior miners could be purchased, and it was lifting all the miners, as a result. If the strength is in the small miners then that is the sector one wants to concentrate on, for the time being. In the aftermarket I bought GDXJ, and will concentrate my efforts there for the remainder of the week, at least.
Just posted is an excellent audio from Bloomberg News, featuring Eric Balchunas, click here. (You have to click on the microphone under the word Related). Balchunas points out that the GDX has 3 times the volatility of the S&P while the GDXJ has 5 times the volatility of the S&P. That means that the triple leveraged ETF (NUGT) has 9 times the volatility of the S&P while the tripled leveraged small miner ETF (JNUG) has 15 times the volatility of the S&P. GDXJ has a lot of volatility without being leveraged, so one does not have to worry about slippage like one has to worry when trading NUGT or JNUG. The small miners also have a short ETF (JDST) to correspond to the big miner short ETF (DUST). I favor GDXJ because you don't have to worry about leverage and there are weekly options to play on this very active derivative trading vehicle.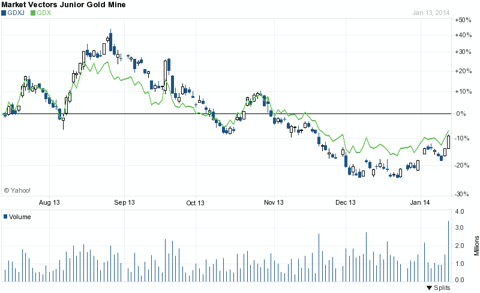 From the above chart you can see how on rallies, GDXJ would outperform GDX. Recently, GDXJ has underperformed, as the small miners fell much harder than the large miners in 2013. Now that strength is returning to the mining sector, the small miners should again overtake the large miners and be the out-performers. The move by Goldcorp (GG) today could spark rumors of other Junior miners being acquired, and help GDXJ move up more strongly than GDX, in the near-term.
Disclosure: I am long GDXJ.
Additional disclosure: I am also in and out of GDX, NUGT & DUST.
Seeking Alpha's Disclosure: Past performance is no guarantee of future results. No recommendation or advice is being given as to whether any investment is suitable for a particular investor. Any views or opinions expressed above may not reflect those of Seeking Alpha as a whole. Seeking Alpha is not a licensed securities dealer, broker or US investment adviser or investment bank. Our analysts are third party authors that include both professional investors and individual investors who may not be licensed or certified by any institute or regulatory body.