I May Favor Playing The 3X Short Miner ETF (DUST) Today, While Waiting For The Gold Bull Market To Launch
Please Note: Blog posts are not selected, edited or screened by Seeking Alpha editors.
Seeking Alpha Analyst Since 2012
Contrarian daytrading technician who specializes in locating high probability short term trades while predicting price movement directions with over 85% accuracy. Most of my trading involves either extremely short term micro scalping of stocks or commodities (using 1 minute bar charts), or swing trading of stocks overnight. I also specialize in weekly stock option premium selling, along with pre-market and post-market psuedo market maker and stealth trading activity, and selling commodity option strangles (selling delta neutral pairs of far out-ot-the-money puts and calls), with the intent to achieve a steady 1% weekly return. After 32 years, well battle tested, very opportunitistic while putting capital preservation as tantamount. Rehabilitation Counselor over 20 years, M.S., M.B.A., now an around-the-clock speculator. Incorporate seasonals, time of day, and other patterns and methods where high probability price movement patterns can be statistically forecast. Know how to safely go long high beta, heavily shorted stocks; know how and when to use extremes in sentiment to take the other side. I like to fade extreme moves as my proprietary methods are based on reversion to the mean theory. Developed my own scale trading and money management techniques. Will change and adapt my trading style based on current market conditions. I hope to start a chatroom devoted to teaching speculators how to see and capture daytrading opportunities. They say that those who can...do, while those who can't....teach. I want to provide teaching from someone who really can do, someone who knows how to make steady returns while experiencing minimal drawdowns. As a mentor, I would love to share my knowledge and support to help small traders. I came from humble beginnings and have never forgotten it. I want to accelerate the learning curve of my chatroom students so they won't have to make all the mistakes that I have over the years. I am excellent at devising and implementing strategies that can quickly turn a losing trade into a net winner.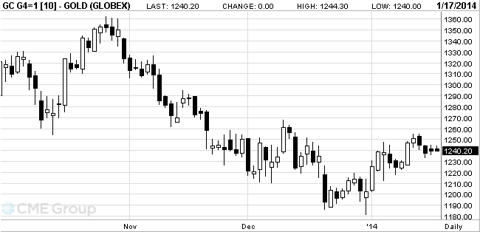 On the above daily chart of February 2014 gold, the last candle is not complete, as it only includes the night session so far, on this Friday, January 17, 2014. After the big white candle formed last Friday, and the small follow-through white candle we got on Monday, this has been another somewhat disappointing week for gold bulls, as we cannot get any traction to the upside. I try to stay positive as I read articles like, "The New Gold Bull Market Cycle Has Started" by Chris Vermeulen, click here. The article is a great read, but unfortunately, the bull market cycle has not yet been confirmed, and will not confirm without a move above the $1268 level in February gold.
On the chart above, one will notice that the upward wedge pattern continues in tact. However, the upward momentum is waning, which lessens the chances that we can successfully break through the $1250 to $1255 resistance, let alone trade above $1268. On Wednesday morning, soon after we opened and started a small rally, I declared in Stock Talk that the low of the week was probably seen, and we should grind slowly higher towards $1250 to $1255 for the remainder of the week. So far, I have been correct, but the grind higher has been quite slow and tedious. You would still expect a final spike up on the chart to balance out the picture above; a spike up that fails. But there is no guarantee we will see that. At any time we could roll over to retest the $1220 or even the $1200 level. If we do make that drop lower, I still do expect the support to hold as the market would just be building a leg of support from which higher prices could be launched. The longer that we sit where we are going sideways, it looks more and more like February will be the month of the gold market bull launch, rather than on the current run higher.
Dust Has Been Down For Two Days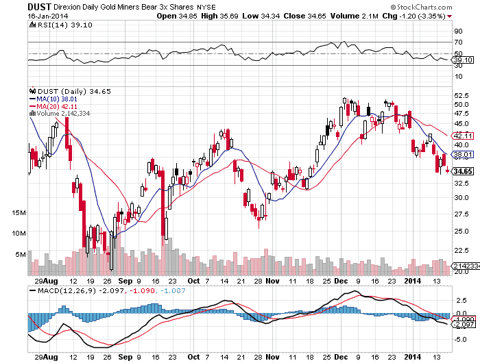 If you look at the above daily chart of the 3X leveraged bearish mining stock ETF (DUST) one will see that DUST has fallen for two straight days. Looking over past action, Dust is almost always a buy after falling for two days. Earlier this week, when DUST fell for the 2nd day in a row on Monday, we got a DUST rally on Tuesday. Now that we have fallen on Wednesday and Thursday, it is likely that DUST either rallies on Friday, or if it falls again, one can buy DUST on Friday and take profits on a rally on Monday. In any case, I am looking to buy dips in DUST on Friday, 1/17/14. How much I balance out the trade with buys in GDX or GDXJ, or the 3X leveraged NUGT, will depend on the chart action we see during the day. I will be updating my trading on a Stock Talk thread today for anyone wanting to follow along.
For fun, go over the above DUST chart and look for times that DUST fell for two consecutive days. It is amazing to see the high frequency that the third day is an up day for DUST. Back in late October, after two down days, DUST did fall for a 3rd day. But anyone who bought on the 3rd day were rewarded thereafter as it was a major bottom just below $26, and DUST would soon rally to $52, a double.
After you read this article, I hope you do not conclude that I have turned into a bear in gold and the miners. I am still very much bullish in the intermediate to long term. However, on a very, very short-term basis, I am cautious until we break out decisively to the upside, and see a very short-term trading opportunity in DUST, that may just turn out to be a one day event.
Disclaimer:
The thoughts and opinions in this article, along with all stock talk posts made by Robert Edwards, are my own. I am merely giving my interpretation of market moves as I see them. I am sharing what I am doing in my own trading. Sometimes I am correct, while other times I am wrong. They are not trading recommendations, but just another opinion that one may consider as one does their own due diligence.
Disclosure: I have no positions in any stocks mentioned, but may initiate a long position in DUST over the next 72 hours.
Seeking Alpha's Disclosure: Past performance is no guarantee of future results. No recommendation or advice is being given as to whether any investment is suitable for a particular investor. Any views or opinions expressed above may not reflect those of Seeking Alpha as a whole. Seeking Alpha is not a licensed securities dealer, broker or US investment adviser or investment bank. Our analysts are third party authors that include both professional investors and individual investors who may not be licensed or certified by any institute or regulatory body.