Triple Leveraged Bullish Emerging Market ETF (NYSEARCA:EDC)
I noticed today that the gold mining ETF (NYSEARCA:GDX) has the third highest volume of all ETFs traded, following the S&P 500 (NYSEARCA:SPY) and Emerging Markets ETF (NYSEARCA:EEM). Since EEM has so much volume, I thought I would check out triple leveraged emerging market ETFs, since I enjoy trading NUGT and DUST that are related to GDX. I was pleasantly surprised to find that the triple leveraged bullish emerging market ETF (EDC) traded 3.8 million shares today, while the triple leveraged bearish emerging market ETF (NYSEARCA:EDZ) traded 1.6 million shares. Since both of these leveraged ETFs trade over 1 million shares, they have excellent liquidity. Emerging market ETFs have exposure to Asia (China), Latin America & Brazil, Russia, India, etc. I have recently been playing Brazilian company Petrobras (NYSE:PBR) and Cliffs Natural Resources (NYSE:CLF) and feel I might do better playing this more broadly diversified, highly volatile leveraged bullish emerging market ETF (EDC). Lets look at the weekly and daily charts of EDC, starting with the weekly chart: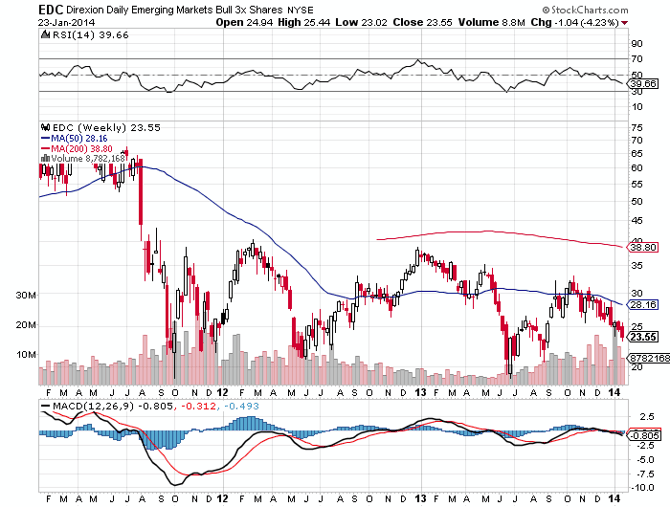 You will notice that for over two years, the EDC has ranged from a low of $18.70 hit in October 2011, to a high of $40.33 in February 2012. During the year of 2013, the range was from the high 37s to the high 18s. EDC is a leveraged version of a very stable diversified ETF (EEM) so EDC has very little slippage. So there are very little worries about having to suffer through a reverse split. Also, we are trading towards the lower end of the historical trading range, thanks to a $1.86 selloff to $23.55 just today. Though quite stable, there are still plenty of nice weekly swing trades available that you will see if you look at the daily chart as follows: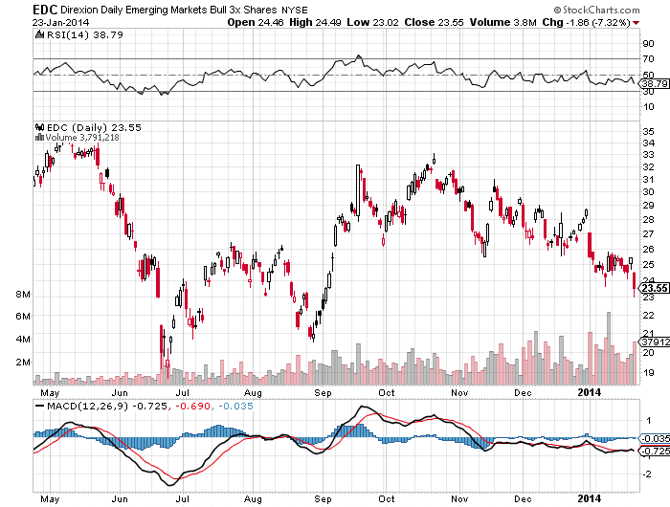 Recently we have been trading in a well defined downward channel, with each new low catching a bid for a swing higher before dropping to a new low. Similar to the Chinese ETF (NYSEARCA:FXI), because the underlying stocks trade in Asia and in Europe before the U.S., there are a lot of gaps up or down and not so much intraday movement. For someone who does not want to day trade, but instead catch short-term moves of 1 to 5 days, this leveraged ETF could be ideal. If we should drop down closer to $21, I might become quite interested in playing this leveraged ETF.
Triple Leveraged Bearish Natural Gas ETF (NYSEARCA:DGAZ)
Recently Natural Gas has caught fire and rallied strongly on the unseasonably cold weather seen across the nation. Just take a look at the daily chart of the nearby February Natural Gas contract as follows: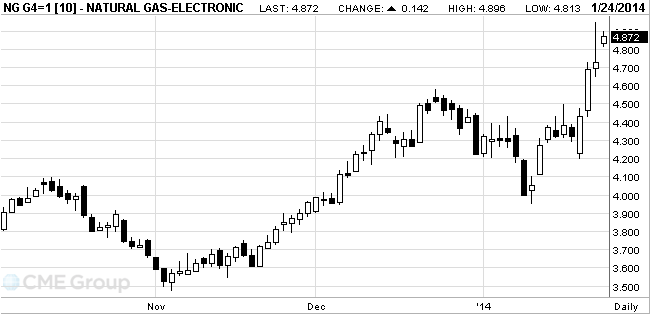 The last white candle only includes the night session prices and the contract will continue trading into Friday, January 24, 2014, so the rally might extend even further up. Thursday's high came within a few cents of major long-term resistance, just under $5.00 per million BTU. Nearby natural gas prices have not trades above $5.00 since August 2010 when natural gas prices topped at $5.007. Just two months prior, in June 2010, natural gas topped at $5.196, which had not been seen since February 2010. For the time being, $5.00 should be formidable resistance and cause the triple leverage bearish natural gas ETF (DGAZ) to bottom, about 4% above where natural gas stopped trading at the end of the day. The triple leveraged ETF (DGAZ) could fall another 12% if the underlying natural gas continued to rally another 4% to $5.00. That would drop the Thursday low of $6.00, down about 72 cents to $5.38. As natural gas temporarily tops at $5.00 due to profit-taking, one would expect a quick 10% correction in natural gas back towards $4.50. So if DGAZ bottoms at $5.38, it should see a 30% rally from there, to about $7.00 and eventually to $8.00 plus. Here is a weekly chart of DGAZ.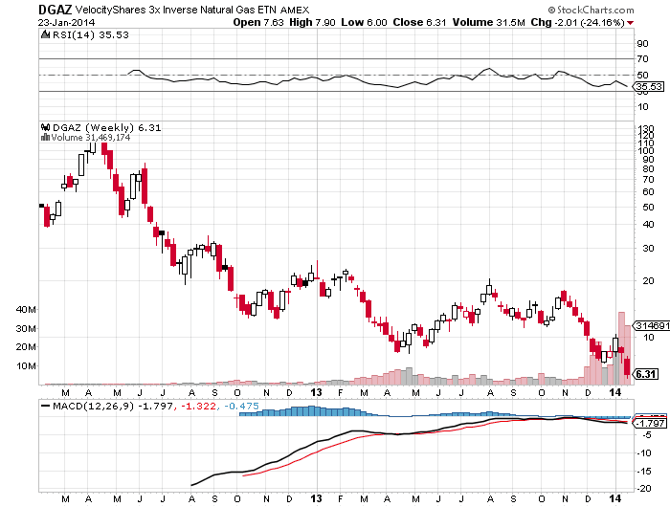 In late 2012, DGAZ bottomed at about $12.50 before doubling to over $25 in about 6 weeks. The next major bottom occurred in April 2013 at $8.20, that was followed by a 3 month rally to $25.52. Recently DGAZ bottomed at $7.31, before rallying 2 weeks later to $10.40. Then just two weeks later, we are at $6.00 and looking to possibly fall to the low to mid $5.00 range, before another rally hopefully ensues. Trading DGAZ is definitely not for the faint of heart.
One might wonder why one would even want to play the short side of natural gas. The reason would be that, even though the current cold spell is causing a considerable drawdown in stocks, there is no chance that we will run out of natural gas this winter, and will begin adding to reserves by the Spring. To see projected natural gas storage levels for the remainder of this year, look at the fourth chart posted by BMO Capital Markets, click here. One would expect that these high prices approaching $5.00 will not be sustained.
Disclaimer:
The thoughts and opinions in this article, along with all stock talk posts made by Robert Edwards, are my own. I am merely giving my interpretation of market moves as I see them. I am sharing what I am doing in my own trading. Sometimes I am correct, while other times I am wrong. They are not trading recommendations, but just another opinion that one may consider as one does their own due diligence.
Disclosure: I am long DGAZ.