Yes, that is the million dollar question. Is it time to start buying Petrobras (NYSE:PBR) or anything in the emerging market space? On Friday, 1/24/14, the media was infatuated with emerging market talk. When a move becomes so mature that it starts the ending parabolic move and gets people excited and makes headlines, it is very close to the time to start going the other way. It is now common knowledge that when a drought is the leading story on news channels, and becomes the cover story of Barron's, the grain market rally is about to top out. When knowledge is so pervasive that everyone knows the news, especially the non-financial types, it is about time to start going the other way. When everyone who wanted to buy, is long, there are no new buyers, only sellers, and the market is about to turn down. Likewise, when everyone is committed on the short side, there is no place to go but up. I follow sentiment readings in currencies for instance, to capitalize on extremes by taking the opposite view.
Emerging Markets Are Loathed As Much As The Miners Were A Couple Months Ago
Michael Santoli is a rare contrarian who came out Thursday aspiring to buy into the emerging market stock dip, but even he prefaced his buy with the caveat that one wait until it falls a bit more (for his article, click here). He is the exception. After Friday's beat down in the stock market that was roundly blamed on emerging markets, the prevailing consensus view of pundits will surely be to espouse opening up new short positions in emerging market stocks. The negative press will be read and studied by many investors and so a lower opening on Monday is extremely likely. Jesse Colombo described the problems in emerging markets in an excellent article he wrote last September, click here.
With Friday's beat down, prices are approaching levels that have provided support in the past. Just take a look at the daily chart of EEM: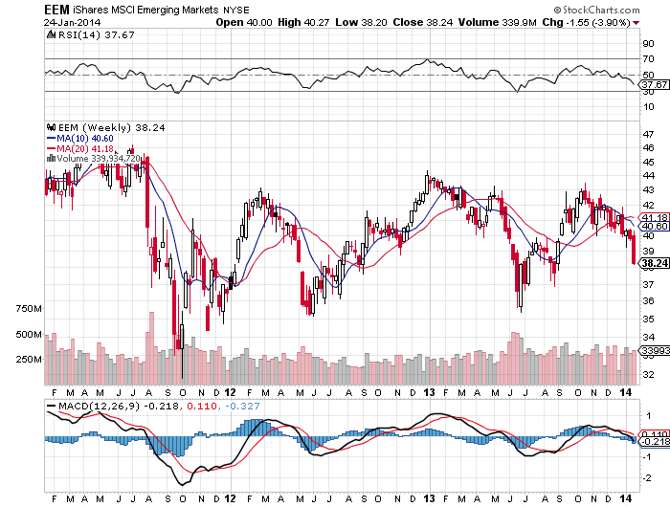 If you look at the right of the chart, in October 2013, we rolled over from trading just above $43. We were finding support around $40 until this week, when support was decisively broken. This reminds me very much of the February 2012 high in EEM where we also rolled over from a $43 top. Back then we also tried for several weeks to hold support at $40, but the week of May 7, 2012, we broke the support and closed at $38.39, which corresponds almost perfectly to Friday's close of $38.24. The next week, back in May 2012, we gapped down hard and closed again at the lows. Based on Friday's momentum, we could do a similar thing this coming week. Back in May 2012, the next week saw a low of $35.70. For the most the bottom virtually in, as we then traded sideways for 3 more weeks, hitting an ultimate low at $35.12 and then starting a long rally to over $44.
Trade EDZ For Now, And Wait At Least A Week Before Switching to EDC
What this chart tells me is that emerging markets probably have another week of dropping before we hit anywhere close to a bottom. However, in another week, I should be able to start daytrading from the long side, hopefully trading shares with a $35 handle. Although it is too early to jump on the leveraged bullish emerging market ETF (NYSEARCA:EDC) for at least another week, one might want to consider trading the leveraged bearish emerging market ETF (ETZ) that broke out to the upside on Friday, closing at $50.78. If we get the 5% further drop in EEM that I am looking for this coming week in EEM, then ETZ could rally 15% to over $58. As ETZ approaches resistance at $60, it should be time to consider switching over to EDC, which should be trading at $17 to $18.50. Here is a daily chart of bearish EDZ, followed by the bullish EDC.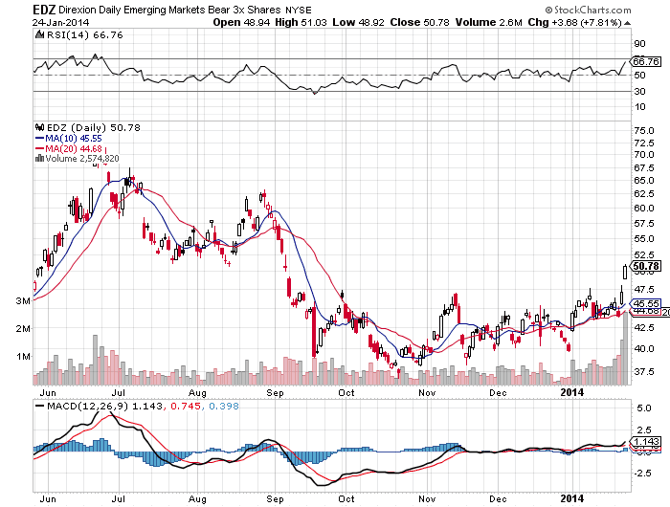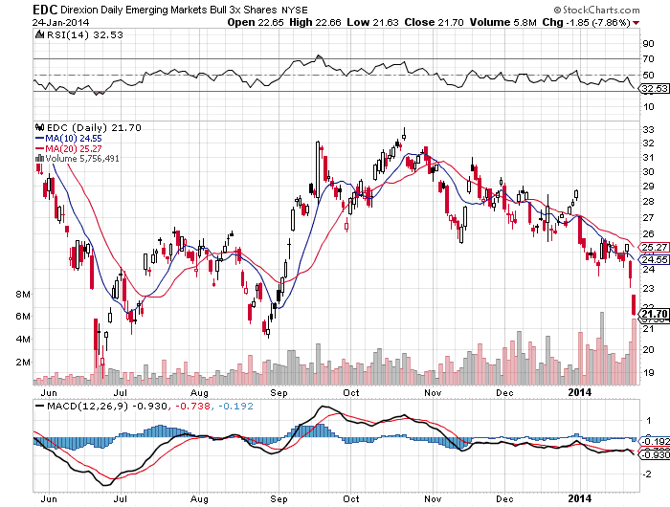 Petrobras (PBR) Should Be Just Days Away From A Bottom
Petrobras (PBR) is trading lower now, than it did during the 2008-09 financial crisis. Back then, PBR hit a high of $69.47 in May 2008, before bottoming at $13.19 in November 2008. PBR was back trading above $42 by May 2009. For a look at where PBR is currently trading, check out the daily chart as follows: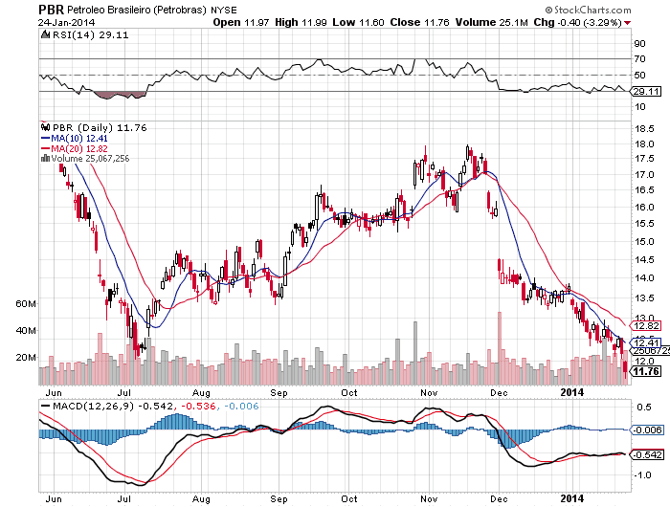 In early March 2013, PBR traded quite closely to the low made in 2008 when it fell to a low of $14.24. From there it would rally just under $20 before falling again. The first week of July 2013, PBR bottomed at $12.03, a nearly 9% drop below the 2008 bottom of $13.19, and 15.5% drop below the March 2013 bottom of $14.24. On Friday, 1/24/14, we gapped below the old $12.03 low, having a high of only $11.99, and closed at $11.76. Now that we gapped into new lows, it is premature to immediately go long PBR. If we make another new low drop of 15.5% like we did the last time, the projected target for PBR would be $10.17. Thus, we could be $1.59 or less from the PBR bottom.
Prior to the $14.24 low, PBR had bottomed at $17.08 and $20.44. The percentage drop between $20.44 down to $17.08 is 16.5% and from $17.08 down to $14.24 is also 16.5%. The last three times PBR made a new low, it was 16.5, 16.5 and 15.5% lower. That is very consistent and gives me a lot of confidence in buying PBR with a $10 handle.
Disclaimer:
The thoughts and opinions in this article, along with all stock talk posts made by Robert Edwards, are my own. I am merely giving my interpretation of market moves as I see them. I am sharing what I am doing in my own trading. Sometimes I am correct, while other times I am wrong. They are not trading recommendations, but just another opinion that one may consider as one does their own due diligence.
Disclosure: I have no positions in any stocks mentioned, but may initiate a long position in PBR, EDC, EDZ over the next 72 hours.