For Now April Gold Is Caught In A Trading Range Between $1230 & $1270
There are many reasons why gold can't seem to launch higher. One might be that Chinese dealers are no longer buying as the Chinese New Year is almost upon us and it is a slow time for gold buying for the next couple weeks. Also, there was some hope that India would reduce restrictions on gold imports but that is also off the table now, as the government is still insisting the current-account deficit must first improve. Good luck on that one. Lets look at a chart of April Gold: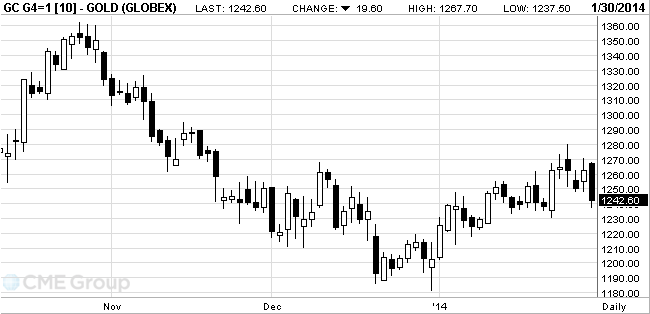 Today's April gold futures action was not that constructive looking on first glance, as it resembles a black Marubozu candlestick formation, opening near the high of the day, having a long black body and closing near the lows with virtually no tail. This is the first such long black candle in January. But if you look at the chart, you will notice that in December there were three long black candle formations and each time, gold rallied the next one to two days. So even though we had to endure some weakness today, we should hold support at $1230. If that support is not violated, we should move right back up to $1270 and hopefully take out that resistance. If we cannot take out $1270 on the next rebound, then I would become more concerned.
The Gold Miners Are Outperforming The Metal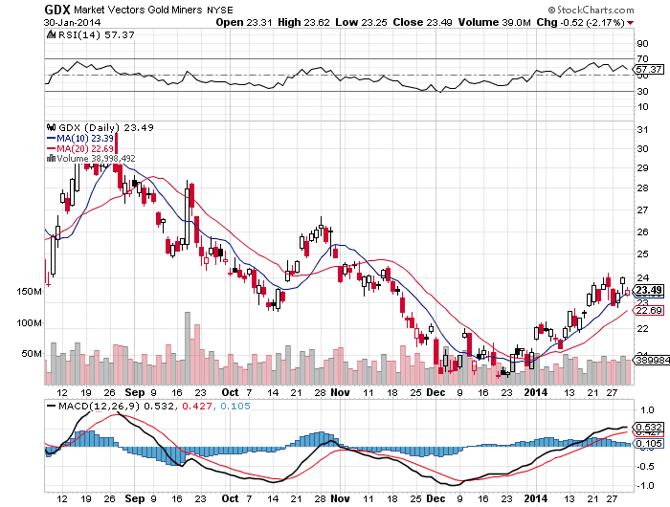 Even though we gapped down today in GDX, we closed above the opening, making a white candle. This means the battle between buyers and sellers today was won by the bulls. Americanbulls.com is still short DUST from a couple days ago, and is long NUGT & GDX, click here, although all 3 positions are currently down a little. Americanbulls.com is a trend-following system and it gets chopped up when we are caught in a tight trading range as we are now.
When not trending and in a trading range, I tend to like to keep my trades very short and don't carry much overnight as markets tend to reverse direction without warning. When the FOMC decision on Wednesday came out as a taper, GDX and the miners weathered the news quite well, and GDX made a new high on the close, overcoming resistance at $24. But today GDX was clobbered on the opening and could not close the opening gap. Again, as long as gold holds support at $1230, today's action just means traders have another chance to get in GDX at a low price.
One Caveat To The Bullish Argument
Whereas the large miner gold mining ETF (NYSEARCA:GDX) closed higher than the opening, the Junior Minor ETF (NYSEARCA:GDXJ) closed down from the opening, creating a bearish kicking pattern, click here, warning of possible trouble. Where GDX closed today 3% off of its recent high, GDXJ has fallen 6%. Since GDXJ did outperform on the way up, on a correction it is normal to outperform to the downside. I am anxious for GDXJ to again take the lead and start outperforming GDX to the upside.
Also Palladium has fallen six straight days and 7 of the last 8 days. Palladium has fallen $50 but is now within $10 of some solid support. Here is a look at the Palladium chart: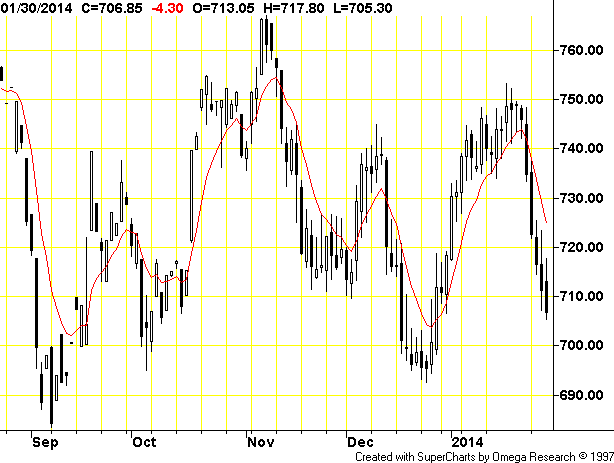 The drop in Platinum however is not as well developed, and looks like it may take a couple more days and $20 to $30 of falling to reach support. The Platinum chart is as follows: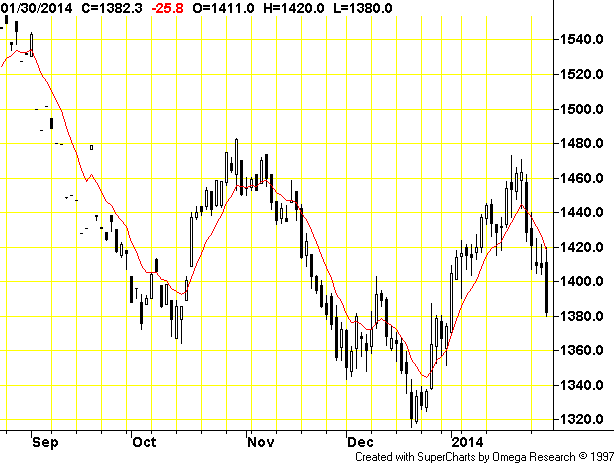 An industrial metal, silver, has also been hurt recently with the selloff in the stock market and turmoil in emerging markets. We are currently very near the lows and could slip to a marginal new low any day. The silver futures chart is as follows: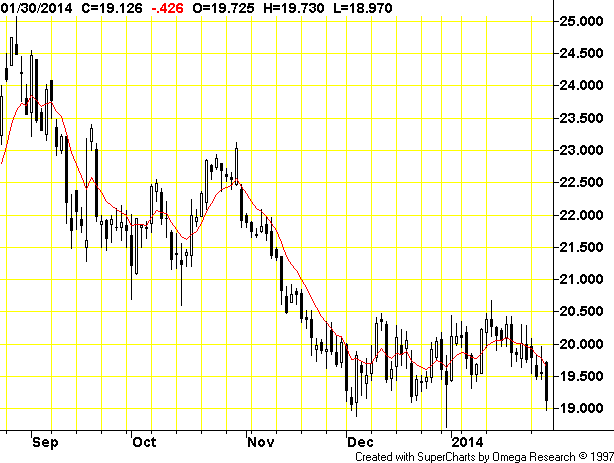 So when you compare gold to the other metals charts, it is looking the best, and the miners are performing the best of all. As long as gold stays above $1200 the miners should be fine and should slowly work higher, as most miners have recently reduced their marginal costs of production and will continue to adjust to lower gold prices if gold continues trading at current low range prices.
Disclaimer:
The thoughts and opinions in this article, along with all stock talk posts made by Robert Edwards, are my own. I am merely giving my interpretation of market moves as I see them. I am sharing what I am doing in my own trading. Sometimes I am correct, while other times I am wrong. They are not trading recommendations, but just another opinion that one may consider as one does their own due diligence.
Disclosure: I am long GDX.
Additional disclosure: I am also in and out of NUGT and occasionally DUST