CLF Is Getting Bouncy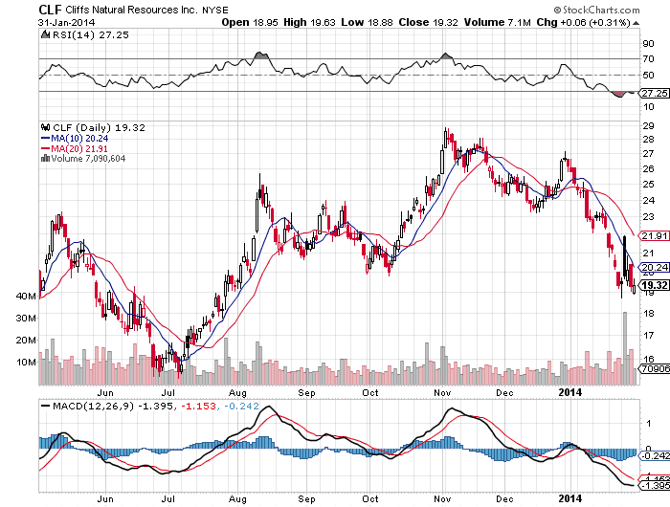 Two weeks ago I wrote an article recommending to start accumulating shares in Cliffs Natural Resources Inc. (CLF), click here. I was definitely too early and should have waited for a buy signal at americanbulls.com before venturing in. Although I scaled into the trade, I planned to have $20 as major support and was hopeful we would stop at $21. So when we kept falling and looked to violate the $20 support level, I liquidated my long position at a loss, in hopes of buying back lower.
Getting out worked well at first since we immediately fell below $20 the next day. But the day after that, we traded slightly under $19 where buying appeared and reversed the stock to close up, at $19.40, creating both a bullish hammer and bullish Harami candlestick pattern. I decided to wait till the next day to see if the bullish signs were confirmed before buying, but the stock gapped up on the basis of a rumor, opening at $21.86, hitting a high of $21.90, and then fading the rest of the day to close slightly under $20. The next morning CLF opened down and I took the stock off my screen, but because it closed up and gave a trading day bullish confirmation, Americanbulls.com went long at $19.69. The stock opened on a high of $20.24 on Thursday but then fell back towards the low $19s. On Friday we opened just below $19 and reversed to close up just 6 cents at $19.32.
It is apparent CLF does not like trading below $19 and is trying to forcefully move out of the bottom. Similar action occurred in the middle of June 2013 at around $17 support. Unfortunately then, the stock could not hold the $17 support and had to spend a couple weeks establishing a bottom in the mid $15s. So now I would say that a major bottom should occur in PBR around this $19 level, but if this support gives away, we might spend a couple weeks bottoming in the $17.50 area. From this low at $19 or $17.50, I would look for a 35 to 50% rally to develop over the next few months.
PBR Should Be Within $1 Of A Major Low
Recently Petrobras broke down to a new 52 week low, breaking major support of $12.03. Petrobras has been in a long-term downtrend and the previous three times support was broken, the stock had to fall 16.5%, 16.5% and 15.5%, before bottoming again. So when $12.03 support was broken, I projected the next major low would occur 15.5% lower, or at $10.17, as described in my article, click here. Petrobras (PBR) fell this week to a low of $11.15, and although I could be buying a whole $1 early, I decided to buy on Friday's close. Here is the chart: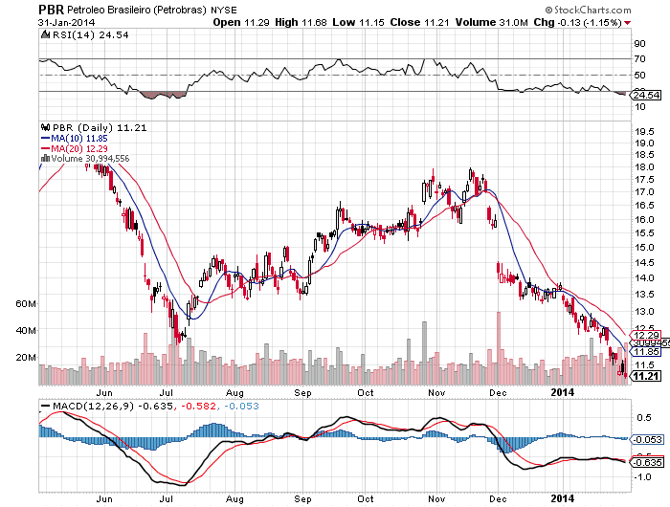 This is a daily chart of PBR, but if I showed you the weekly chart, you would see that we have been in a 10 week death spiral lower which has taken the stock down from just under $18, to just above $11. This stock is extremely oversold, and is actually gaining momentum to the downside. This is what one expects to see at a capitulation low. The stock is now only trading at about half its book value and less than 6 times forward earnings.
When the stock gapped down hard on 12/02/13, it tried to hold at around $14. After a week-and-a-half it fell to the mid $13s where it spent nearly 3 weeks before sliding on down towards the mid $12s, just above the $12.03 support. It was able to stay above $12 for 2 weeks. It has now spent 6 trading days below $12, but only 3 days testing $11.00. I bought just below Friday's close of $11.21, as I feel that PBR should spend at least another week in the $11 range before slipping lower. If we do slip lower, then I will hold onto the shares and add more at the major $10 support area, where I expect a significant low to be made.
PBR Made A Bullish Gravestone Marker (Flagpole) Candle On Friday
On Friday, PBR opened down then rallied most of the day, eventually hitting $11.68, engulfing the action of the two previous days. If it would have closed towards its highs, it would have made a very bullish engulfing pattern. But even though if fell back to the lows and in fact made marginal new lows on the close, down to $11.15, it still made a bullish Gravestone Marker pattern. I don't like that term, but instead like to call it a Flagpole. If you look at charts, you can pick out similar instances where a Flagpole is created and it usually results in a higher opening the following day, and you often get a one to two day rally. I plan to unload some of my shares on strength, but will continue to accumulate from this day forward, scaling into the stock down to $10 if it decides it wants to drop on down to the $10.17 target price.
Disclaimer:
The thoughts and opinions in this article, along with all stock talk posts made by Robert Edwards, are my own. I am merely giving my interpretation of market moves as I see them. I am sharing what I am doing in my own trading. Sometimes I am correct, while other times I am wrong. They are not trading recommendations, but just another opinion that one may consider as one does their own due diligence.
Disclosure: I am long PBR.
Additional disclosure: I may also buy CLF within the next 72 hours.