This same time a week ago, I wrote an article explaining how gold is caught in a trading range of $1230 to $1270 and GDX is trading between $23 & $24, click here. Well, in a week, nothing has really changed, except the miners are closer to the bottom of the trading range and are underperforming. For the past week I have not taken a long-term position but scalped from the long side during the day, as I did not want to carry any losing shares as prices softened a bit. The next few days will be critical as we will soon see if we can bounce off the low end of the range or the support gives way.
Americanbulls.com Moved To A Buy Today In DUST
Thanks to a bullish piercing line pattern that was confirmed today, 2/6/14, by a higher close, Americanbulls.com bought DUST today at $30.88, click here. Americanbulls.com already vacated their long positions in GDX and NUGT on Monday, 2/03/14, at a small loss. They went to cash rather than go short, a minor victory again for the bulls. We did get a bullish piercing line pattern formed in both NUGT and GDX, the very next day, Tuesday, 2/04/14. However, we needed to close up above $37 in NUGT to confirm the pattern. The pattern is still open so the moment we do close above $37 again in NUGT, Americanbulls.com will go long at $37. That is $2 above today's $35.02 close. Also, in the list of 100 stocks they were buying today on weakness, ABX was # 66, GDX was # 74, and AUY # 100, click here.
MACD Sell Signal In NUGT; MACD Buy Signal In DUST
Here is a chart of NUGT followed by a chart of DUST, and in looking at the charts one can see that the DUST chart is starting to look a bit better than the NUGT chart: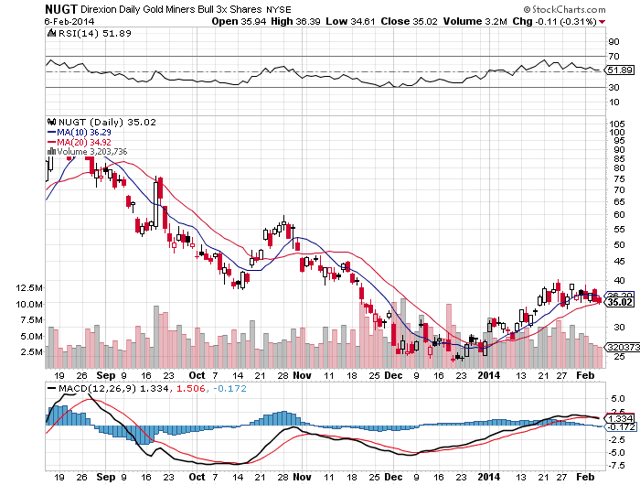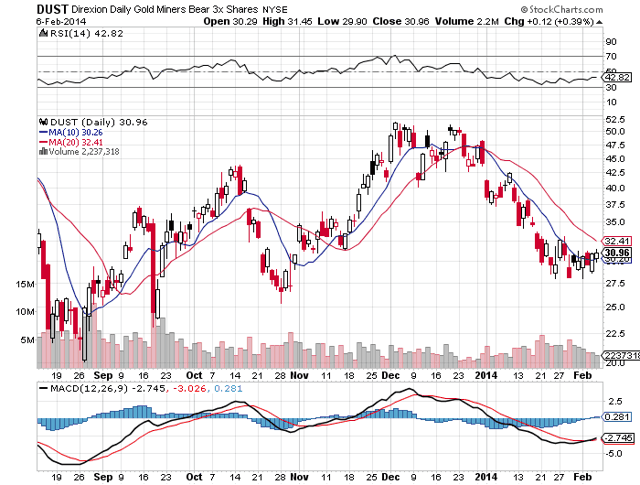 In looking at the charts, the MACD (shown at the bottom of the charts) is giving a sell signal on the NUGT chart and the MACD is giving a buy signal on the DUST chart. After an "A" wave higher off the bottom, I was looking for a "B" wave correction at some point, However, I cannot tell if this is the beginning of that correction or not. One thing that confuses me is that the gold metal chart looks more constructive. Here is what it looks like in April Gold Futures: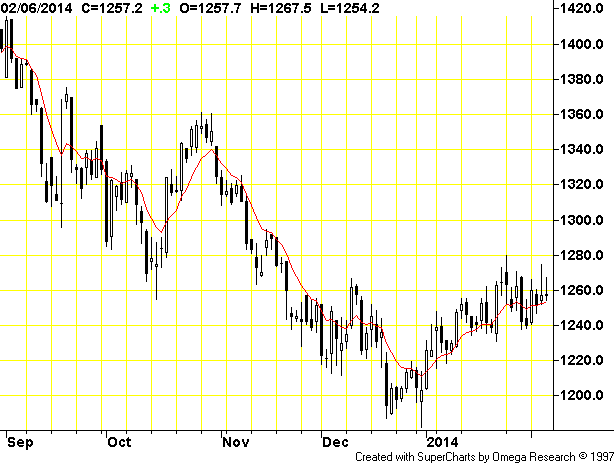 Early Wednesday morning gold traded to a high of $1274.50 but came back down and today was an inside day, closing almost unchanged. If gold could break above $1280, it could start some serious short-covering. Until it does, I think it is prudent for bulls to either own GDX shares, which they can add to on any weakness, or scalp in NUGT from the long side, taking quick profits. I only like to hold the leveraged mining ETF (NYSEARCA:NUGT) when the trend is higher and the trend is at best sideways right now and is threatening to turn lower. NUGT recently traded to $40 and has since slipped back a bit. I do not want to see NUGT start trading much below $34 to remain constructive. However, looking at the gold chart, there appears to be good support in gold at $1235 to 1240, and if that holds, then NUGT should stay above $30 and may not drop lower than $32, even if the $34 support is broken. How low NUGT drops too will depend on if the miners outperform or underperform the metal. Recently the miners have been underperforming.
GDXJ Is Outperforming GDX Again
I will end with a bullish note. GDXJ is outperforming GDX, a good sign for bulls. Here is a look at GDX, followed by the chart of GDXJ: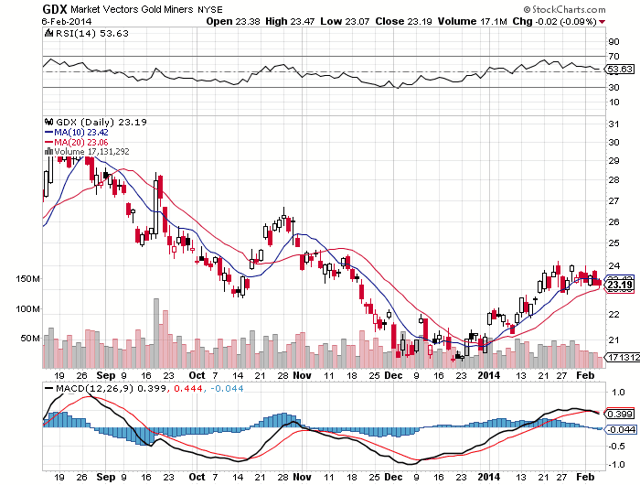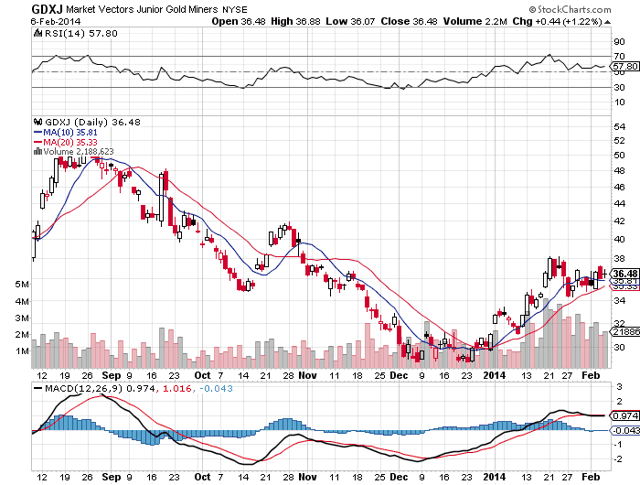 Disclaimer:
The thoughts and opinions in this article, along with all stock talk posts made by Robert Edwards, are my own. I am merely giving my interpretation of market moves as I see them. I am sharing what I am doing in my own trading. Sometimes I am correct, while other times I am wrong. They are not trading recommendations, but just another opinion that one may consider as one does their own due diligence.
Disclosure: I have no positions in any stocks mentioned, but may initiate a long position in GDX over the next 72 hours.