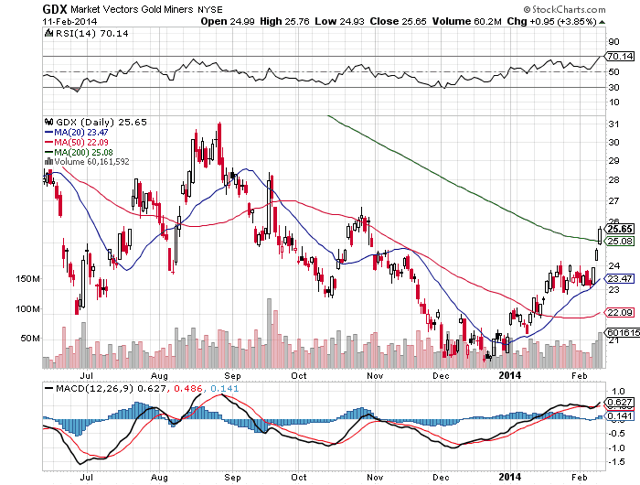 The above daily chart of GDX shows that after a period of consolidation, we have had three days of strong moves up, forming three white Marubozu candles. The last two days we have gapped in fact. From support at $23, we are now challenging $26. The question everyone seems to be asking, is whether or not it will continue higher or is this a blow-off top and we are close to reversing lower.
To answer that question, I would look at the above chart and notice how we bottomed back on October 15, 2013, making a nice white candle and starting a rally from the same $23 support area and approaching $26. Just under $26, there was a red candle day where GDX corrected back to $25. However, the following day we gapped back towards $26 and a couple days later we made a high of $26.66.
Bringing that up to the present, it would not be out of the question to expect a quick correction off $26, and GDX might very well fall back to $25 in the next day or two. However, one can almost always buy the first dip, and I suspect that this first dip will be bought up and we will probably challenge $26 and take it out with a couple days of further rally before topping out.
Another example I would look at is the low of $22.00 back on June 26, 2013. It is shown on the above chart. From $22, we rallied $6 up to $28 where we hit a top and went sideways for over a week, before correcting back 2/3rds of the up move. Now in 2014, we have rallied from $20.18, rallying $5.50 to today's high, which is very close to a $6 up move. I believe again it will take a week to top out in the miners and so there is no rush to get into DUST to play the move down. During that week, we could probably move slightly higher before selling off for good.
Another example is the middle of August 2013, also shown on the above chart. You will notice that after the severe correction, $28 was taken out with a rally and close at $30.15. The next day, GDX opened higher and then fell back below $30. It took two down days just to manage to fall back to $29. Then in one day we closed at $30 again. Another down day closing below $29, and then 3 up days and the 4th day topping at $31.
What this all illustrates is that when one has as much momentum as we presently have in the miners, it is not easy to turn the market down, so there is no reason to hurry into buying DUST. In fact, one can buy the first and probably the second and maybe even the third dip. Especially one seems to be able to go long when the market corrects just $1, and make money. After over a week of consolidating at high prices maybe then one can declare a top being made in the market. But to call a top prior to waiting to see that 5 to 7 day consolidation would appear to be grossly premature.
As I see it, the best play is to buy GDX, GDXJ, or even NUGT or JNUG, on the first minor correction off the highs, to make a quick scalp on the retest of the high that will most likely result in a marginal new high being made. Then after the market goes sideways for about 5 to 7 days, making little progress to the upside, then and only then would one want to consider buying DUST.
Disclaimer:
The thoughts and opinions in this article, along with all stock talk posts made by Robert Edwards, are my own. I am merely giving my interpretation of market moves as I see them. I am sharing what I am doing in my own trading. Sometimes I am correct, while other times I am wrong. They are not trading recommendations, but just another opinion that one may consider as one does their own due diligence.