In my last article, click here, I was pleased that gold and the miners had a down day on Wednesday, 2/19/14, since I had called for a top for Tuesday, the previous day. Well, my joy lasted all of one day. Because you must know by now that GDX rallied strongly on Thursday, 2/20/14, and made a new high for the current up trend. Gold closed down yesterday so it was the miners doing it all on their own. They are outperforming the metal as one would expect on an uptrend, but the current move is getting extended and I am still calling for a selloff to start within the next couple days. Let's take a look at the gold mining ETF (NYSEARCA:GDX) chart, and one will be able to see that for those holding the triple leveraged bearish gold mining ETF (NYSEARCA:DUST), all is not lost. Here is the daily chart of GDX: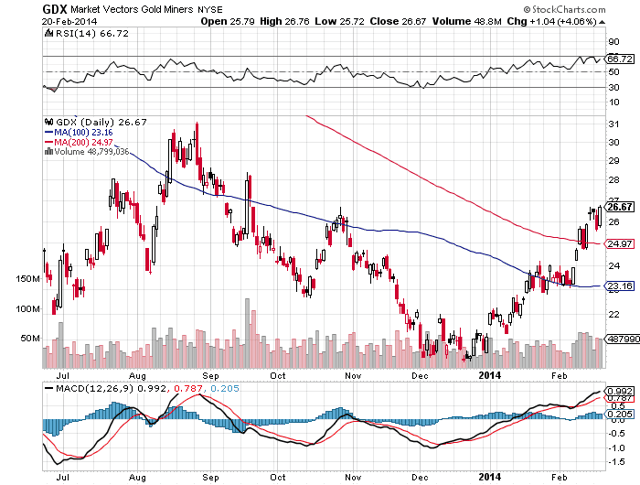 From the 2 1/2 week consolidation at $23, when we started moving higher again, we have now progressed 9 days. Like in many previous rallies we were strong on day 6 and day 9 of the rally. However, on the 10th or 11th day of previous rallies we topped out and sold off. I am looking for similar action now. We could rally another 50 to 75 cents to as high as $27.40 possibly in the next couple days, and there is even a small outside chance GDX tries to challenge major long-term resistance at $28, but regardless, we should top out shortly and sell off back to the 200 day moving average at $25 and possibly lower. Such a selloff would bring DUST back up from the current $19.34, to $23.50 to $24.00 in short order. I will be holding tight and most likely adding to my current DUST position to average down, if we do get more of a rally and DUST slips down a bit further.
Even though GDX made a marginal new high on the current rally, hitting $26.76, yesterday it did close one tick below the previous recent high of $26.68. Also, the Junior Miner ETF (NYSEARCA:GDXJ) made an inside day, closing up, which is bearish. GDXJ is quite far from making a new high on this move, so it is underperforming GDX, another bearish sign.
I see us in a topping process, waiting for gold to roll back under $1300 and challenge support in the $1280 to $1290 area. Gregor Horvat of Elliott Wave Financial Service, posted an article, click here, indicating how he sees April gold futures stopping at the $1330 resistance level and then rolling over. I agree with this assessment.
What I find most shocking is how quickly sentiment has changed towards gold miners. A couple months ago, no one liked the miners and now everyone seems to love them. Now traders and investors seem to only be looking at the positives and ignoring the negatives related to the individual mining company fundamentals. For an example, Newmont Mining was light on revenue by 12.4% year over year, when it reported earnings after the close last night. It was supposed to earn an adjusted 44 cents, but apparently earned an adjusted 33 cents. One has to adjust the earnings because there were so many write-downs that Newmont actually lost big for both the quarter and the year of 2013. The previous day Newmont cut its quarterly dividend from 25 cents to 15 cents. Yet the stock lost less than half post earnings of the 2 1/2% gain made during the day, prior to earnings coming out. I see headlines such as, "Agnico-Eagle slashes dividend, citing lower gold prices" and "Barrick Gold earnings trail estimates as output declines". Yet we continue higher for the time being. But nothing like a small correction for traders to get a dose of reality to the challenges miners face both short and long-term. And as far as the metal goes, I see gold with excellent support in the $1200 area, yet major resistance at $1400, and we are currently in the upper half of that $200 trading range, and expect for us to remain in that trading range for at least the first half of the year. Things could change, but that is the way I see it now.
Disclaimer:
The thoughts and opinions in this article, along with all stock talk posts made by Robert Edwards, are my own. I am merely giving my interpretation of market moves as I see them. I am sharing what I am doing in my own trading. Sometimes I am correct, while other times I am wrong. They are not trading recommendations, but just another opinion that one may consider as one does their own due diligence.
Disclosure: I am long DUST.