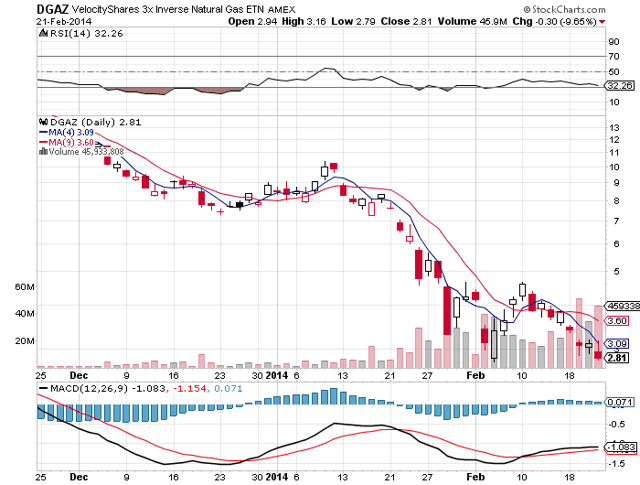 I am not the world's best trader but I am far from the worst. One thing I have learned in 34 years of full-time day-trading of both commodities and stocks -- is survival. Over the years, the time I stay in a trade has gotten shorter and shorter, to where a majority of my trades are now quick scalps that occur in a few minutes or even seconds. I take those quick profits to help keep my cash flow positive and to take care of any short-term losses I have. But the secret to success is making sure you don't accumulate those losses in the first place. Not everyone can day-trade, but you don't have to. You just have to be smart and careful getting into a trade, and managing your trade at least twice a day -- in the morning and just before the close. In this article I will explain how I managed my trading so far in the triple leveraged bearish natural gas ETF (NYSEARCA:DGAZ), and then give insight as to what I see in the near future for DGAZ.
How I Caught A Falling Knife (DGAZ), And Did Not Get Sliced Up
I started trading DGAZ seriously on January 24, 2014, the first day we broke under $6. Prior to this, I scalped in and out for a few seconds or minutes and never held any trade longer than overnight. To help you find the red candle of January 24th, look at the above chart and you will see the large red candle when we broke $6, hit a low of $4.57 and closed at $4.76. During that big down day, I bought 200 to 400 shares at a time, and spaced out my buys every 10 to 20 cents lower. If and when there were small rallies, I sold out a few shares to help average down my price. Also on the chart, I have plotted the 4 day simple moving average in blue, and the 9 day simple moving average in red. What got we excited about DGAZ on January 24, 2014, was the fact that we were slipping so far below the 9 day moving average (see the red line), and in fact, we were starting to leave the 4 day moving average (the blue line). The next day, we bounced back to the blue line and completed an inside day up. Getting back to the blue line took away the oversold condition and allowed us to fall again the next day. An inside day up is bearish as the following day has better than a 2 to 1 chance of closing down. The next day was negative, right on cue. I forgot to mention that on that rally to $5.67, I dumped half of my shares at a profit and only kept half of my shares to suffer the loss of the next day.
I cannot overemphasize the importance of taking advantage of up days as they occur, to take partial profits. If you look at the above chart counting January 24, 2014 to the present, there have been 20 trading days. Although DGAZ has fallen from $6.31 down to $2.81, (loss of 55.5%), there have been 10 up days and 10 down days. There were an ample number of up days to help reposition and therefore no reason to allow oneself to be unable to lower their average price.
Just look at that chart again. On January 24th we had one down day and a partial correction back up the next. That was followed by 2 down days, and then 2 up days. We closed at the bottom tick of $3.29 on January 29th, a classic Marabuzo candle opening on the high and closing on the low for a solid red candle. This was capitulation with a capital "C". On that close and in the aftermarket I bought aggressively, and in fact I was able to break even the following day when we rallied back to just $4.00. I took advantage of that pop and got completely out. When we rallied to $4.66 the following day, I was kicking myself a little for not being more patient, but I was being careful. The day I got out was an inside day up (bearish) and I was not sure we would get a 2nd up day. However, we closed that next day only a dime from the low, and only 4 cents up for the day. I was feeling pretty good at that point.
Then, the next day was February 3, 2014, and we opened up and spent most of the day in the positive. I bought a small position thinking we maybe turned the corner and would get one more up day the following day. I then made a big mistake by adding in the aftermarket. That was a very bad move. I would be wrong. I went home long from about $4.15. Then the next day, we opened at $3.41, rallied to $3.50, and then fell to a low of $2.98 and would close at $3.13. I bought heavily in the $3.15 to $3.00 area as I wanted my average price be no higher than $3.50. The next morning we traded a bit under $2.50 in the premarket, $2.74 low during the day. I bought a few low shares in the premarket but got scared and dumped them in the $2.80s. When we rallied to $3.10 to $3.20, I dumped nearly all of the shares I bought from $3.15 down to $3 the day before, at basically break-even. The bad thing was, by dumping my low shares, my overall breakeven was no longer $3.50 but just under $4.00. I justified selling out the low shares because now that I saw $2.50 in the premarket, $3 to $3.15 was no longer a great price. I was sure we would return to trading close to $2.50 and I would be able to add aggressively there. Again, I was wrong.
Looking at the chart you will see that we got a 4 day rally in DGAZ that would travel all the way up to $4.67. From the $2.50 low, I saw in the premarket that day, to the $4.67 price a few days later, it was a tremendous run. Did I catch the whole move up, not at all. I sold a large number of shares in the $3.90s that third day up, just a few cents shy of my breakeven. Then when we fell back to make the $3.71 low, I bought a few shares back, and managed to ride them to $4.17 and get completely out at a small profit. The high of the day was $4.23 and we closed $4.14. I felt like I had dodged a bullet. Then we had that 4th up day and I was bemoaning the fact I lost some potential profits but I got over it quickly.
The night of Monday, February 10, 2014, I studied the chart pattern to that point and made a decision. I decided that the percentage gain opportunities in DGAZ were so great, I just had to keep trading DGAZ, and make sure I made a large windfall of several thousands of dollars. But I must not buy in size until we get back to the bottom, wherever that was. Over the next 8 days, we went down, up, down, up, down, down, up and down. What took 4 days to move from the bottom of $2.74 to $4.67, it has taken 8 days to give it all back. That my friend is progress. Y
You see, the first day I bought in size on January 24th, it was the 4th straight down day. And we only got one up day before falling again for 2 days. The market then was in total free-fall. The selloffs now are much more measured and we get nice corrections. It was very hard turning a profit at $6 and above, but it now gets easier and not harder to turn a profit, the lower we go. Again, the secret is to be patient to not be carrying a big loss into the lows and buy at major extreme bottoms.
The last three corrections in DGAZ have been 1 day, 2 days and 4 days. The next number in this series should be 8. Maybe the next time we hit a major low in DGAZ, we go up 8 days, or at least 6. DGAZ is getting bouncier as it falls. The trick is to take advantage of those bounces.
As we fell from the $4.67 top after that 4 day rally, I bought a large position when we slipped back under $4, and closed at $3.86, that first down day off the correction high. The next day we could only hit a high of $4.09, so on the close, I completely liquidated. That allowed me to buy on the next down day, and the weak opening of the next day, February 14th. The low that day was $3.51. We would close at $3.83 that day, just 3 cents off the high, and I was disappointed we could not get to $4 and placed a sell order to completely liquidate all my shares in the aftermarket at a small profit. I got lucky as all shares but 200 sold. So when we gapped down the following day, I was not burned. And when we spent a couple days just under or over $3, I was again able to completely liquidate my shares at a small profit during the day. I now was too afraid to hold overnight. By the middle of last week, I had little stomach to carry many shares of DGAZ because natural gas was on fire and I did not want to get run over by the freight train. On Friday, I completed liquidated again at $3.10, but bought back a few shares late. However, I now own less than 500 shares over the weekend.
My Recommendations and Foresight Looking Forward
I wish I had a crystal ball to tell you where the future price action of DGAZ will be. My best guess, is that we will stop somewhere between $2.00 and $2.50 on the current down swing, but at that point, we should be far enough away from the 9 day moving average, we could get a decent sized oversold bounce, that takes us to maybe just above the 9 day moving average. This rally might stop at $3.50. The $2 price in DGAZ translates to about the $5.50 area in April natural gas futures, about a 10% pop from where it closed Friday. In a little over 2 weeks, we will be moving into the May contract, but I am hopeful DGAZ bottoms in the next 2 weeks. But if it does not, I am confident that the percentages on the rebounds will continue to increase, the lower and lower DGAZ falls. I have complete freedom to buy as I am not carrying a loss to the bottom, like I did in NUGT recently from the low $40s to $24. I learned my lesson on that one. Eventually NUGT exceeded my $50 target but what a battle it was to come back.
Just like NUGT battled back, DGAZ will at some point, do the same, but to what degree, it is too early to determine. They say in real estate you make your money when you buy, not when you sell. The same is true with leveraged ETFs. Staying safe and out of harm's way till the bottom occurs is key. If one cannot manage the trade properly, then one needs to sit on their hands and do nothing, until the market shows signs of bottoming.
Now, for those who have an average price under $4.00 and especially under $3.50 in DGAZ, you are in great shape in my opinion and should have no problem getting out at a profit, if you play it smart from this point forward. If your average price is $5, then you don't want DGAZ to get much under $2.30 on the current selloff. For all intents and purposes, it is probably getting too late to liquidate at a large loss, for most traders. Selling out now in DGAZ, is like selling out NUGT back in December, when it was trading in the $28 to $30 range. I recommended holding for all traders then and I recommend holding for all traders now in DGAZ, as we should get a price of at least $3.50 and hopefully $4 in the near future. If one is inclined to give up the fight, those are much better prices to liquidate than at the current price under $3.
I don't know where the ultimate top is in Natural Gas, but I am persuaded we will not run out of supplies and by next fall, we will be in great shape with the tremendous additions to storage that will occur due to the high current prices. Eventually, DGAZ could again reach prices of $8 to $10, but I don't see the long-term price getting much higher than 4 times the lowest price that we see during the current bottoming process. It will be a long, long road though, back to the prices of $8 to $10. If you want to see $8 again, then $2 better hold now. If you want to see $10 within the year, then you want $2.50 to provide current support.
If we should drop down to $1.00 in DGAZ, we should quickly work our way back to $2 to $2.50 and could long-term hit $4 or a bit higher in my opinion. I am basing the 4 times the bottom rule, on what I have seen DUST recover from. My calculations could be off. A multiple of 4 might be too low, or a bit too high. We will know more in the fullness of time. I wish everyone the best in trading and hope this article is helpful.
Conclusion:
After trading these triple leveraged ETFs for several months and successfully enduring more than one tough fought battle for survival and getting myself back to breakeven, I have concluded that one cannot hold these positions long-term unless one is playing very, very small. These positions can go against a person so quickly and so severely, only the most astute and skillful traders can successfully navigate the long-term trade. These are great for scalping and for playing very short-term only.
And regarding options, I strongly encourage traders to buy puts and calls on GDX and not on NUGT or DUST. Timing the exact turns on these markets is virtually impossible. Even when you get the timing perfect, the market switches gears in a day or two and you end up giving up all your gains.
Disclaimer:
The thoughts and opinions in this article, along with all stock talk posts made by Robert Edwards, are my own. I am merely giving my interpretation of market moves as I see them. I am sharing what I am doing in my own trading. Sometimes I am correct, while other times I am wrong. They are not trading recommendations, but just another opinion that one may consider as one does their own due diligence.
Disclosure: I am long DGAZ.