When I wrote an article, click here, predicting a bottom either at $2.50 or $2.00 and then a rally back to $3.50 to $4.00, I did not expect that both a bottom and top target would be hit in the same day. But that is exactly what happened. Yesterday, February 24, 2014, it appears the short squeeze in expiring March 2014 Natural Gas, finally ended. After trading higher early, NG reversed to the downside in a very big way. That caused the triple leveraged bearish natural gas ETF (NYSEARCA:DGAZ) to first plunge to a price of just under $2.50 in the premarket (hitting my higher low end target), and then rally back to hit $3.47 (just 3 cents shy of my lower high end target). I was fortunate to buy at $2.52 in the premarket, added at $2.80, sold out 1/3 at $2.97, doubled my size at $3.12 on a buy stop to new highs, added again at $3.20, and finally sold out at $3.27. After a couple long scalps, I bought again at $3.21 to have 1000 shares to carry forward to today. In my article I explained that no matter how low DGAZ falls to, one should wait for a bounce to $3.50 or $4.00 before liquidating part or all of one's trading position, and not sell out at a loss under $3.00. It appears several traders did the prudent thing and sold out of part of their positions above $3.25, as was suggested on the Stock Talk running commentary at SA.
What Is Next For DGAZ?
To understand what is next for DGAZ, one should look at the chart of April Natural Gas as follows: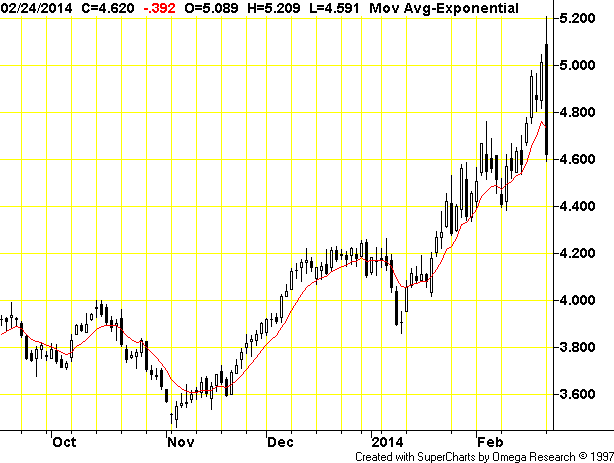 If you look at the above chart, you will notice that on the last trading day of December 2013, we had a similar long black Marubozu Japanese candlestick that engulfed the price action of the previous half dozen trading days. And what happened on the first trading day back in January? Natural gas retraced back up 50% of the down move. But after a few days of sideways action, would eventually have a significant correction down.
The implications for DGAZ is that one can expect a possible kickback rally in Natural Gas over the next few days, that would drop DGAZ back towards the $3 to $2.90 level, but all dips in DGAZ should be a buy over the next couple weeks. We should see $3.75 on the top end, as early as today, and a move to $4 possible in the next 2-3 days, with an eventual price target of as high as $5 in the next couple weeks. What I am describing is the bullish DGAZ scenario which I feel is the more likely scenario for DGAZ in the short-term. Recently we rallied off the bottom for 1 day, followed by a 2 day rally and later a 4 day rally. I mentioned (somewhat in jest) in my last article, that the next number in this sequence is 8. It actually did take us 8 days to drop back to the recent lows and we might now experience an 8 day rally. But of course, it will probably not be straight up. We should make wide swings both up and down, over the next couple weeks, but could continue with an upward bias for at least 8 days.
The bearish scenario, on the other hand, would cap rallies at $3.75 and definitely at $4, and we would flounder back and forth from $2.50 on the bottom side or maybe a marginal new low at $2.30, but even in the bearish scenario, I see all dips as buys, over the next couple weeks. But especially in the bearish scenario, all rallies would remain a sell.
I will now show a chart of DGAZ: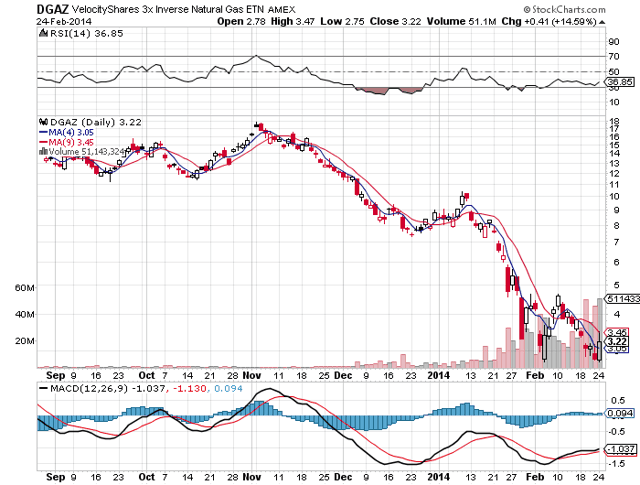 The 9 day moving average of $3.45 pretty well stopped the rally yesterday. The 4 day moving average of $3.05 should now be supportive. After a couple of days of sideways moves, we could get a rally first to $4 and then possibly a retest of the recent high of $4.67, or maybe even $5.
Conclusion:
The good news is that by not suffering a close at $2.50 or much worse, at $2.00, DGAZ did not have to experience the slippage and price destruction that would have occurred. The implications of the big rally yesterday, means that an eventual move under $2 to maybe $1 or so, is now off the table. With $2.81 as the lowest down close in DGAZ, it will make rallying back up towards $8 or $10, that much quicker and easier. Those traders holding a long-term position with an average price of $7 or $8 or higher, caught a very lucky break yesterday. Having to choose between being lucky or being good, being lucky wins out every time! Insert smiley face here!
Disclaimer:
The thoughts and opinions in this article, along with all stock talk posts made by Robert Edwards, are my own. I am merely giving my interpretation of market moves as I see them. I am sharing what I am doing in my own trading. Sometimes I am correct, while other times I am wrong. They are not trading recommendations, but just another opinion that one may consider as one does their own due diligence.
Disclosure: I am long DGAZ.