It was less than two weeks ago when Cliffs Natural Resources (NYSE:CLF) popped on earnings and great guidance on Friday 2/14/14. The stock was about to challenge the $24 mark. But right after earnings the short sellers have been relentless in their selling and today, drove the stock back under $20. Take a look at the weekly CLF chart: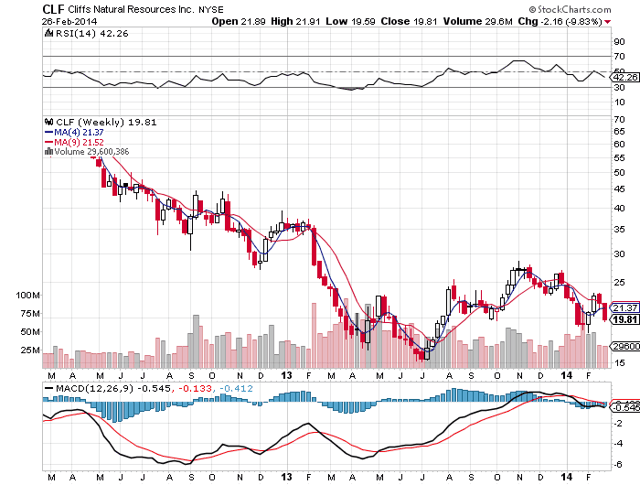 When CLF topped out in the beginning of November 2013, the stock went sideways for a couple weeks but then started into a downtrend that continues even today. If you count from that November 2013 peak on the above chart, you will see there are 4 red candles which means we dropped for 4 straight weeks. Then we rallied for 2 weeks (white candles). Then we fell 4 weeks and the 5th week we rallied but lost it all and ended up just slightly lower, making a bullish gravestone doji (Note: when such a pattern occurs after a long rally, it is bearish, but here is came after a long sell-off so it is bullish, for more info, click here). Anyway, then we rallied for two weeks into earnings, but have since sold off last week and this week.
Since the pattern is down 4 weeks, up 2, down 4 weeks, up 2, then down only 2 weeks so far, you probably think I should wait another 2 weeks to complete the down 4 week pattern, before I try to play for the up 2 week counter-trend rally. The reason that I am not waiting is because the last time CLF traded under $20, it was quite bouncy and did not stay under $20 very long. The previous selloff last October, CLF only came back to $20 and could not even trade under $20. I like buying under $20 and especially under $19.50 or $19.00. The secret is to scale trade, which involves buying a few shares every 10 or 20 cent drop to average down your price. Start out slow and expect to see lower prices and prepare for them by holding back your cash to put to work at lower prices. Now take a look at the daily chart: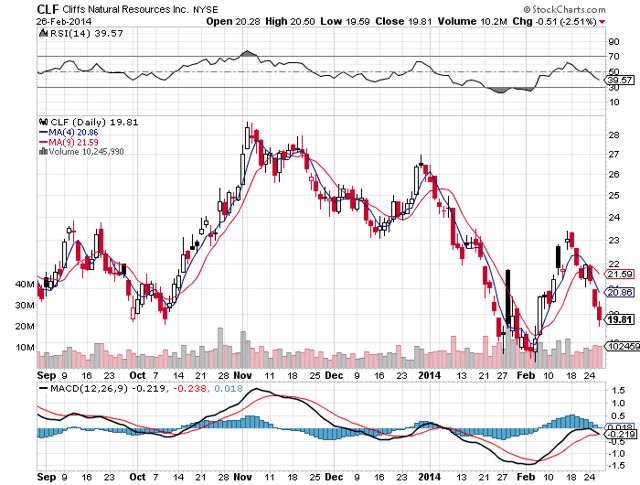 Look back at the $20 price level at the end of January 2014. We were falling from the $23 level and when we got a close under $20, the next day we traded lower, but closed up for the day. So tomorrow, we might open lower and may trade down to 19.20 or even 19.00, but very well might close up, or at least far off the lows. I plan to be buying on weakness tomorrow. Anyway, back in January, we next got the big rumor pop to near $22 that the shorts faded and we hardly closed up. The next day was another swing higher and up close. We then went down, up, down 2, and then started the big rally from the $18s to the $23s, a couple weeks before earnings.
This shows me that when CLF is trading under $20, if there is a down close, expect to buy on weakness the following day, as we should bounce well off the lows. Back off the bottom, the shorts will move in to kill CLF so you want to take profits and be ready to buy on the next dip. The last 7 trading days in CLF are 3 down, 1 up and 3 down. CLF is definitely in a lead balloon pattern, as defined by my balloon theory article, click here. Now that CLF has closed down 6 out of 7 days, the rule for lead balloon markets is that you want to now go long on the very first up day. As soon as it is apparent we are getting that up day, and everything looks in order, I may buy a good sized position in CLF to take advantage of the strength that I anticipate will follow the next day or two, or I may buy some calls, or both stock and calls.
Disclaimer:
The thoughts and opinions in this article, along with all stock talk posts made by Robert Edwards, are my own. I am merely giving my interpretation of market moves as I see them. I am sharing what I am doing in my own trading. Sometimes I am correct, while other times I am wrong. They are not trading recommendations, but just another opinion that one may consider as one does their own due diligence.
Disclosure: I am long CLF.