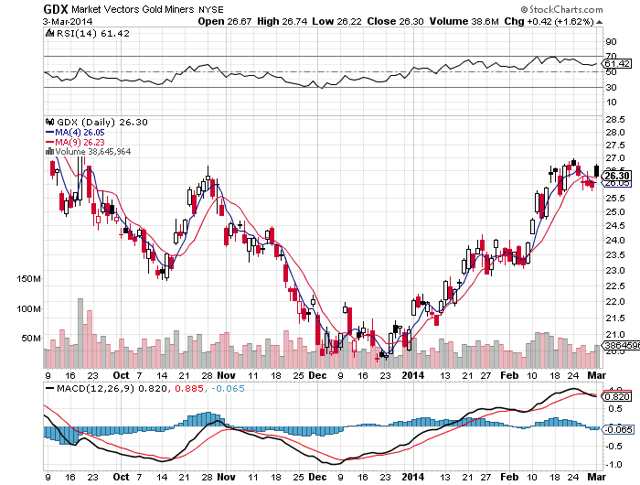 Higher Prices Were Rejected Today In GDX
With the escalation of events in the Ukraine over the weekend, we got a pop in the gold mining ETF (NYSEARCA:GDX) today as shown on the above chart. But we closed near the lows of the day, just like we did 3 other days recently in GDX (the candles are black showing we closed below the opening, but still up for the day). The MACD at the bottom of the chart has turned down and recently did a crossover giving a sell signal for GDX. Gold made a marginal new high today but GDX did not, as the miners are underperforming the metal, a bad omen for gold mining bulls.
DUST Remains A Buy On Dips
We dropped all of last week, but the selloff was muted and the leveraged bearish gold mining ETF (NYSEARCA:DUST) could not rally much beyond $21. Therefore I decided to take profits on my core DUST position above $21 on Friday. I anticipated a likely higher close today, Monday, March 3, 2013 in GDX, and small correction in DUST, not knowing the Ukraine situation would escalate over the weekend and the correction would be exaggerated. But after the opening, I again began buying dips in DUST and it was the correct trade. I plan to continue to buy dips in DUST until it hits the initial target above $24. Here is a daily chart of DUST: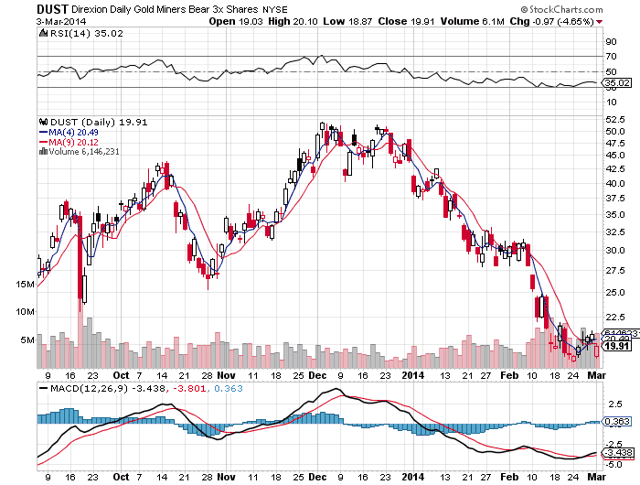 DUST opened today on its lows, and closed near its highs. When this occurs near major lows, it is quite bullish. The MACD did a bullish crossover as well, see the bottom of the chart. Also, the blue 4 day moving average line crossed over the red 9 day moving average line, giving a buy signal for trend traders.
I don't know if you got a chance to read the Barron's this past weekend, but there is a "Grasping At Gold" article on p. 41 written by Mark Hulbert. I agree with the points made in the article. One point alluded to is that the best, most accurate timers are less bullish gold and the miners, than the less successful timers. In an earlier instablog, I mentioned how the two most accurate timers as reported by Bloomberg, were predicting prices in gold by the end of 2014, at $1100 and $1050. For many reasons, the current rally in gold and the miners still appears corrective in nature. But even if the current rally is the beginning of a new bull market, we are overdue for a correction back to $1275 to $1280 in April gold, and back below $25 and possibly as low as $23 in GDX. That would translate to a rally of $24 to $29 in DUST.
Higher Gold Prices Can't Save The Miners
VantagePoint was bearish both gold and silver coming into today. But even factoring a 2% rally today in gold, VantagePoint is calling for lower gold and silver prices on Tuesday, click here. April gold futures took out resistance at $1350 today, but there is more resistance just ahead at $1360. If events in Ukraine would escalate, it is possible gold could break out and rally towards $1400 in the near term. And that would likely cause GDX to rally to major resistance at $28. However, I would at that point add to my DUST position with the anticipation GDX would roll over and retest $25 and ultimately $23, just as I am currently predicting. Any gold rally in the near term, should be erased the moment the Ukraine situation is resolved or fades from the news. I do not believe the current gold rally can be sustained, without retesting the $1280 to $1300 area first.
Disclaimer:
The thoughts and opinions in this article, along with all stock talk posts made by Robert Edwards, are my own. I am merely giving my interpretation of market moves as I see them. I am sharing what I am doing in my own trading. Sometimes I am correct, while other times I am wrong. They are not trading recommendations, but just another opinion that one may consider as one does their own due diligence.
Disclosure: I am long DUST.