Switched out of DUST above $19 and into NUGT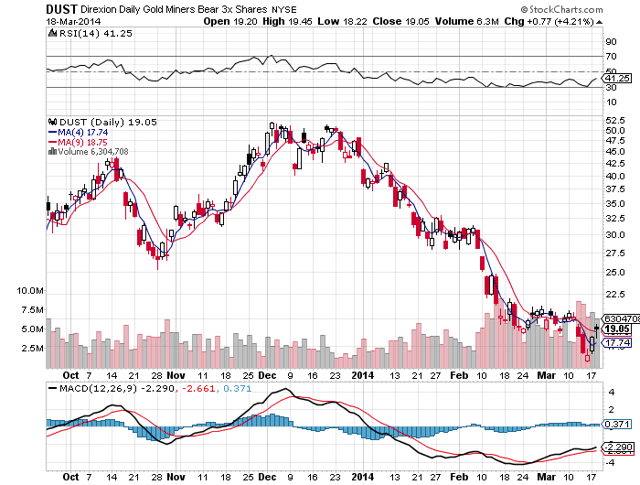 I took profits in DUST today above $19 and it looks like it was a good move so far, as DUST formed a bearish hanging man candlestick formation today. DUST may not fall immediately but should go ahead and roll over a bit before bottoming. In last night's article, click here, I explained how I expected to take profits and move into NUGT today and I did that very thing. Here is a daily chart of the 3X leveraged bullish mining ETF (NYSEARCA:NUGT):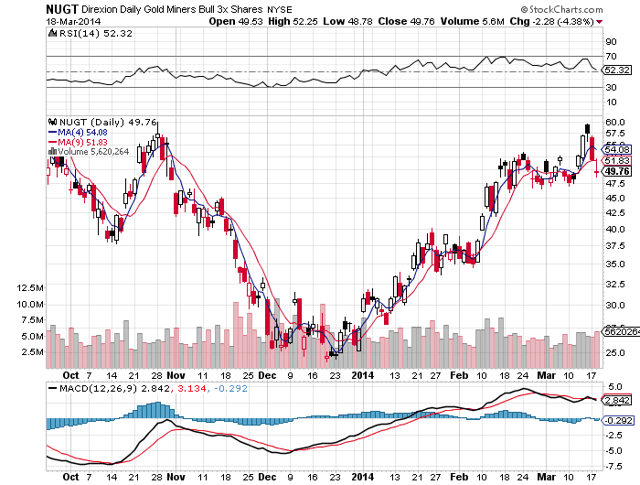 NUGT formed a bullish gravestone doji today (for an explanation click here). We are moving back into a solid support zone from $47 to $50 in NUGT and I expect for this support to hold on the first retest after getting turned back from just under $60. A trader should have only been 1/3 invested in DUST and having taken profits in DUST above $19, one should now be 1/3 invested in NUGT, with scale buying of 50 to 100 shares every 50 cents lower a great way to average into the trade. By averaging into the trade one can take partial profits on small rallies to make money even if we end up moving sideways in a tight range for awhile. If $47 support is broken on a close, I would then consider buying DUST using the 2nd 1/3 of funds. Then one still has 1/3 of their funds to add to the winning side to get your money back. This teeter totter approach works most days and especially is advisable when the market moves against your trade. Rather than keep adding to a loser, it is much preferred adding to the opposite side to balance out the trade and one will be assured of making money on one side or the other and not making their losses worse. The secret is to always place a leveraged ETF trade against a support. Right now DUST is not trading at a support area but NUGT is, so I moved into NUGT. If DUST gets cheap again, and retests the bottom, then I will be more anxious to buy back into DUST. By buying at support, one knows when to add the opposite side -- add when the support is broken. Right now, I want to be biased towards NUGT which means I prefer buying dips in NUGT rather than in DUST, although DUST can still be successfully bought on dips. NUGT is just the safer trade right now and the odds are favoring NUGT since it is nearing an established support area. When NUGT bounces, I expect to see a quick move to $52.50 to $53 where I plan to take some profits and may add some DUST there to play for a short-term correction the other way. This is called the Lefty teeter-totter approach and so far I have not found anything that beats it. It was suggested by SA contributor Lefty6x6.
CLF Continued Bottoming Action Today
Back on 3/11/14, I called a bottom in Cliffs Natural Resources (NYSE:CLF) at $17.40, click here. Not only has it bottomed, but it have now moved up nicely above $19 and I expect to see a rally into the $20 to $22 area shortly. Here is a daily chart of CLF: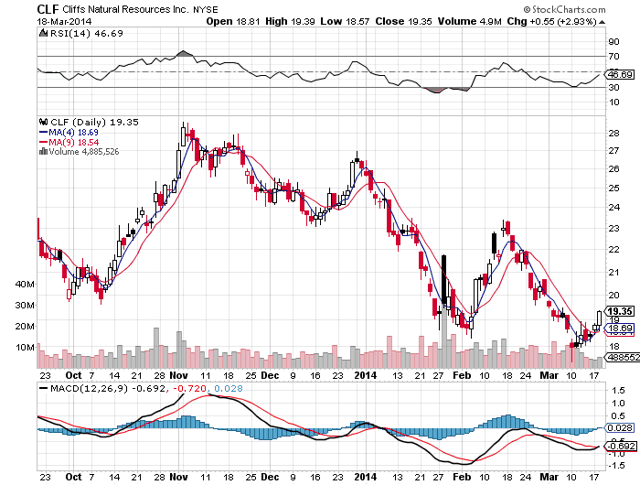 PBR Bottomed Right On Schedule Today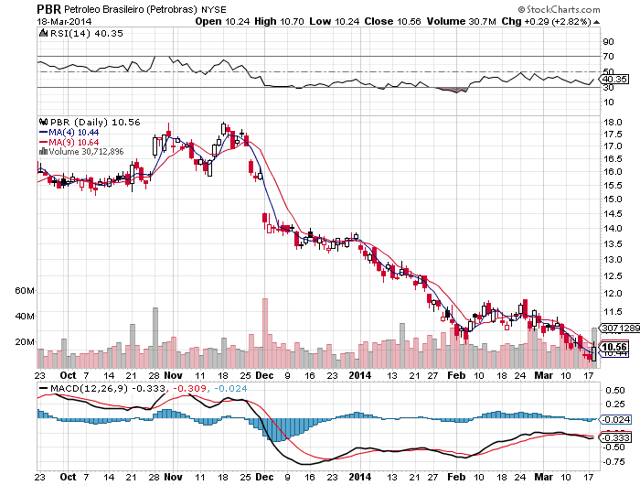 PBR did an engulfing pattern and should switch from a short to a buy beginning Wednesday 3/19/14, if we get follow thru to the upside, see Americanbulls.com here. I had predicted a bottom in PBR at $10.17, see my article dated 1/25/14 here. It looks like I missed the bottom by 3 cents as we hit a low so far of $10.20, but that is the day session prices. Monday's aftermarket price low was $10.18 and I bought several shares at $10.20. I am still long having added in today's aftermarket. I will unload some shares on opening strength on Wednesday but want to keep a position on until we trade back above $11 and hopefully move on to $12 and higher eventually. Yesterday I called for a Tuesday up day because we had been down 3 days in a row. We not only got an up day today, but an impressive engulfing candle that needs to be further confirmed by another strong close on Wednesday. Lately PBR has had trouble putting two white candles together but it is time for PBR to make a change and begin moving higher for 2, 3, or 4 days in a row.
Disclaimer:
The thoughts and opinions in this article, along with all stock talk posts made by Robert Edwards, are my own. I am merely giving my interpretation of market moves as I see them. I am sharing what I am doing in my own trading. Sometimes I am correct, while other times I am wrong. They are not trading recommendations, but just another opinion that one may consider as one does their own due diligence.
Disclosure: I am long NUGT.
Additional disclosure: Also long CLF and PBR. I am short 18 strike April CLF puts.