GDX/NUGT/JNUG Are Stabilizing Along With Gold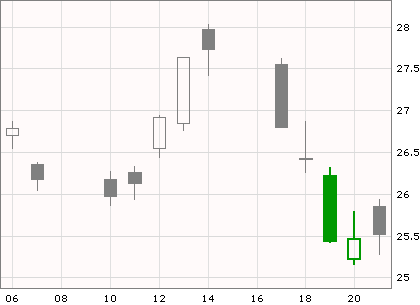 The above chart comes from Americanbulls.com where the gold mining ETF (NYSEARCA:GDX) formed a bullish meeting line pattern which was not negated by the action on Friday. Had GDX closed above the opening price on Friday, Americanbulls.com would have been long again in both GDX and NUGT and taken profits in their DUST short position. An up close above the opening price on Monday would turn Americanbulls.com bullish again both GDX and NUGT. Since April gold has stabilized above $1330, I am hopeful we can challenge overhead resistance at $1352 early this week, and pull GDX back up towards $26 and NUGT to $27+. Reading through Seeking Alpha, I landed on an article that explains very well the reasons gold and miners sold off last week, but notes that buying in the gold metal ETF (NYSEARCA:GLD) increased for the week, and in 8 of the last 10 weeks, click here. We should continue trading no worse than sideways for the next couple weeks in both gold and the miners, and then we might roll on over to lower prices. I am not opposed to buying the triple leveraged bearish gold mining ETFs (DUST & JDST) on dips. I will be looking to pick up some DUST shares below $20 and will add to the position at $19.50 and every 50 cents lower.
Pharma & BioPharma Is A Hot Sector For Traders
When I asked readers to provide trading ideas, the most popular space was the pharma/biopharma/biotech area. First I want to thank gaklaw for suggesting two recent IPOs of CNCE & EGRX. I will watch these stocks but there is not enough data yet to perform meaningful technical analysis on the stocks. I next want to thank the stock suggestions of cindywu4 who suggested BITA, AMGN, GILD and HALO. Since the last three are drug/biomedical stocks, I thought it would be appropriate to look at the three charts as follows: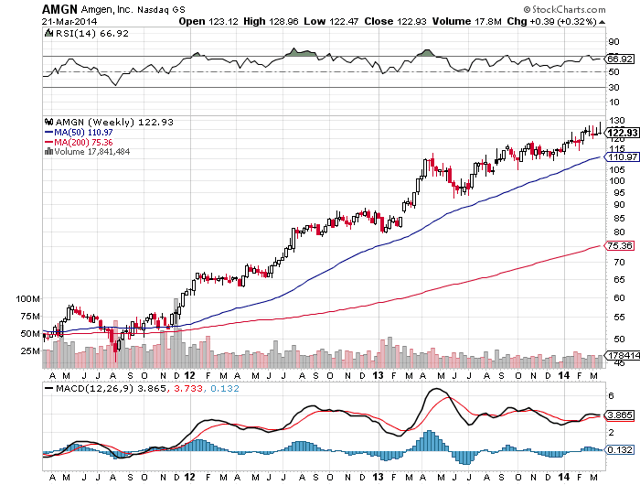 The weekly chart of AMGN is quite impressive as it just keeps moving higher and higher. I like to buy on pullbacks which we might get shortly since the last 3 weekly bars all appear to be bearish gravestone markers. If one could get in at $120 or $115 it would be great. Next is the weekly chart of GILD: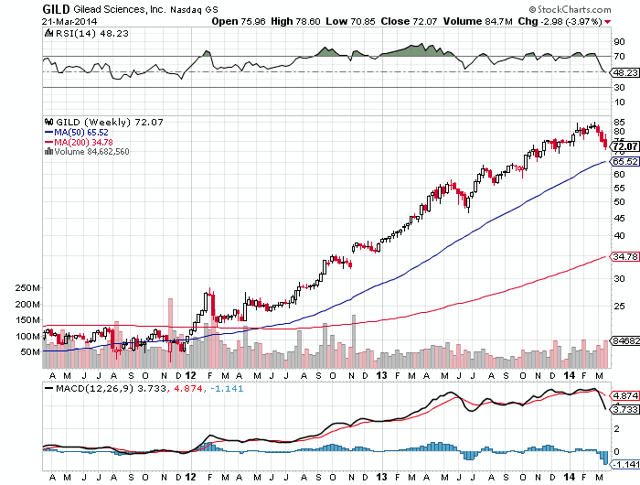 I find this chart extremely interesting since we are in a solid uptrend with the 50 day moving average still gaining ground on the 200 day moving average, but we have just had a 3-week correction. If you look at the chart history, one is lucky to get more than 4 down weeks in a row without seeing a nice rally. Thus one might be able to begin buying in weakness this coming week towards the $70 area. A significant rally, hopefully to new highs, should be just around the corner. Next is HALO: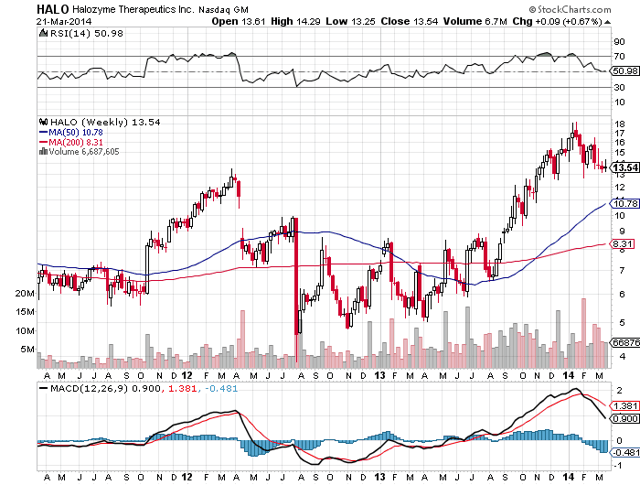 This stock has already experienced a 9-week correction off of highs and has gone sideways for a couple weeks. This stock looks like a buy in the $12.50 to $13 area in anticipation of a move to $16 or higher in the near future.
Next I want to thank Growfast for suggesting PCYC & JAZZ. The charts are below: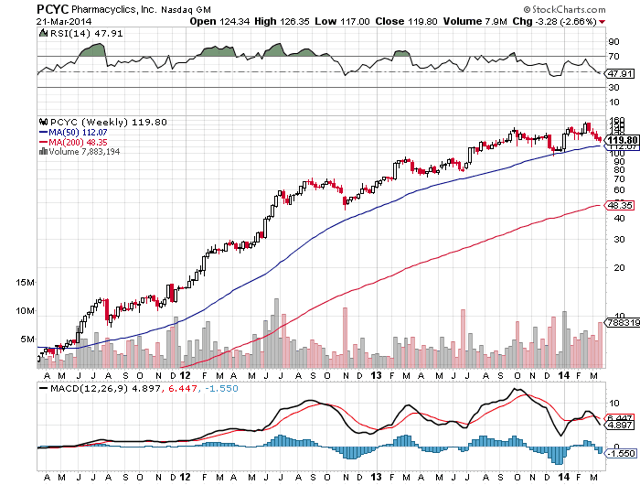 This biotech company is losing a slight bit of its upward momentum but still appears poised to continue moving higher. It also has corrected recently for 4 weeks and in the past it was a great buy on the 5th or 6th week of a correction and bounced back nicely. This coming week it might be a stock to keep on the radar screen, especially if one can pick it up near the 50 week moving average of $112. Now lets look at the weekly chart of JAZZ: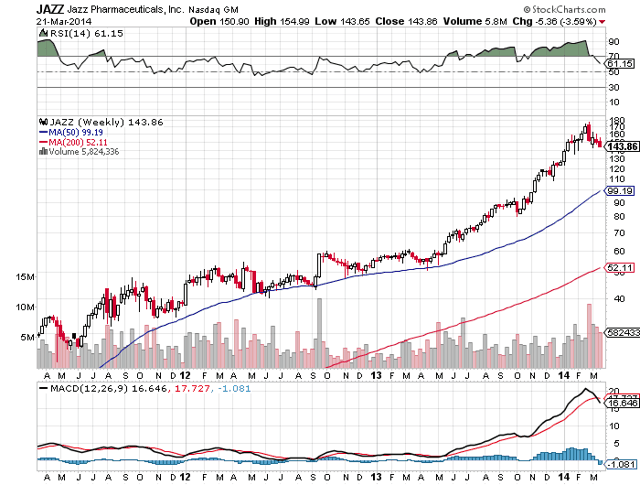 Unlike the last chart, the 50 week moving average of JAZZ is still gaining on the 200 day moving average line. Again we have a 4 week correction to buy at a discount. Based on chart history, this stock does not like to correct longer than 5 or 6 weeks usually before posting another rally. What is also interesting about JAZZ, is the following SA article that I located here. Peter F. Way appears to be able to track the actions of market-makers to locate stocks with near term upward movement potential.
Deep-water Oil Drillers May Be Close To A Temporary Bottom
I next want to thank Jaybone20 for his suggestion of Atwood Oceanics (NYSE:ATW). He explained how this company is best in class, with state-of-the-art rigs, great earnings and financials. Like the other stocks in this sector like Ensco (NYSE:ESV), and Diamond Offshore (NYSE:DO), ATW has been pulled down to extremely attractive levels by some recent negative news from Transocean (NYSE:RIG). With a PE just under 9.0 and forward PE of 6.5, this stock has some advantages over deep water driller Petrobras (NYSE:PBR) that I have recently been recommending. Here is the weekly chart of ATW: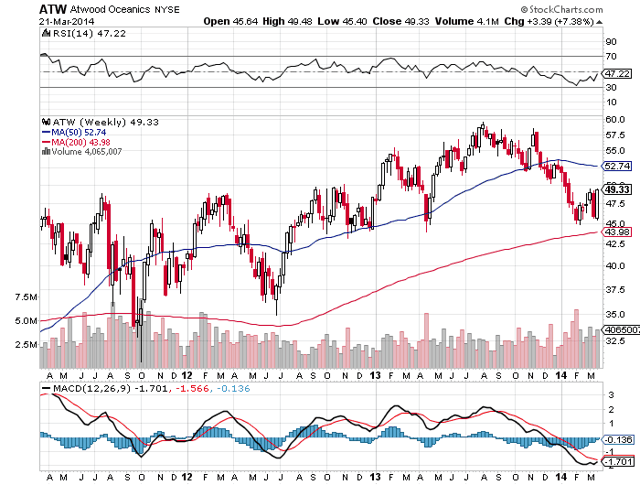 This week ATW completed a bullish engulfing pattern. It would appear that all dips in this stock are a buy. It is even more impressive when one views the daily chart as follows: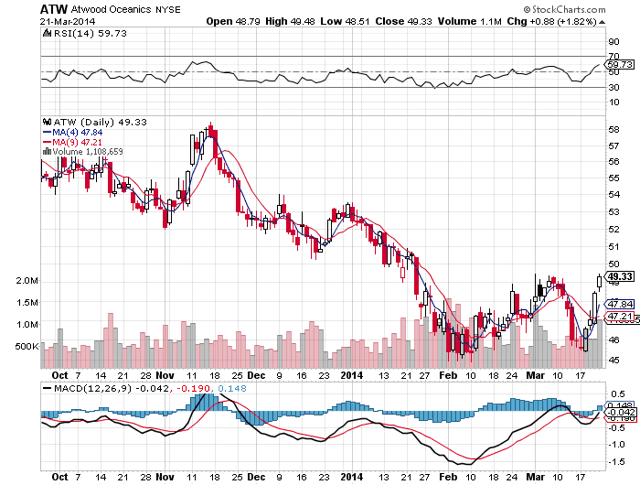 Looking at this chart explains why PBR was so strong this past week. It is now hitting resistance on a very short-term basis so one may want to try and wait for a dip to buy. However, the stock is definitely in bottoming mode and one might also want to look at the charts of other deep water drillers as well. I will be writing another article shortly on the deep water drillers and will also cover some energy ETFs.
I want to thank everyone else who submitted stock picks, as I will be commenting on some of them in future articles. I tried to pick out some stocks here that appeared to be timely, based on current market conditions.
Disclaimer:
The thoughts and opinions in this article, along with all stock talk posts made by Robert Edwards, are my own. I am merely giving my interpretation of market moves as I see them. I am sharing what I am doing in my own trading. Sometimes I am correct, while other times I am wrong. They are not trading recommendations, but just another opinion that one may consider as one does their own due diligence.
Disclosure: I am long NUGT.
Additional disclosure: I am also long PBR