Who said 13 is not lucky? This week I sold two stocks at $13 or more and cashed in big. I will describe both of them now:
Why Petrobras (NYSE:PBR) Is A Buy Under $13
If you read my recent article, click here, I explained how I predicted a low of $10.17 in this stock, and missed my projection by 1 to 3 cents. However, I did not miss the buy. I bought at $10.20 in the aftermarket on 3/17/14. And just 8 trading days later, PBR has rallied to $13. Although I am still looking for a test of $15 since PBR has recently traded above the 50 week moving average on the weekly chart, before rolling over, and the 50 week moving average is now at $14.53, on a short-term basis we are quite overbought and could correct back a bit where one may want to load up. Lets look at a weekly chart of PBR here: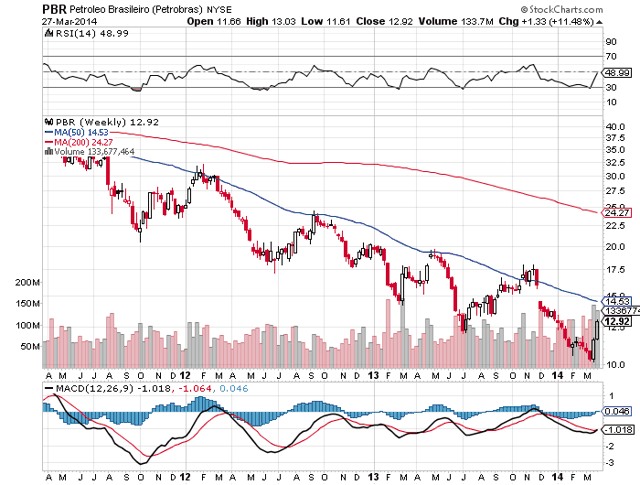 I had projected a rally out of the bottom, to reach somewhere between $11.94 and $12.75, based on what PBR has done previously after two weeks moving up from the bottom. However, PBR has exceeded my short-term targets by hitting $13.03 so far, and it is Friday morning and we will likely trade above that level today. I do expect that we will hit some resistance as early as today or Monday, and should then quickly correct back at least $1 off the high. That is where I plan to start aggressively loading up again. Past corrections out of major lows in PBR, have seen a temporary top within the first 2-3 weeks, and then PBR has retraced 52% to 75% of the initial move. So far we have rallied from $10.20 to $13.03 and may well hit $13.75 before rolling over. I would think PBR would not be able to move over $14 on this first move out of the bottom without some consolidation first. Once we have a small correction of something approaching 50%, then I expect another strong thrust to the upside in PBR.
Why HALO Is A Buy Under $13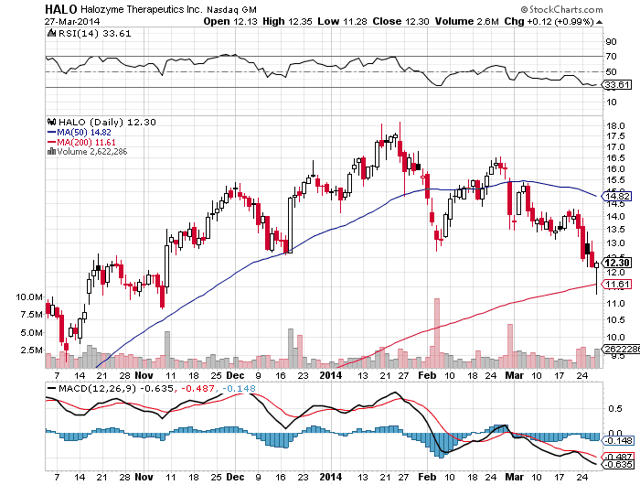 I recently wrote an article featuring Halozyme Therapeutics Inc. (NASDAQ:HALO), click here. In the article I explained why I was buying the stock in the $12 range, and mentioned how the stock could fall to $11 but from there it should rally $3.50 to $4. Well, yesterday, 3/27/14, the stock bottomed at $11.28 and quickly shot back above $12. It then spent most of the afternoon trading between $11.70 & $11.90 before finally closing up for the day and forming a bullish hammer candlestick formation. On the basis of this, I added to my position on the close. Today I have already partially liquidated my position as we have rallied above $13 in the premarket. I expect HALO will close up today and probably Monday as well. I will be buying all dips on the stock for the next day or two, and expect to see a rally towards $15.00 before we roll over again. Happy trading!
Disclaimer:
The thoughts and opinions in this article, along with all stock talk posts made by Robert Edwards, are my own. I am merely giving my interpretation of market moves as I see them. I am sharing what I am doing in my own trading. Sometimes I am correct, while other times I am wrong. They are not trading recommendations, but just another opinion that one may consider as one does their own due diligence.
Disclosure: I am long HALO, PBR.