Monday is the last day of March and the end of a quarter that has finally seen a correction in several momentum names including the very hot biotech sector. Biotech stocks have corrected for 4 to 6 weeks, depending on the company. Odds favor ending the losing streak this coming week or definitely the week after that. Despite the severe $43 selloff from its recent high, JAZZ Pharmaceuticals, Inc. (NASDAQ:JAZZ) closed Friday at $133.46, over $33 above the 50 week moving average of $100.75. It remains a leader. Gilead Sciences, Inc. (NASDAQ:GILD) has only closed down 4 weeks but the $68.55 close is just $2.70 above the 50 week moving average. Halozyme Therapeutics, Inc., (NASDAQ:HALO) closed Friday at $12.11, which was significantly above the $11.28 low of the week, and above the 50 week moving average of $10.90. Celgene (NASDAQ:CELG) has fallen for 6 straight weeks and 9 of the last 11 weeks, and at $139.29, it ended $6.60 below the 50 week moving average of $145.89. But even CELG could find support soon around $130.00. The last significant correction that occurred in CELG happened in April 2012, where is also dropped for 11 weeks, and fell 26.7% from $80.42 down to $58.53. The recent high in CELG was $174.66 and a similar correction of 26.7% would project a low of $128.03, about $11 lower than Friday's close. In both time and price, a low in the Biotech stocks appears near.
I have already written articles about HALO, but this weekend I came across another stock in the sector that looks quite promising: Myriad Genetics, Inc. (NASDAQ:MYGN). Working in molecular diagnostics, MYGN earns $2.32 and trades at a P/E ratio of 14.20. Here is a daily chart of MYGN, showing how it recently rallied from $20.02 to a high of $39.15, in just 8 weeks: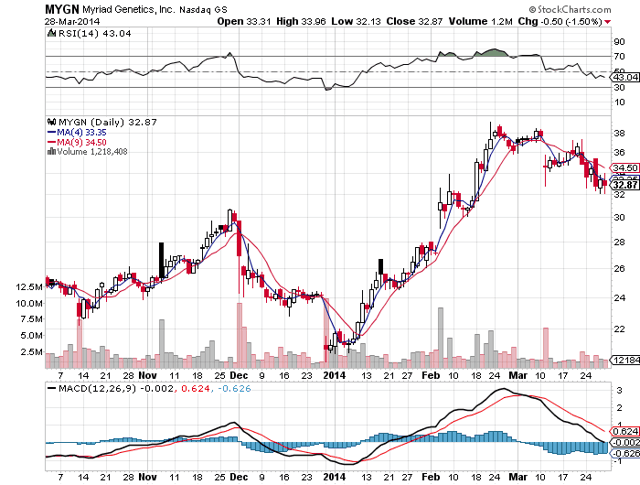 This stock has been in a 5 week downtrend since topping out at $29.15, but has only corrected 18%. It is looking like the stock may hold $32 support, but if it is broken, it should not trade below $30, before retesting the highs. There is a weekly gap between $27.18 and $29.10 that should also lend further support on any corrections into that gap beginning at $29.10. I plan to buy some shares of the stock in the low $32s and add down to $29 to $30 should the correction continue longer, in hopes of selling out possibly on a retest of the recent highs.
Disclaimer:
The thoughts and opinions in this article, along with all stock talk posts made by Robert Edwards, are my own. I am merely giving my interpretation of market moves as I see them. I am sharing what I am doing in my own trading. Sometimes I am correct, while other times I am wrong. They are not trading recommendations, but just another opinion that one may consider as one does their own due diligence.
Disclosure: I am long HALO.