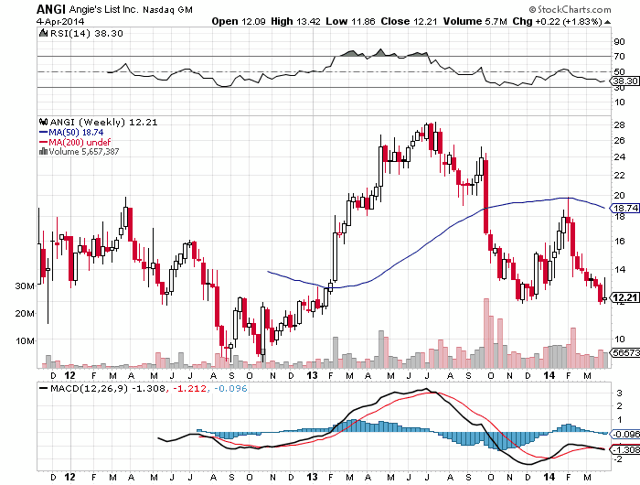 If you look at the above weekly chart of Angie's List (NASDAQ:ANGI), you will notice that $12 has provided tremendous support to this stock since it began trading in November 2011. In August of 2012, the support was broken and a low of $8.94 was scored. However, a couple weeks later the stock recovered to trade back above $12. Then it dipped down again a month later to $8.95 but in a single week, recovered to just under $12, with a high of $11.94. Eventually the stock rallied to a high of $28.32 in the summer of 2013. But recently it dropped back to the $12 support in November 2013, only to recover to just under $20 in early February 2014. ANGI has since fallen back towards the $12 support area, closing Friday, April 4, 2014, at $12.21, a gain of 22 cents on the week.
I checked numerous articles written about this company and they are virtually all extremely negative. They say the company is broken and must formulate a new business plan to survive. I cannot comment about the fundamentals of the company, but the technical chart patterns look extremely interesting to me.
ANGI Has Fallen From $20 to $12 in 8 Weeks With The 9th Week A Bullish Harami Pattern, Similar to What Occurred In April/May 2012 When ANGI also fell from $20 to $12 in 8 Weeks With The 9th Week Being A Bullish Harami Pattern
Look at the high of $19.82 scored in the last week of March 2012, on the above weekly chart of ANGI. Then count forward and one will find an 8 week selloff with the 9th week forming a bullish Harami pattern. Remarkably, the same thing has now occurred over the last 9 weeks in ANGI. From a recent early February high of $19.80, ANGI has fallen for 8 weeks down to the same $12 support level and on the 9th week another bullish Harami pattern was formed. The last time this occurred in 2012, ANGI moved back to $16 within just over a month. I would expect a similar rally over the next month back to $16 to occur again, if we continue to repeat the previous pattern that I have identified. A remarkable coincidence to match the trading pattern in both time and price.
It Is Very Difficult To Hang Shares In ANGI
Now that we are back to the $12 support area in ANGI, I am ready to buy shares in the stock without any reservation. The reason that I am so positive is what I see looking at the daily chart of ANGI: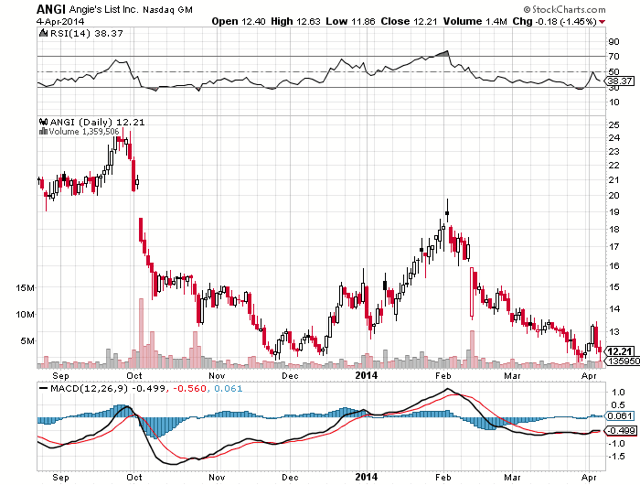 When disappointing earnings came out in February of 2014, the stock opened just above $13.50, a drop of $3.60 or 21% from the $17.10 pre-earnings close. However, the stock was a buy on the dip and traded back to close at $15.93 that same day. The stock did roll over and eventually took out the $13.50 support level on Monday, March 3, 2014, hitting a low of $13.22. But the high of the next two days, was $14.00 and $14.03, so anyone who bought at the $13.50 support level, could get out at a profit. This pattern continued when the $13.00 support level was breached. Following a low of $12.93 on March 7th, ANGI traded to $13.70 the following day. Finally on March 24th, the stock decisively broke under $13, hitting a low of $12.17. However, the next day, a high of $13.09 was scored, making the buy on the dip quite profitable. A couple days later, a low of $11.81 was scored, and that was also a buying opportunity, as a high of $13.42 was reached a few days later. The last couple days have been weak, with Friday's low being $11.86. Buying just below $12 should again be an excellent trading opportunity as I anticipate ANGI will pop to the upside early next week. Should the $11.81 support give way first, all the better, as the snap back rally should be even more powerful, based on recent price action patterns in the stock. The key is to buy at support and then buy even more, once the support level is broken. Then within 24 hours one should expect to be able to sell not only the low priced shares at a profit, but one should be able to sell the higher priced shares at a profit as well. I call this feature "resiliency". ANGI is surely one of the most resilient stocks trading presently, making it an excellent candidate for scalping or swing trading from the long side.
Seasonal Patterns Support Social Media Stocks Right Now
I found the chart of ANGI when I was researching Twitter (NYSE:TWTR). Here is a current weekly chart of Twitter that is also quite telling: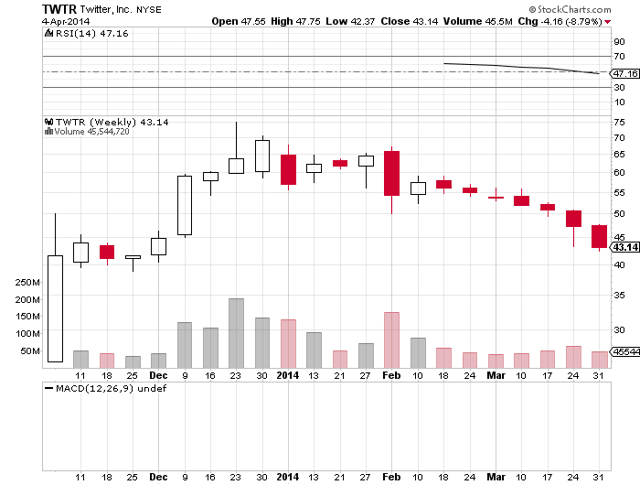 Look at the above weekly chart of Twitter (TWTR) and you will see some surprising symmetry. When TWTR began trading in early November 2013, it rallied 8 of the first 9 weeks. Then the next 4 weeks were down, up, down and then up. Since early February 2014, we have since dropped 8 of the next 9 weeks. We have now matched to the downside, what was accomplished in the first 9 weeks, to the upside. There is no reason for TWTR to fall any more, and I anticipate that over the next 4 weeks, we could close up, down, up, and then down. After that, do not be surprised if TWTR then rallies 8 of the next 9 weeks. This could all be hocus pocus, but I will be watching the stock closely to see if this symmetry continues in TWTR.
One more interesting point about TWTR is that it has fallen 3 days in a row and rarely does it fall 4 days straight. Thus, it is highly likely that it will close up on Monday.
Also, TWTR and ANGI are both part of the Global X Social Media Fund ETF (NASDAQ:SOCL). Here is a weekly chart of SOCL: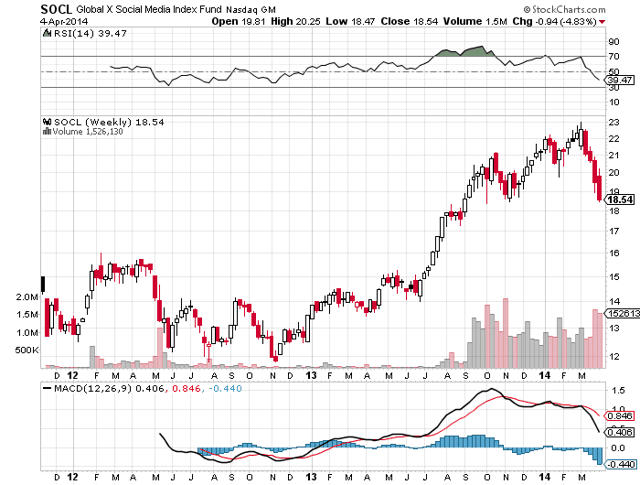 Looking at the weekly chart of SOCL, one will notice that we have fallen for 4 straight weeks. One year ago, SOCL fell during these same exact 4 weeks, scoring a major low the first week of April 2013 at $13.41. From that low, SOCL has rallied consistently to the $23 top that was hit just 4 weeks ago. I would not be surprised if we are again near a significant low in SOCL, especially since ANGI is at major support at $12 and TWTR is approaching significant support at $40.
Not only was the first week in April of 2013, a down week, followed by an up week, but the first week of April in 2012, was also a down week, followed by an up week. I am looking for next week to be an up week for TWTR, ANGI and SOCL.
Disclaimer:
The thoughts and opinions in this article, along with all stock talk posts made by Robert Edwards, are my own. I am merely giving my interpretation of market moves as I see them. I am sharing what I am doing in my own trading. Sometimes I am correct, while other times I am wrong. They are not trading recommendations, but just another opinion that one may consider as one does their own due diligence.
Disclosure: I am long TWTR.
Additional disclosure: I plan to buy ANGI within the next 72 hours.